The show must go on: How physical events are moving into a virtual realm
To get articles like this free in your inbox, subscribe to our newsletter.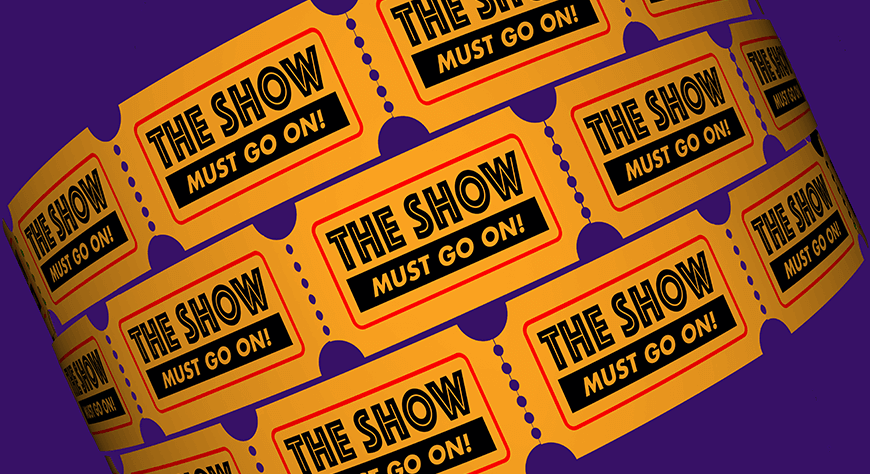 The toll of nine major technology event cancellations has crossed the $1 billion mark. This figure only encompasses losses to restaurants, airlines, transportation providers and hotels. It doesn't reflect the impact of lost product sales, opportunities for exposure, user education and training.
Coronavirus is a serious threat and the safety of employees should always be the highest priority. However, companies invest a lot to bring products to market; livelihoods depend upon it and these shows are important. So when it comes to complex technology, sales leaders and instructors still need to ensure realistic user experiences and demos of solutions, and if not face-to-face, then virtually.
So how are businesses doing business under these challenging circumstances?
Video conferencing
Many companies are turning to video conference services like GoToMeeting and Zoom. These are providing convenient ways to meet, without the need to wash your hands after and wear a mask. Further, Facebook, Twitter, Google and Salesforce have instructed employees to work from home, a remote migration that's growing rapidly, and these types of services are helping.
Recently, Veeva, a life sciences tech vendor, held its sales kickoff for Asia-based employees via Zoom, while its U.S. counterparts went forth with an event in Orlando. Though many argue meeting in person is the best way to drum up excitement about new launches, the risk to employees – and impact on reputation should a company appear to take this too lightly – makes video conferencing a wise option.
Still, when it comes to complex technology, there's concern that video conferencing alone can fall short when it comes to showcasing product and user interaction. That's actually a misconception; businesses don't have to sacrifice user experience just because activities are remote. What's needed is a cloud that provides conferencing, accompanied by richer functionality.
On another note, when using video instead of face-to-face for meetings, build in extra time for watercooler chat so you continue that personal rapport you'd have in the office. And if you're looking to collaborate with others over a project or concept, make sure everyone can easily view the task at hand through screen sharing or multiple users accessing your platforms.
Virtual events
After the cancellation of Mobile World Congress, Facebook, Adobe and others did the same. SXSW has since followed suit. However, Google and Microsoft successfully converted traditional events into virtual ones and kept their momentum going.
It's a move that shouldn't be looked at as just a short-term fix. Virtual events offer unique benefits that likely will shift the balance of how events are conducted in the future, perhaps making it the new norm.
For starters, you can realistically showcase products with virtual labs. A virtual approach can also scale to accommodate participants, in fact, your numbers may grow. Those who were unable to carve out the time for an on-site might find a virtual event is doable. By eliminating costs for travel and accommodations – and keeping employees on-site and productive – higher-ups may be more inclined to let staffers participate.
And, after all, it's not uncommon for attendees of in-person events to say, "I could've just watched all of this online and stayed home."
Just make sure when you're moving an event from physical to virtual you have the right capabilities. For instance, be sure participants and presenters can interact in real time. "Over the shoulder" monitoring and text chat can keep engagement high. Leaders can see when attendees are stuck or have questions and step in and offer assistance. Online events also can provide organizers with analytics into behavior and session performance, enabling them to build upon what works best.
As virtual events become more of a core practice, companies and employees alike may decide once and for all it's the only, and more convenient, way to go.
Cloud-based sales demos and POCs
During physical conferences, salespeople and engineers run intricate demos on the show floor. Replacing this with an emailed static video or PowerPoint doesn't cut it with complex tech. Sales teams need a means to spark interest, demonstrate what their offerings can really do and close deals.
You need to be able to deliver both rich product testing and more cost-efficient sales horsepower, virtually. Cloud-based sales demos can show the full breadth of a product to a prospect in work scenarios they could expect to encounter. Sales teams can also provide proof of concepts (POC) from afar so targets can get a hands-on trial, see the solution in action and gauge exactly how it will perform.
The cloud can simplify IT involvement, while eliminating permission to get behind firewalls, product shipping and travel hassles. Some feature analytics for insight into prospect usage. This not only overcomes a longstanding lack of transparency into what prospects are doing with virtual POCs, it offers the ability to see if they're missing vital features, allowing sales to step in and offer guidance.
The visibility that going virtual offers can result in greater success and shorter sales cycles.
Blended and hybrid learning
Another reason professionals attend events is to stay sharp on new technology and the latest techniques. Companies also use the opportunity to connect with individuals for training on new tech offerings.
When moving to virtual training, try to blend instructor-led training and self-paced programs. This blended learning can be especially useful when you're dealing with a multi-generational group or workforce, enabling users to learn in ways that are most convenient and comfortable.
Hybrid learning is much the same as blended, only online interactions replace face-to-face dialogue between learners and instructors. This doesn't mean simple online lectures. Instead, sessions should incorporate interactive elements.
Remember, The Learning Pyramid shows the "learning by doing" method is one of the most effective ways to learn. With a hands-on experience in your mix, you'll be able to give users access to exact products and tools in settings they can expect on the job, which can really drive learning retention.
These are just a few of the ways that tech companies are moving to virtual and coping with event cancellations. Stay tuned to this blog for more updates and recommendations.
Don't let show closings impact your success. If you'd like to learn more about how to go virtual, check out this webinar with tips from Atlassian.
---
What you should do next…
1. Subscribe to our newsletter:
Subscribe to our newsletter below for the latest news, advice and thought-leadership for software professionals. Or visit our blog to browse our most recent articles.
2. Learn how virtual labs can grow your business:
To learn more about how CloudShare helps software organizations grow revenue, increase efficiency and improve quality, visit our resources page. You'll be able to browser dozens of valuable white papers, eBooks, webinars, case studies, and brochures.
3. Get a FREE, no obligation demo:
Discover just how easy it is to create your cloud environment—in minutes! One of our friendly virtual labs experts will be happy to:
Show you the platform in action
Calculate pricing for your business
Set you up with a 14-day free trial
Answer any questions you have
No pressure or obligation