The What, Why, and How of Revenue Operations (RevOps)
To get articles like this free in your inbox, subscribe to our newsletter.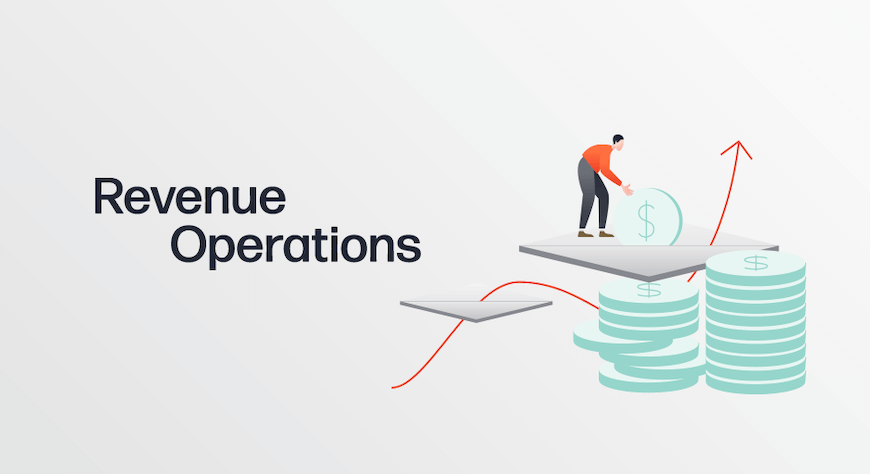 Do you want to make your organization more efficient, optimize your operations, and facilitate further business growth? Like most managers, you certainly do but probably aren't sure how.
The most successful business owners turn to a concept known as revenue operations (RevOps) to focus their teams, raise customer satisfaction, and generate more loyal customer bases. But what is revenue operations exactly? Why should you bother with it? When is a suitable time to start a RevOps team? And how can you do so?
Why this is important now
In recent years there has been a significant shift in focus towards customer loyalty and retention. In the subscription economy, customers are happy to move to a rival company if you are not getting what they want. So prioritizing customer retention has become an essential goal for leading organizations.
What's more, our lives happen online these days. This new virtual norm means that for most companies the digital experiences they provide for their customers are where establishing customer loyalty happens.
This may be new for organizations. It may be something that was in the pipeline but has been accelerated due to the pandemic. But there's no hiding from the truth that digital experiences at every customer touchpoint must be exceptional. RevOps can help businesses adapt and reorganize their organizations to flourish in the new virtual norm.
What Is RevOps?
Revenue operations is a combination of several factors: employees, operations, information, and technology.
Employees
RevOps teams consist of:
Sales
Marketing
Customer experience specialists
These groups come together to collaborate and maintain focus on a single goal: raising revenue for the organization.
In fact, you should emphasize a team-centered mentality so that all employees contribute equally to the customer experience. RevOps aims to achieve better operational efficiency and a strong focus on raising revenue.
Operations
Each group of RevOps specialists must share data with each other. Technology is necessary to streamline this process. CRM (customer relationship management) software, for instance, helps build the customer experience more easily.
Also, every business needs a feedback system for finding out which marketing efforts result in the most conversions. This way, a company can tweak its efforts and raise its bottom line.
Information
You won't know how to succeed if you don't have a way to measure success. Revenue operations involve both collecting business information and sharing it to produce actionable data.
For instance, you can monitor your progress through key performance indicators (KPIs) to show you both where the finish line is and how close you are to your goals.
Know your audience. Collect information on your customers and leads, including:
Demographic (age, location, income level, etc.)
Interests
Needs and preferences
Pain points
Circumstances
Get this data from online forms, one-on-one talks, and web page views among other channels to see how clients are interacting with your business. Data like this helps you track follow-ups for leads, conversion rates, customer satisfaction ratings, and survey results.
Using information to your advantage means that you get more than just additional customers; you get more valuable ones too. LTV (lifetime value) is a metric that measures the total of a customer's spending. Naturally, you want high-LTV clients to generate revenue consistently.
Technology
Whether it's marketing automation tools, communication systems, online analytics, or CRMs as mentioned above, marketing tools can help the sales team prioritize leads to get conversions more consistently.
Ensure that all consumer data is available to the customer experience department to build brand loyalty. Doing so helps your sales team research and create more high-LTV clients.
Why Implement RevOps?
While it may sound like extra office work, maintaining a RevOps team brings many significant benefits to your business.
Use clear and measurable KPIs to predict future growth. Measuring your progress results in excellent data management and informed business decisions regarding next moves. A cohesive RevOps team can act on your findings effectively too.
Evolve your company. RevOps is excellent for companies undergoing significant change, such as switching tools or creating new projects. It ensures transitions like these happen smoothly without any loss in money or time.
Increase your revenue thanks to better internal efficiency and higher customer satisfaction rates.
Don't miss out on these rewards. Keep your business running smoothly with a revenue operations department.
When Is the Best Time to Start?
Does your company need revenue operations? What are some signs that show you should start?
When you have multiple business tools but aren't taking full advantage of them. RevOps makes implementing and configuring tools easier. It saves you resources on training and increases the value you get out of them.
When your company's processes seem outdated. Businesses should be constantly changing to keep up with the competition. RevOps ensures your team is evolving with the times.
When you can't keep track of your progress. What efforts result in the best return on investment (ROI)? RevOps looks at your company's performance holistically to help you bridge gaps and understand trends.
Revenue operations, in general, helps to streamline business processes and gear everyone toward the customer experience and, by extension, revenue.
How Should I Do It?
Consider the following steps to help you get started on a revenue operations initiative for your organization.
Operations Management
Have some employees manage resources and align each project with the goals of the business overall. These roles include marketing, sales, and project management.
Sales Enablement
The goal of sales enablement is to make the sales team more efficient. Enact revenue operations training for your employees and business partners to get the most benefit.
Insights Collection
Provide actionable insights from the data you collect. This team should consist of business analysts and data scientists. Gather quality data and create business strategies from it.
Technology Team
All divisions of the revenue operations department must leverage technology to be productive. Have some software developers on board for the integration of technology into the RevOps operation.
How To Get Started?
There are many ways to implement a revenue operations team successfully. For newer companies with few employees, give RevOps responsibilities to a single employee at first. As the company grows, start hiring dedicated employees to handle more specialized tasks.
Businesses with more employees may consider hiring a manager to consolidate multiple parts of the business into a RevOps team. Companies like these already have major processes established and only have to focus them on revenue and the customer experience.
The best RevOps training solution on the market
No matter what you end up deciding, your company will need the right software to make it all possible. CloudShare empowers companies to create revenue operations training solutions that are customizable, flexible, and scalable.
Make training interactive and engaging with CloudShare's hands-on virtual solution. When it comes to training, "learning by doing" is always going to prove more valuable than passive learning experiences. It boosts knowledge retention too, as users get to engage in realistic scenarios and explore what they have learned in their own way.
With options for self-paced training and instructor-led training available, you can offer the right kind of training experiences for every trainee. What's more, it couldn't be quicker or easier for instructors to spin up sessions or for admins to control and manage training. Analytics can provide all the insights needed to optimize training on an ongoing basis.
Out of all the revenue operations tools available, CloudShare is the most effective at ensuring your RevOps teams get up to scratch fast. It's the easiest approach to improving training outcomes. There's no better way to get your Revenue Ops initiatives off the ground and reach for the sky.
Get in touch today and schedule your demo.
---
What you should do next…
1. Subscribe to our newsletter:
Subscribe to our newsletter below for the latest news, advice and thought-leadership for software professionals. Or visit our blog to browse our most recent articles.
2. Learn how virtual labs can grow your business:
To learn more about how CloudShare helps software organizations grow revenue, increase efficiency and improve quality, visit our resources page. You'll be able to browser dozens of valuable white papers, eBooks, webinars, case studies, and brochures.
3. Get a FREE, no obligation demo:
Discover just how easy it is to create your cloud environment—in minutes! One of our friendly virtual labs experts will be happy to:
Show you the platform in action
Calculate pricing for your business
Set you up with a 14-day free trial
Answer any questions you have
No pressure or obligation