Trust is Key but SalesTech Helps
To get articles like this free in your inbox, subscribe to our newsletter.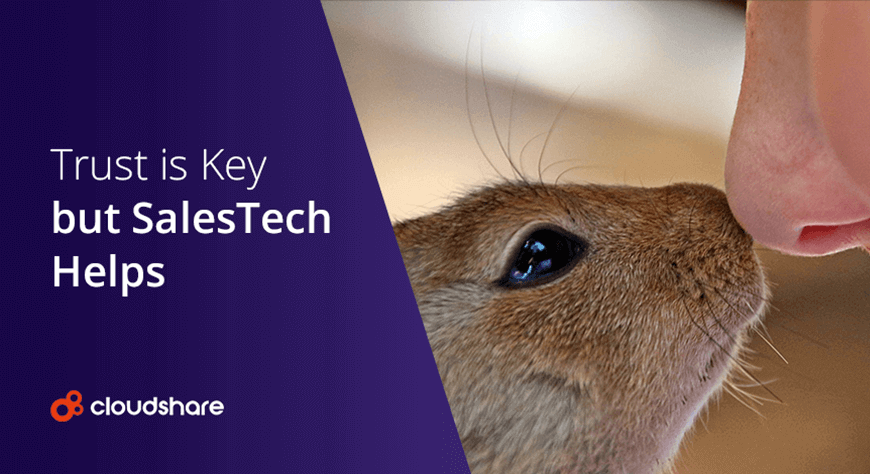 LinkedIn recently released its Third Annual State of Sales Report and some of the data paints an intriguing picture of how sales professionals consume digital tools and resources in the drive to boost performance.
Overall, the report stresses the need to foster a personalized buying experience regardless of whether the products or services are aimed at consumers or businesses. While tools like automation can bring new levels of productivity, particularly when dealing with the size and scope of today's sales-related data loads, businesses should take care not to erode the one-to-one relationships that are crucial to a successful sales strategy.
On the Rise
There is no doubt that sales technology is permeating the modern business at a rapid rate. Since the first survey in 2016, investment in this sector has grown by 53 percent, with nearly three-quarters of sales professionals now using technology to close more deals. The need to rely on technology to improve sales performance is accepted nearly universally, with 97 percent of survey respondents classifying it as important or very important.
In large part, this is a response to both the scale and complexity of modern business. A key benefit of today's sales technology is the ability to automate the rote, repetitive tasks that take time away from what sales people should be doing: closing deals. Many of these tasks exist in the back-office processes that connect sales to finance, inventory, shipping and other functions. As more of these tasks become integrated under a broadly automated framework, knowledge workers in all disciplines should have an easier time handling workloads at the scale of modern business.
Perhaps the most important aspect of this trend is the opportunity to improve coordination between sales and marketing teams. The survey notes that 44 percent of sales pros are working more closely with marketing these days, an increase of 35 percent since 2016. Perhaps more telling, top performers – classified as those who exceed their targets by 25 percent or more – say that a strong relationship with marketing is one of their chief assets.
At top-performing organizations, collaboration and social media platforms are streamlining the interaction between sales and marketing. Among the benefits are the ability to target key demographics more quickly and then feed more leads to the appropriate sales reps.
Younger workers in particular are highly receptive to this style of work, having spent much of their lives using social media and other apps on mobile platforms. Among the millennial generation (ages 21 to 38), 62 percent said they plan to increase their use of salestech, like virtual IT labs, compared to 56 percent of GenX and Baby Boomers. For the most part, their interests lie in leveraging newer platforms like Box, DropBox and Slack. Indeed, for a generation that considers the PC to be old and boring, a mobile-facing sales and marketing platform is considered the normal way of doing business.
Data is Key
But even as trend lines indicate a steady expansion of salestech in the enterprise, some significant headwinds remain. Perhaps the most daunting is the aging state of IT infrastructure, particularly the inability to federate data across multiple business units. Just 20 percent of sales people, for example, say there is significant overlap with marketing's data, which creates a significant barrier to coordinating workflows at scale.
In the end, however, the single-most important aspect of sales is the trust factor. More than price or ROI, trust is rated number 1 in closing the deal and is considered a top attribute when hiring a sales person. To that end, organizations should be careful to leverage technology in ways that enhance trust, not diminish it. For instance, 77 percent of decision-makers won't engage with a sales person who doesn't have insight or knowledge of their business, 62 percent will check online profiles to ascertain that level of knowledge.
The takeaway here is salestech provides crucial support for tasks like finding customers, outreach, sharing data and knowledge and multiple other responsibilities. However, when it's time to close the deal, there is no substitute for a firm handshake.
Looking for ways to increase sales performance? Download our free e-book – "Churn Burns: 21 Tactics to Increase Retention of Your SaaS Customers" – and you'll learn secrets for retaining business and maximizing recurring revenues!
---
What you should do next…
1. Subscribe to our newsletter:
Subscribe to our newsletter below for the latest news, advice and thought-leadership for software professionals. Or visit our blog to browse our most recent articles.
2. Learn how virtual labs can grow your business:
To learn more about how CloudShare helps software organizations grow revenue, increase efficiency and improve quality, visit our resources page. You'll be able to browser dozens of valuable white papers, eBooks, webinars, case studies, and brochures.
3. Get a FREE, no obligation demo:
Discover just how easy it is to create your cloud environment—in minutes! One of our friendly virtual labs experts will be happy to:
Show you the platform in action
Calculate pricing for your business
Set you up with a 14-day free trial
Answer any questions you have
No pressure or obligation