Why Virtual IT Labs Should Be in Your SalesTech Stack
To get articles like this free in your inbox, subscribe to our newsletter.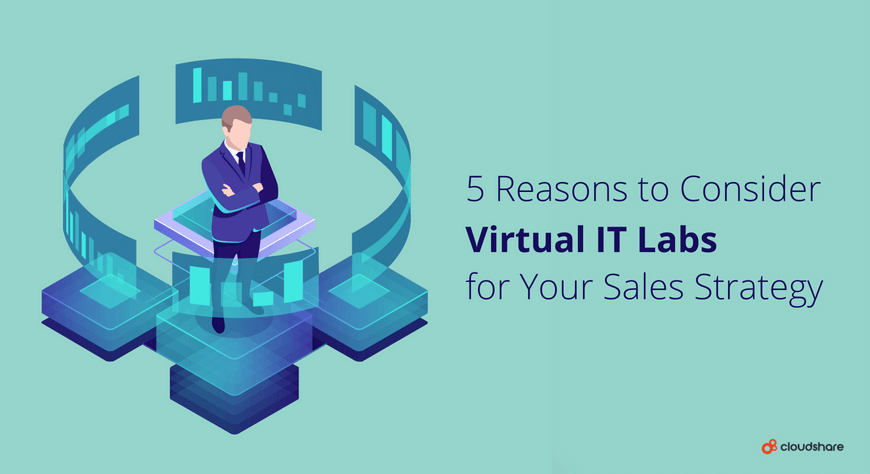 By the time B2B sales engineers sit down with modern prospects, those buyers are typically 57% of the way to making their purchasing decisions. With product information, user reviews and third-party assessments readily available online, the mantra of sales is no longer "always be closing," which has been "the way" in sales since the beginning of time, or at least since the classic Alec Baldwin scene in "Glengarry Glen Ross" created the catchphrase for the entire sales industry.
Instead, bringing a deal over the finish line today requires an emphasis on teaching over hard pitching and tactics, as the days of your sales prospect living in a vacuum without access to information and only you to enlighten them are long gone.
There's no shortage of incredible technology available to sales engineers and sales teams today to help with the shift toward education and teaching in sales. In fact, according to Sales Hacker, there are more than 700 solutions available in salestech today. However, many of these solutions are not designed to help companies demonstrate their technical wares in a way that directly connects with the customer based on their exact wants and needs.
This is where specialized virtual IT labs or virtual engagements can change the game for sales teams selling sophisticated products. With cloud-based salestech solutions, sales teams can move faster, eliminate hardware concerns, streamline processes by integrating with sales and CRM systems, and have improved visibility with enhanced analytics. This allows companies to accelerate the sales cycle, quickly expand addressable audiences, and reduce IT costs.
Still need more convincing? Following are five more reasons to consider adding virtual IT labs into your sales strategy.
1. Everyone is tired of PDFs, PPTs and conferencing software downloads.
We come across countless companies who have spent millions creating a sophisticated and valuable software solution and then lose prospects during the demo stage because they are unable to easily demonstrate their technical solution.
Prospects want to experience the actual product – they want proof that it works beyond a slide deck or video demo. Even a scaled down demo of your solution may not cut it if you cannot show realistic scenarios that matter to the customer.
2. On-premises demos don't easily scale.
It's likely, though, that a demo of your full product is what will clinch the deal. The instinct to ship materials and equipment to the prospect site, bring in IT support to open firewalls and then deliver demos reflects an understanding that a customized approach is critical, but it's not practical to do this at scale.
Not only is it expensive and time-consuming to focus on one buyer for an extended period of time and set up a complex environment on site, but the prospect is likely to focus on evaluating the experience, not the product. That's risky when it's so hard to provide IT support for on-premises evaluations.
Rather than hauling a trailer full of gear to a prospect site, sales teams can replicate a production environment in the cloud and give prospects a link to an easily accessible, full-featured test drive. A cloud-based sales demo solution give teams the flexibility to launch demos on-demand and leave self-service proofs of concept (PoCs) in customers' hands no matter the location worldwide.
3. There are more decision-makers to convince.
Gartner's CEB says the average number of stakeholders involved in a complex purchase is nearly seven, across more than three different functions. This creates longer, more complicated sales cycles.
CEB advises that you connect buyers to each other as early in the process as possible. Providing all stakeholders access to your hands-on POC can do that for you. Give your customers the ability to test and try your technology independently, without you around.
4. Technical demos and POCs need special treatment.
The ability to spin up realistic lab environments quickly, access whatever hardware and software you need, and integrate within a customer's environment is critical to B2B technology sales.
Prospective buyers want the chance to fully experience a product; prospective users need that experience to learn. Virtual labs specifically designed to facilitate sales demos and POCs make technical engagements with complex environments smoother, providing:
A hands-on experience for multiple users
The ability to manage and track all deployments from the cloud
Visibility into users' actions
Capacity that can be quickly scaled up or down
5. Extend virtual IT labs for your own sales training.
The same virtual benefits that speed sales cycles can maximize the value of your training efforts. Prospective buyers want the chance to fully experience a product; users, whether they are your customers, partners or sales engineers need that hands-on experience to learn.
Companies in the U.S. spend $20 billion on sales training every year, for example, but employees forget 84 percent of those lessons within 90 days, according to Sales Performance International. The Learning Pyramid shows that active practice-by-doing learning methods, such as virtual training labs, have knowledge retention rates that are only outdone by teaching others.
So if your sales engineers can give software sales demos on an exact replica of your actual product, they increase their own knowledge and retention by the very act of demonstrating it.
From sales intelligence to analyzing calls with AI, to adding empathy into emails via plugins, there's an abundance of ways that technology can give insights into the entire sales funnel and make the process easier.
The ability to spin up realistic lab environments quickly and access whatever hardware and software you need means your prospects, customers, and teams learn more at a faster pace, resulting in stronger sales teams, better customer experiences and more revenues to your bottom line.
---
What you should do next…
1. Subscribe to our newsletter:
Subscribe to our newsletter below for the latest news, advice and thought-leadership for software professionals. Or visit our blog to browse our most recent articles.
2. Learn how virtual labs can grow your business:
To learn more about how CloudShare helps software organizations grow revenue, increase efficiency and improve quality, visit our resources page. You'll be able to browser dozens of valuable white papers, eBooks, webinars, case studies, and brochures.
3. Get a FREE, no obligation demo:
Discover just how easy it is to create your cloud environment—in minutes! One of our friendly virtual labs experts will be happy to:
Show you the platform in action
Calculate pricing for your business
Set you up with a 14-day free trial
Answer any questions you have
No pressure or obligation