Webinar Recap: How to Maximize your SE Salary
To get articles like this free in your inbox, subscribe to our newsletter.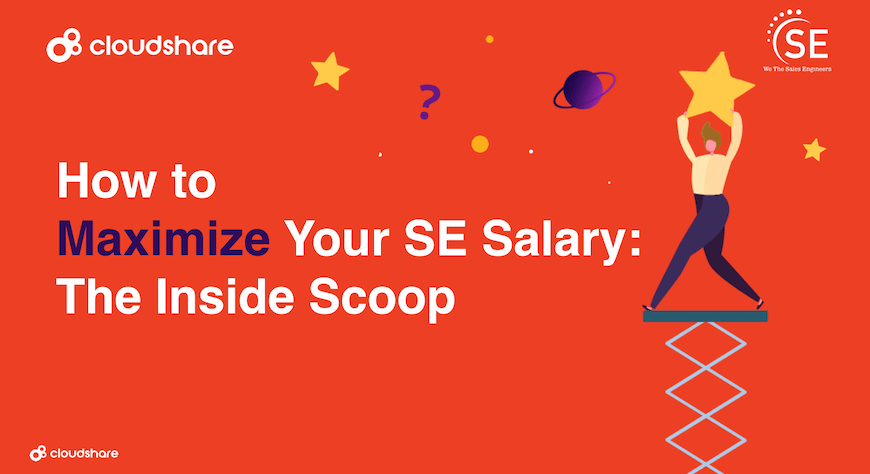 It's no secret that sales engineers make good money, especially on a commission-based salary structure. However, it takes hard work and smarts to make it in the SE world. Not only do you have to have the technical stuff down pat, but you need to know what the customer's needs are and how to meet them with your product in creative ways.
For this latest webinar, we were happy to have Ramzi Marjaba, founder of WeTheSalesEngineers.com, for a conversation about everything from the basic sales engineer functions to tactics that can help you actually earn more money in your position.
Before we get to the meat of the presentation, we had to give an extra shoutout on the webinar to Ramzi. Not long before the presentation was expected to start, he had an urgent customer issue to take care of (#SE_Life) and still managed to present from his car on two laptops and a mobile phone connection (that is the pic he sent us). So, props to Ramzi!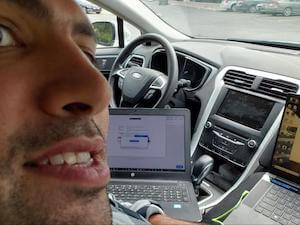 What does a sales engineer do?
Skipping past the pleasantries and housekeeping notes of the webinar, Ramzi got us started with his definition of what sales engineering means. SEs have to be like doctors, understand the unique problems and needs facing an organization and come up with the right solution to solve them.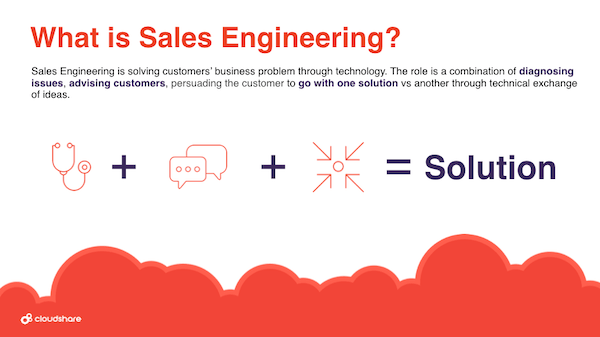 But what makes SEs special? As Ramzi tells it, there are something like only 66,700 SEs – that's less than 5% of all engineers. Also, sales engineers require knowledge in multiple disciplines from engineering, business acumen, listening, and asking questions.
And, of course, SEs have to work with sales AEs as well.
Next, Ramzi shared the general compensation for sales engineers as well as bringing us real salary numbers from different regions around the world based on his own research.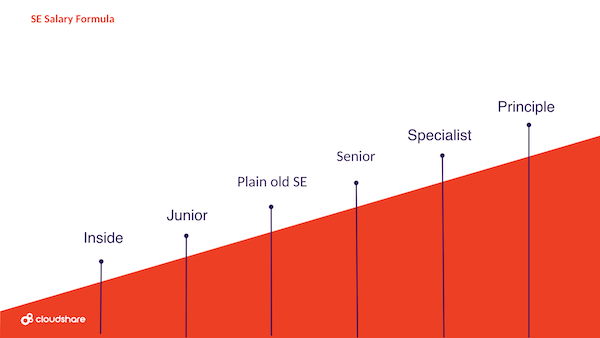 6 ways to earn more as a sales engineer
If you're looking to maximize your salary, here are Ramzi's six tips for bumping up your earnings:
Negotiate a better salary from the start. This may seem obvious, but if you want to earn more, make your intentions known.
Sell more. Don't just ask for more, work overtime and make those sales.
Do the intangibles. It's not about just selling more; it's about doing everything else to make sure your customer is happy and increase your impact radius.
Set promotion goals with management. Work closely with your manager to ensure objectives are laid out in order to move up to a senior SE. Also, make your own goals above and beyond what your manager says and set personal objectives.
Improve and take on more responsibility. Yes, you have a lot to do already, but you need a learning plan to build the habits to help you achieve goals. Block out time to do what you need for your job, and… practice, practice, practice.
"Be so good they cannot ignore you". Cal Newport wrote a book with this title. If you are good enough to make the company more money, you will get hired and be able to make more.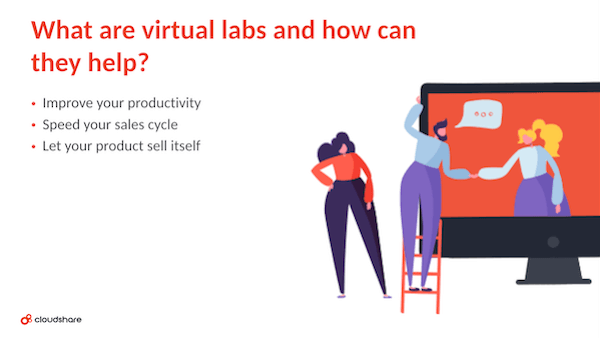 Virtual labs to shorten the sales cycle
Our second presenter, Lee Berkman, sales ninja and virtual IT labs expert at CloudShare, asked very pointed questions throughout and gave us the lowdown on how virtual labs can streamline your sales cycle.
That's where CloudShare comes in. Lee gave a basic breakdown of how our solution can help sales engineers and solution architects can use virtual labs technology to make the most of their demos and POCs without having to lug around and ship hardware everywhere they go.
What did demos and POCs look like before this technology? There were many pain points, some of which SEs are still facing today by not switching over to SaaS-based, globally accessible virtual environments.
Business benefits with virtual labs for demos and POCs
Beyond the technical benefits, our solution helps you scale your sales and shorten your sales cycle, all while providing detailed analytics and dashboards.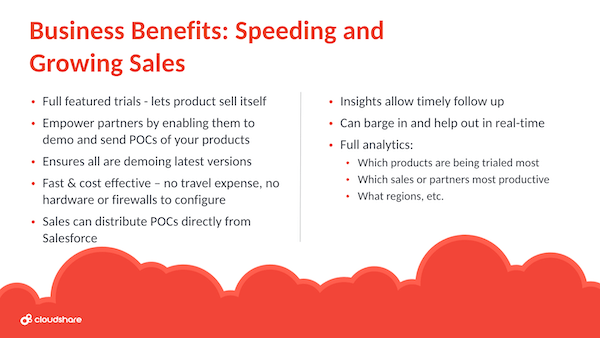 If you want to watch the full webinar, click this link and enjoy!
You can also catch the slides at this link.
---
What you should do next…
1. Subscribe to our newsletter:
Subscribe to our newsletter below for the latest news, advice and thought-leadership for software professionals. Or visit our blog to browse our most recent articles.
2. Learn how virtual labs can grow your business:
To learn more about how CloudShare helps software organizations grow revenue, increase efficiency and improve quality, visit our resources page. You'll be able to browser dozens of valuable white papers, eBooks, webinars, case studies, and brochures.
3. Get a FREE, no obligation demo:
Discover just how easy it is to create your cloud environment—in minutes! One of our friendly virtual labs experts will be happy to:
Show you the platform in action
Calculate pricing for your business
Set you up with a 14-day free trial
Answer any questions you have
No pressure or obligation