Webinar Recap: Moving Your Tech Training to the Public Cloud Without Pain
To get articles like this free in your inbox, subscribe to our newsletter.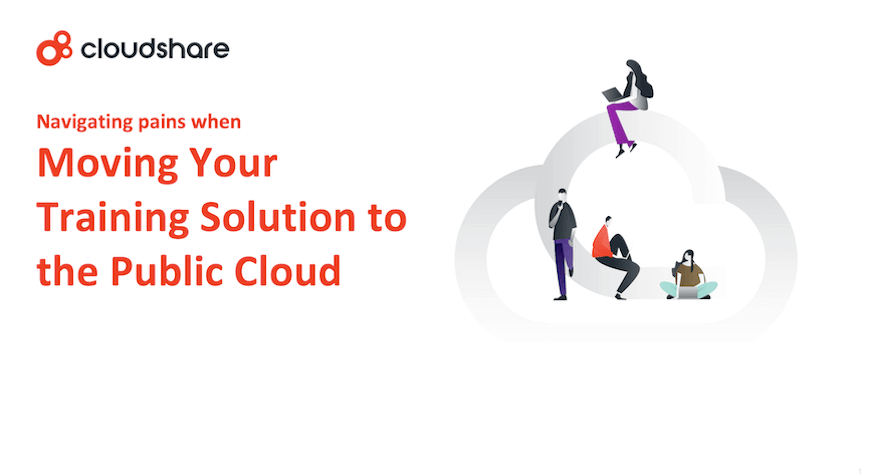 With the recent shift to remote working, companies are realizing the full value of the cloud and reaching anyone, anywhere with only a browser and internet connection. Time, distance and cost issues can be overcome – even when it involves the most complex software training – no matter if you're educating employees, customers or partners.
The key is providing a hands-on product experience in scenarios that users can expect on the job. That requires virtual IT labs. It also helps to have a cloud service provider (CSP) designed to automate tasks and simplify setup and delivery of environments at scale.
Still, some companies prefer large commodity CSPs, which can require significant IT skills just to create the systems, databases, apps and security. And that can be painful for trainers.
So, just days ago, we conducted a special webinar, "Navigating Pains When Moving Your Training Solution to the Public Cloud." The event featured Kevin Streater, vice president of ForgeRock University, along with CloudShare's Michal Frenkel, vice president of product, discussing the company's successful move from an on-premise solution to the Google Cloud Platform (GCP).
The webinar is now available for free. Considering ForgeRock is the leader in digital identity solutions, and the training and certification provided by its University has grown 10X with virtual labs, it's one you probably don't want to miss.
The Right Moves
Companies are moving to the cloud in droves and in different ways. Whether it's public cloud or a hybrid mix of on-prem and public, all need to be ready to do so and guarantee training is optimized.
Moving the University's training over seemed particularly daunting. The team would need to replicate environments, enable scale, deal with infrastructure and deployments, ensure there were no unexpected charges and make sure course material was updated.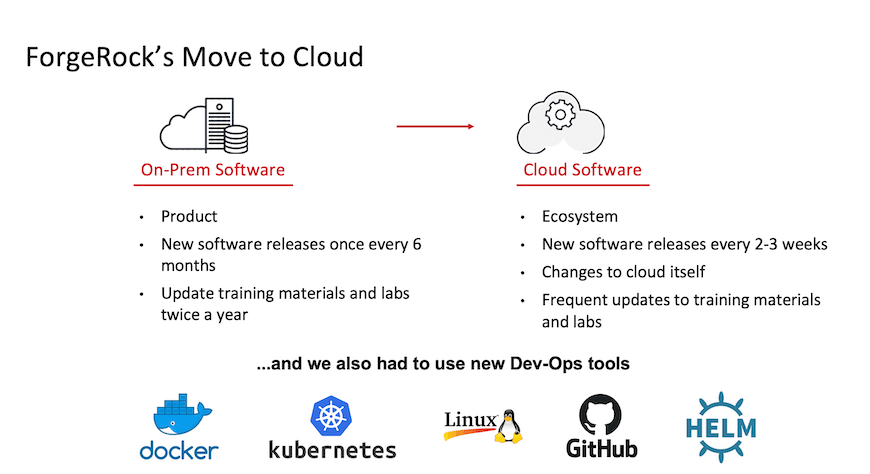 CloudShare's GCP integration capabilities enabled them to get up to speed fast. Streater's experiences, coupled with Frenkel's deep knowledge of virtual labs, has created an invaluable "how-to" webinar for those considering the same, addressing such issues as:
Challenges organizations face moving to the cloud.
Best practices and common methods when transitioning.
Drill down details on ForgeRock's cutting edge training delivery on GCP.
Reducing Pain, Increasing Gains
The University now runs classes with multiple clouds and on-premise software within the same virtual training labs environment. They raised resource control and can scale infinitely. They facilitated DevOps for more frequent software deployments, made lead time 106 times faster and recovery from incidents 2,604 times faster.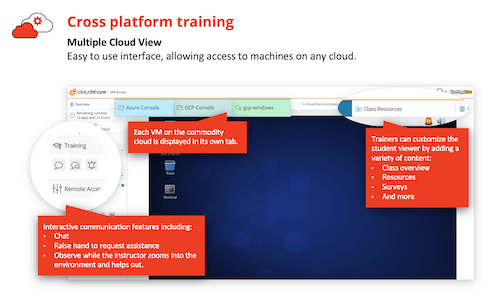 Want to find out how you can do the same? Be sure to check out "Navigating Pains When Moving Your Training Solution to the Public Cloud." The recording and related materials are now available for free!


---
What you should do next…
1. Subscribe to our newsletter:
Subscribe to our newsletter below for the latest news, advice and thought-leadership for software professionals. Or visit our blog to browse our most recent articles.
2. Learn how virtual labs can grow your business:
To learn more about how CloudShare helps software organizations grow revenue, increase efficiency and improve quality, visit our resources page. You'll be able to browser dozens of valuable white papers, eBooks, webinars, case studies, and brochures.
3. Get a FREE, no obligation demo:
Discover just how easy it is to create your cloud environment—in minutes! One of our friendly virtual labs experts will be happy to:
Show you the platform in action
Calculate pricing for your business
Set you up with a 14-day free trial
Answer any questions you have
No pressure or obligation