What to Accomplish in Your First 90 Days as a Head of Training
To get articles like this free in your inbox, subscribe to our newsletter.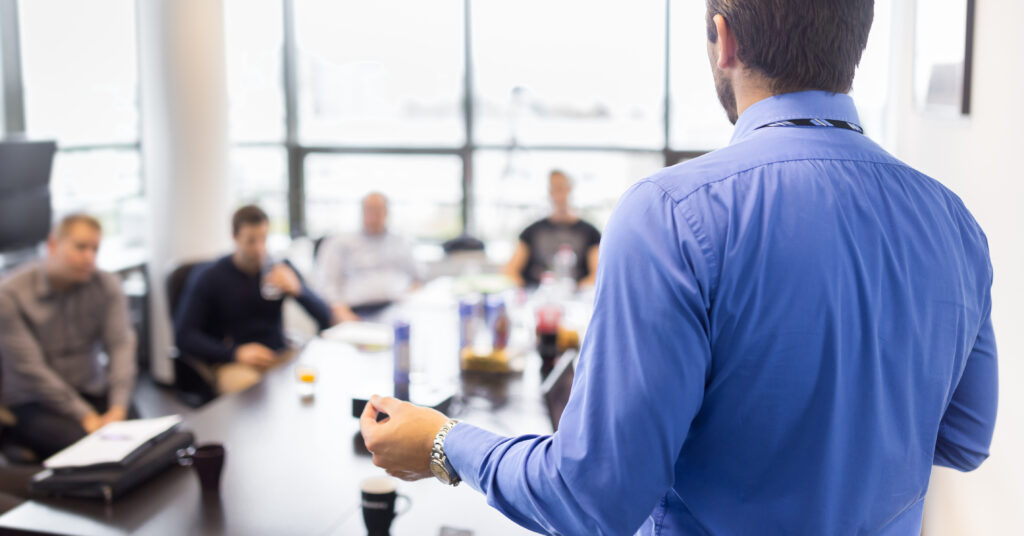 If you're here, it's because you've already figured out how to become a head of training and development — and if not, we've published a blog on the topic. 
Now that you've landed the job, you're probably wondering what comes next. How can you ensure your first months on the job are a success? What challenges will you come across, and how can you overcome them? 
Those questions might sound overwhelming, but they don't have to be. All you need is a plan. 
Our 90-Day Plan for a Head of Training and Development
Week One to Three
Getting to Know Your New Position
Spend your first few weeks settling into your new position and learning as much about the organization, its culture, and its people as you can. Don't just meet with company leadership — talk to your team and to stakeholders at every level.
By the third week, you'll want to know:
The business's current priorities, and any challenges on the road to those priorities. 

How the business has worked with training and development in the past. 

Prior training efforts and their level of success. 

How the business identifies and communicates training needs. 

Expectations for your new position. 

How the business prefers to communicate requirements and results. 

Current relationships with stakeholders. 

The current state of your team. 

How the business will ultimately measure success. 
Week Four to Six
Learn the Organization's Training Landscape
Once you've familiarized yourself with your organization and team, your next step is to assess your training technology. Given that virtual training has been found to increase retention rates by as much as 60 percent and revenue by up to 42 percent, it follows that you'll want to deploy training software if your organization has not already done so. That can come later, though. 
For now, here's what you'll want to do:
Briefly review each piece of training technology to understand its intended purpose. 

Assess how effectively said technology has done its job. 

Examine past training data if it is available. 

Review the organization's training strategy and structure

Determine how the organization's training technology supports its strategy. 

Identify possible improvements to both the organization's technology and strategy. 

Determine where the organization is in its digital transformation process, and how that may impact training. 

Familiarize yourself with the company's current training technology vendors, and evaluate whether or not to maintain a relationship. 
Week Six to Eight
Define Your Strategy
Now the real work begins. You've familiarized yourself with the organization and its culture along with your team and toolkit. It's time to determine how well all those components slot together — and identify opportunities for improvement. 
Start by organizing your research from the two previous phases. 

Research new training tools and technologies such as

virtual instructor-led training

and

self-paced virtual training

. 

Identify your organization's strengths, weaknesses, threats, and opportunities from a learning and development perspective. 

Leverage your SWOT analysis to define a vision and mission statement for your training. 

Define your objectives and a roadmap for reaching them. 

Incorporate all of the above into a long-term learning & development plan. 
Week Eight to Ten
Incorporate Digital Training Technology
Digital transformation is a powerful enabler for any training and development manager. From a learning and development perspective, large-scale virtualization is not only a business enabler, but also a revenue generator. This applies evenly to every training use case, even large events. 
There are several reasons for this: 
Virtual training eliminates the overhead created by both physical classrooms and travel expenses. 

As mentioned earlier, employees are both more engaged and more successful when undergoing virtual training compared to a traditional in-classroom setting. 

Virtual training allows for faster, more efficient onboarding and education. 

An effective training platform collects analytics and usage data which you can then use to further refine your training strategy. 
These benefits don't just apply to learning and development, either. With that in mind, it should come as little surprise that so many companies accelerated their digital transformation efforts during the pandemic — and continue to do so. But it also shouldn't be unsurprising that many companies miss the mark.
Per Forrester, there are a few things you'll want to do when it comes to applying digital transformation across your training programs: 
Stay focused and committed:

Each new technology must serve a singular purpose, and you must ensure you've leadership buy-in to see its implementation through. 
Remain pragmatic:

Technologies like artificial intelligence and virtual reality may be exciting, but their applications in the training sector are still largely unexplored. Stick with what you

know

will work initially. You can spring for shiny new toys later. 
Get organization-wide buy-in:

Organizational leadership is far from the only beneficiary of your training.

Everyone

in your organization stands to gain from it, and as such everyone should support the deployment of any new tools you identify. 
Ensure you've the infrastructure in place:

Virtual training technology requires significantly more network resources than traditional IT labs. Be ready for those demands. 
Week Ten to Twelve
Establish Priorities
You've likely already planned out a lot of changes to your business's learning and development strategy. The last step is to prioritize them. For each new initiative or change, assess: 
Business requirements

Expected return on investment

Urgency

Risks

Potential repercussions 
Day 91
Lifelong Learning
That's it. You made it. Following our guide, you grew accustomed to your organization, built up rapport with your people, and created a roadmap that will help the company grow and thrive well into the future. 
Before we wrap up, we've one final word of advice — remain flexible. Part of being a head of training and development is understanding that you yourself must never stop learning. You must be prepared to adjust to constantly-shifting goals and priorities, all while adapting to a changing market and landscape. 
Keep that in mind, and you'll do just fine. 
Next Steps: See How CloudShare Reduces Cost and Increases Revenue
We talked a lot about how virtual training solutions can be a tool for both business enablement and revenue generation. You're probably interested in learning exactly what we meant by that — and how you can incorporate such solutions into your own organization. In that regard, you're in luck. 
We recently published a customer success story detailing how collaborative software developer Atlassian leveraged CloudShare's VILT to incorporate hands-on training for its global customer base — read it, and you'll learn: 
How CloudShare improves the student experience. 

Why virtual training is essential for efficiency's sake. 

How smart automation can reduce training overhead. 

The value of hands-on training for both customers and employees. 
---
What you should do next…
1. Subscribe to our newsletter:
Subscribe to our newsletter below for the latest news, advice and thought-leadership for software professionals. Or visit our blog to browse our most recent articles.
2. Learn how virtual labs can grow your business:
To learn more about how CloudShare helps software organizations grow revenue, increase efficiency and improve quality, visit our resources page. You'll be able to browser dozens of valuable white papers, eBooks, webinars, case studies, and brochures.
3. Get a FREE, no obligation demo:
Discover just how easy it is to create your cloud environment—in minutes! One of our friendly virtual labs experts will be happy to:
Show you the platform in action
Calculate pricing for your business
Set you up with a 14-day free trial
Answer any questions you have
No pressure or obligation