What We Learned (and Experienced) at the 2022 CEdMA Europe Conference
To get articles like this free in your inbox, subscribe to our newsletter.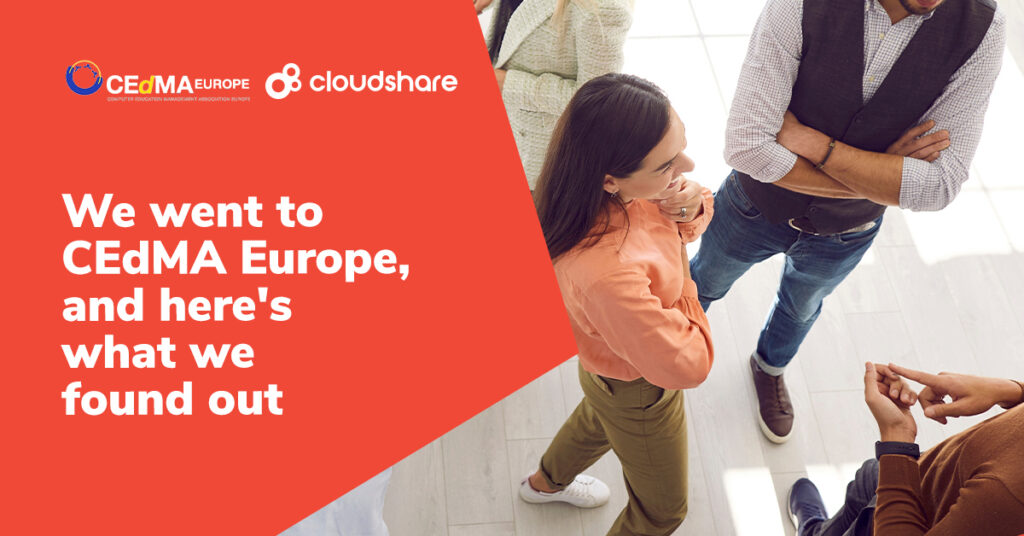 It was definitely an insightful experience at the 2022 CEdMA Europe Conference this year, which we were fortunate enough to attend in London. Hosted annually by the Customer Education Management Association (CEdMA), the conference is an international gathering of some of the top training leaders and organizations in the world. As one might expect from an event of this nature, it was positively brimming with interesting personalities, insights, and information.
What Does The Industry Want (and Need?) 
It's always the million-dollar question, and being part of this CEdMA community allows us to listen closely to what our existing clients and other customer education leaders are saying (on the stage, and off it). 
Here are some of the whispers and discussions that were most prominent:
Self-paced. First and foremost, more and more companies are turning to self-paced training, which is ideal for businesses with low headcounts or a general lack of training resources.
Pre-recorded content

. There's also been increased demand for pre-recorded video content. 

Hybrid

. We saw a great deal of discussion centered on two notable hybrid training models: 

Simultaneous physical and virtual classes.

People are increasingly opting for in-person training now that pandemic restrictions are being lifted.

Self-paced with virtual instructor-led training.

Although these two appear at first glance to be differing philosophies, everyone at the conference appeared to agree that the best courses find a way to combine the two. 
Gamification

. As expected, badges and gamification represented one of the hottest topics at the conference. Virtually every speaker talked about incorporating the two into training courses to incentivize course completion. 
ROI

. Finally, the question of how one can judge the return on investment of a training program (or at least verify that a student understands the content of a lab post-completion) continued to hang over many discussions. Some of the proposed solutions included having students complete a short survey post-session, whiteboard discussions, or using emojis in the content. 

The Power of Partnerships

.

Partnerships and partner selling was another interesting topic, with the authorized training partner market taking the center stage. Since software organizations often don't have the resources to conduct their own training, they instead rely on authorized training partners. 

Outdated offline learning.

Another issue that was brought up is that the training industry is ironically quite far behind in terms of modernization. Many training organizations still rely on slideshows and other content created with offline learning in mind. For training to continue being successful, businesses are going to need to drop their passive slides for practical labs that bring practice to life. 

L&D FTW

. Finally, there was also an entire keynote about the expanding role of L&D, and the fact that 40% more budget will be put towards training and education in the coming years. The market is growing, and more and more businesses are embracing it as they realize its value. 
What Are the Training Industry's Biggest Pain Points and Market Challenges? 
When it comes to pain points, two issues came up more than anything else.
Lack of resources.

When it comes to running an effective training program, many businesses lack the time, the experience, or both. The problem appears to be that businesses often rely on outdated or ill-fitting infrastructure to spin up virtual training sessions, an endeavor that is unnecessarily cumbersome, costly, and time-consuming in and of itself. 
Reskilling.

The talent shortage isn't getting better. Many of our discussions, therefore, centered on how learning and development can help companies fill in the gaps by either upskilling existing workers or bringing in new workers.
Here's to Another Excellent Year
This year's conference was fantastic in a lot of ways. We learned a great deal not just about the training industry, but about our own organization, as well. And you can bet that we'll be applying all the insights and information we gained towards even further improving our products and services down the road. 
---
What you should do next…
1. Subscribe to our newsletter:
Subscribe to our newsletter below for the latest news, advice and thought-leadership for software professionals. Or visit our blog to browse our most recent articles.
2. Learn how virtual labs can grow your business:
To learn more about how CloudShare helps software organizations grow revenue, increase efficiency and improve quality, visit our resources page. You'll be able to browser dozens of valuable white papers, eBooks, webinars, case studies, and brochures.
3. Get a FREE, no obligation demo:
Discover just how easy it is to create your cloud environment—in minutes! One of our friendly virtual labs experts will be happy to:
Show you the platform in action
Calculate pricing for your business
Set you up with a 14-day free trial
Answer any questions you have
No pressure or obligation