Why Experiences Matter in Customer Acquisition and Retention
To get articles like this free in your inbox, subscribe to our newsletter.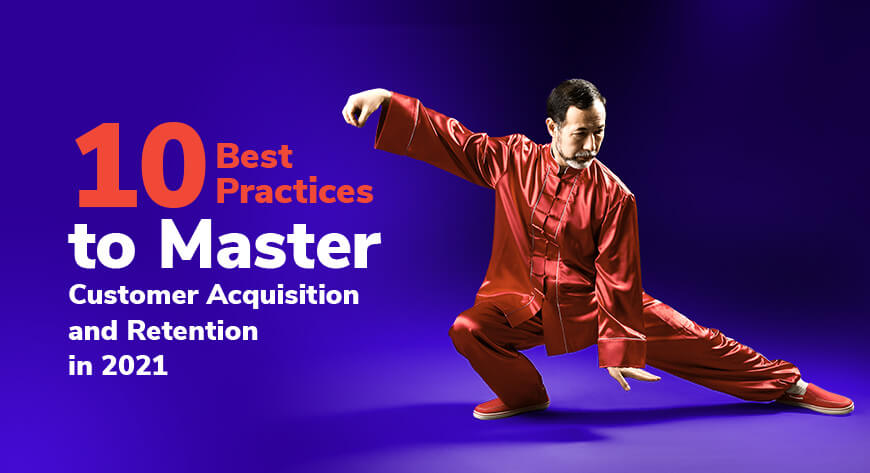 In a changing world, how do you ensure that your sales teams have everything they need to deliver real value for customers? The answer: better, more consistent digital experiences across the entire customer journey.
Our eBook Master customer acquisition and retention in 2021 is a guide to help sales-focused decision-makers enhance customer acquisition and retention. In this blog, we highlight some of the key takeaways about why digital experiences are so important for your business.
You can download the eBook here for a more in-depth exploration.
Why experiences matter now
In recent years, customer expectations have been evolving, as everybody becomes used to highly personalized, seamless digital experiences. With a particular focus on providing a wide range of services online and available anywhere, anytime, and on any device.
The COVID-19 pandemic has, of course, been a monumental event, disrupting many aspects of our lives. But when it comes to remote working and online sales processes, it has merely been an accelerator for many industries to progress with digital transformation. The stage for customer acquisition and retention was moving in this direction long before – but the need for it has increased, speeding up investment in remote solutions significantly.
Regardless of how we got here, the important thing to keep in mind is how your organization must react to ensure you're providing your prospects with the best experiences, whether it's pre-sales flirting or post-sales adoption, either in-person or remote. Providing consistently flawless digital experiences for your customers is the key to successful acquisition and retention, enhancing your reputation, and staying ahead of the competition.
Finding the right digital platform
Finding the right technology to deliver digital experiences fit for the modern business user and/or consumer is key. As our eBook explains:
"Your organization must keep up with the sales enablement landscape around you. To gain a competitive edge, you need to accelerate your sales pipeline. And to do this, you must enable your teams to build and present their sales demos online in an easy, consistent, and efficient manner. Technology plays a vital role in demonstrating and explaining products and services to customers and prospects. The right platform enables your sales team to spin up virtual demos and POCs that illustrate the value of your offering more effectively than would ever be otherwise possible."
Show, don't tell
There is remarkable value in showing not telling. For instance, virtual hands-on training can show prospects how your products and services would benefit them in real-world scenarios using realistic simulations of their current environment. By playing around and testing the solution first-hand, they can see directly how your product meets their requirement.
There are several reasons why the right virtual sales enablement platform is crucial. In the eBook, we explore in detail how it allows you to:
Persuade through interaction and experimentation
Give your sales team more time and space
Speed up the sales cycle
Better software experiences with CloudShare 
CloudShare's award-winning business acceleration platform elevates your customer acquisition and retention strategy and improves digital experiences across the customer journey.
Because CloudShare offers an all-in-one platform, it's easy for our customers to smoothly move their prospects from remote demos to customer training in a way that feels natural, intuitive, and seamless. Our goal is to support companies in delivering engaging experiences to prospects, so you can close deals faster and keep customers coming back again and again.
Download the eBook to learn more
You can download the eBook Master customer acquisition and retention in 2021 here. It contains everything you need to start your journey to better software experiences today. Discover:
The state of play for sales teams worldwide
7 tips to boost customer acquisition in a new virtual norm
3 customer retention best practices
To learn more about providing your customers with better online experiences, get in touch with the team at CloudShare or, if you haven't already, download the eBook.
---
What you should do next…
1. Subscribe to our newsletter:
Subscribe to our newsletter below for the latest news, advice and thought-leadership for software professionals. Or visit our blog to browse our most recent articles.
2. Learn how virtual labs can grow your business:
To learn more about how CloudShare helps software organizations grow revenue, increase efficiency and improve quality, visit our resources page. You'll be able to browser dozens of valuable white papers, eBooks, webinars, case studies, and brochures.
3. Get a FREE, no obligation demo:
Discover just how easy it is to create your cloud environment—in minutes! One of our friendly virtual labs experts will be happy to:
Show you the platform in action
Calculate pricing for your business
Set you up with a 14-day free trial
Answer any questions you have
No pressure or obligation