Why Tech Integration for Software Training Tools Matters
To get articles like this free in your inbox, subscribe to our newsletter.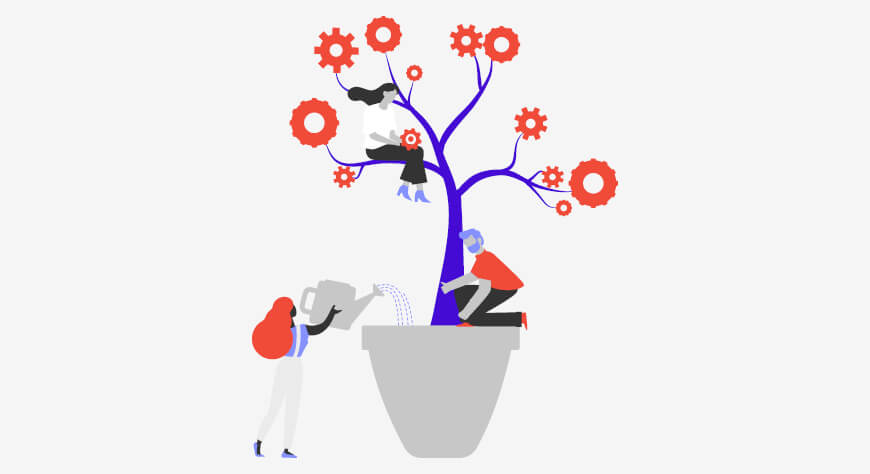 According to the State of Digital Experience 2020, if your organization believes that it delivers the "ideal digital experience", they are 223% more likely to integrate training systems and their wider technology stack.
Let's get real for a minute. Does this one factor really have such a huge impact on your customer experience? Our latest eBook, Technology Integration: The Weak Spot of Software Training Organizations aims to answer this vital question.
Hands-on Virtual Training is Just One of Many: 80% of Today's Training Organizations Use 4 or More Learning Technologies
In today's increasingly digital world, it's common for organizations to utilize multiple tools and technologies for their learning and development (L&D) programs. These could include:
Learning Management Systems (LMS) and Enterprise Resource Planning (ERP) tools that handle back-end processes or knowledge bases.
Authoring tools or Knowledge Management Systems (KMS) that enable no-code content creation and quick changes and updates to courses or learning programs.
Delivery technologies, such as virtual training labs that offer hands-on experiences or video-conferencing programs.
Collaboration and communication, these software training tools provide an easy way for instructors and learners to interact in the learning environment.
To add to this complexity, all of these tools also need to be accessible in an omnichannel way, and handle the growing hybrid and multi-cloud realities of today's workspaces.
Let's Break it Down: 4 Key Benefits of Integrating your Software Training Tools
It's a lot to think about, and integrating all of these software training tools and technologies might feel like an uphill battle.
So, what's in it for you? Here are four of the main benefits of effective technology integration:
Reduced Costs and Complexity: You can't underestimate the increased efficiency of working with a single system across the learning environment. All applications and content can be instantly shared across vendor platforms, with no need for custom integrations, because all technologies perform in the same way. You won't be left with additional resource costs to create workarounds that help systems speak to one another, and you get the added bonus of increased productivity for both employees and users, through working with a single interface.
Increased Ease of Use: A smooth online training program obviously has a positive impact on the learner, who can access everything from one place, but what about the business? Think about siloed departments who are all ultimately responsible for the same thing, whether that's increased software sales, or better customer experience. If your Customer Education or Product teams are responsible for the LMS, and IT are handling the KMS, while Customer Support focuses on communicating with the users, how can you work as a holistic whole? Spoiler alert: You can't.
Consistent Tracking of User Journeys: Integration pays dividends for both the users and the business. By accessing a single-pane-of-glass approach to your user behavior, including lab software integration, you can see exactly where they need additional support, and also confirm what's working well behind the scenes. In today's Big Data reality, this is a goldmine. When you have a single source of data, it's innately both accurate and accessible, opening up doors for advanced Business Intelligence, AI, and analytics.
Improved User Engagement: With added insight into the user journey, you can also provide the right level of support, at exactly the right time to make a difference. Learners are less likely to experience frustration or churn, and without hopping from one environment to another (which will require separate credentials, UIs and perhaps even channels), retention and engagement levels are proven to be far higher.
So, How to Best Integrate Training Systems for 2021?
It's time to make these benefits a reality in your organization. Download the eBook to discover how to:
Develop your own custom integration plan
Integrate training systems into the right delivery models for success
Utilize robust REST APIs, Single Sign-on (SSO) and LMS integration
Download the eBook here.
---
What you should do next…
1. Subscribe to our newsletter:
Subscribe to our newsletter below for the latest news, advice and thought-leadership for software professionals. Or visit our blog to browse our most recent articles.
2. Learn how virtual labs can grow your business:
To learn more about how CloudShare helps software organizations grow revenue, increase efficiency and improve quality, visit our resources page. You'll be able to browser dozens of valuable white papers, eBooks, webinars, case studies, and brochures.
3. Get a FREE, no obligation demo:
Discover just how easy it is to create your cloud environment—in minutes! One of our friendly virtual labs experts will be happy to:
Show you the platform in action
Calculate pricing for your business
Set you up with a 14-day free trial
Answer any questions you have
No pressure or obligation