Why Virtual Training and Digital Transformation Go Hand-in-Hand
To get articles like this free in your inbox, subscribe to our newsletter.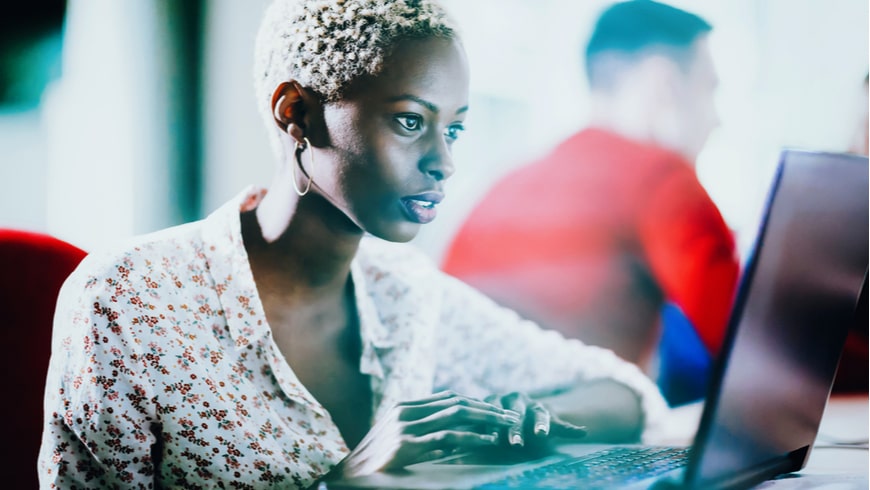 Ten years in three months. That's how far the digital transformation timeline advanced because of COVID-19. The workplace of the future arrived a decade early, which means the workforce of the future is still struggling to keep up.
We've all felt it at one point or another, especially in recent years. The nagging feeling that we're missing something. That something is wrong. 
For some of us, it's that we're lost in a sea of digital noise, struggling to keep ourselves afloat in a world that's grown increasingly chaotic and stressful. For others, it's the fact that distributed work has either eroded or laid bare our company culture, leaving us disillusioned and disconnected.
Still, others are simply tired. Burnt out.
Either way, one thing holds true for all of us. For the past two years, it feels as though we've all been playing catch-up. And all the while, we've watched countless businesses fall behind, lacking the internal skills required for digital transformation — the necessary talent to remain competitive.
So, what options do we have today?
In this post, we're going to cover why virtual training and digital transformations are synonymous, and what this means for companies looking to upskill and stay relevant.
The Job Market Is Changing: Here's What We Know
We've seen an increasing number of jobs displaced or lost. At last count, that number had reached 220 million. By now, it may be even higher.
There's no easy solution for any of these problems. The world we now face is completely unprecedented. There's no real guidebook on how to proceed, no primer on how to move forward.
We've largely been playing it by ear as we've watched our businesses and our roles within them transform.
It is no secret by now that the pandemic widened the already yawning skills gap in the labor market. We already lacked skilled personnel before everyone was pushed into distributed work. Businesses were already struggling to innovate and evolve before they were forced to.
It may be tempting to view this as a crisis. And for some businesses, it certainly might be. But on the whole?
It's an opportunity. 
It's an opportunity for employees to learn new skills or transition into new roles. It's an opportunity for businesses to rethink their hiring practices and update their training processes. It's an opportunity for all of us to evolve.
Upskilling and Reskilling: The New Norm
Upskilling and reskilling are no longer optional. In the short-term, businesses need to provide their personnel with the knowledge, skills, and experience to embrace the many ways their careers have changed. And in the longer-term, they must simultaneously reconsider their onboarding process and provide existing staff with professional development, coaching, and career advancement.
As noted by PWC, what employees expect of their employers has shifted dramatically. They seek leaders who will act as role models that actively engage with employee feedback. They seek benefits and incentives adapted to the new landscape of work.
And perhaps most notably of all, they seek opportunities for training and professional development.
Consider, for instance, that 74% of employees are prepared to learn new skills or re-train to stay employable in the future. Or 59% of millennials — who currently account for over a third of the US labor force — rate professional or career growth and development opportunities as extremely important when applying for a job. Opportunities for learning and growth are also a major factor in retaining millennial employees.
Enter Virtual Training: The Solution to a Global Workforce
If we know that effective training is crucial not just in establishing digital transformation skills, but in attracting and retaining top talent, then it's obvious how important virtual training is in making this possible.
The world is going increasingly digital, which means cloud training has an incredibly important part to play. A virtual training platform allows your business to seamlessly develop, deploy, and maintain its own lessons and modules at a significantly lower cost than in-person training. These platforms also allow students to proceed at their own pace and on their own schedule.
But perhaps most importantly, if you invest in the right training solution, your business can create materials that are both intuitive and streamlined. Rather than having to spend several hours sitting through laughably-bad training videos or suffering through a boring slideshow, employees can take a more direct, active role in their learning. Let's say, for example, you're looking to internally hire someone for your IT department.
Through a virtual training platform, you could:
Allow the trainee to experiment and learn by doing in a simulation of your business's actual ecosystem.
Provide personalized lessons to help the trainee gain the necessary IT certifications.
Host instructor-led training sessions in which the instructor can engage with the trainee as if they were in the same room, even though both are remote.
Pay careful attention to each trainee's progress and pain points, then use those insights to both help them along and improve the training program.
Make Engaging Training the Norm With CloudShare
What we've described above is just a sample of what you can accomplish through CloudShare. Our hands-on, virtual training solution gives companies everything they need to impress customers throughout the sales process and engage employees with interactive training.
Whether you seek to close the IT skills gap, create a certification course, or simply provide your employees with learning opportunities, we can help. Book a demo or get in touch to learn more about how top companies are leveraging CloudShare to build experiences that sell.
---
What you should do next…
1. Subscribe to our newsletter:
Subscribe to our newsletter below for the latest news, advice and thought-leadership for software professionals. Or visit our blog to browse our most recent articles.
2. Learn how virtual labs can grow your business:
To learn more about how CloudShare helps software organizations grow revenue, increase efficiency and improve quality, visit our resources page. You'll be able to browser dozens of valuable white papers, eBooks, webinars, case studies, and brochures.
3. Get a FREE, no obligation demo:
Discover just how easy it is to create your cloud environment—in minutes! One of our friendly virtual labs experts will be happy to:
Show you the platform in action
Calculate pricing for your business
Set you up with a 14-day free trial
Answer any questions you have
No pressure or obligation