Zoom is a beautiful thing; virtual labs are gorgeous. So reach out and touch someone.
To get articles like this free in your inbox, subscribe to our newsletter.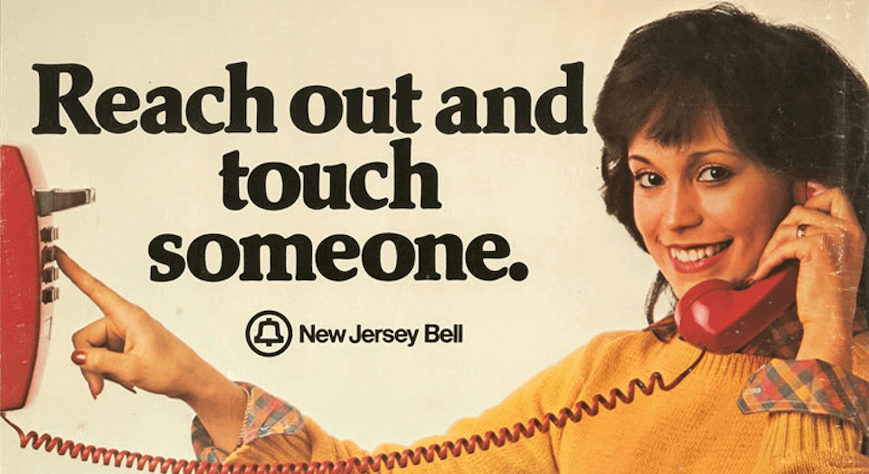 "Reach out and touch someone." Remember that epic slogan?
I've seen it credited to American Telegraph & Telephone (AT&T) as well as the "Baby Bells." Researching its history, even though it was most popular in the 1970s and 80s, its roots can be traced back to the 1920s. I offer as evidence this featured snipped from a Google search.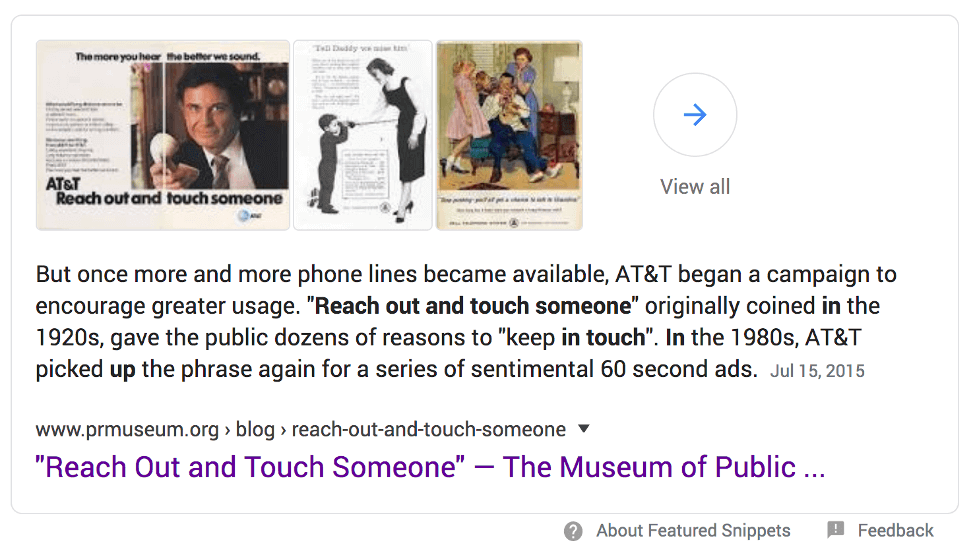 I suppose it's not important to pinpoint exactly where and when it came to be. And I suppose I should admit, you may not even recognize the landmark slogan at all. To do so you'd have to (a) have been around for several decades or (b) have an affinity for the history of advertising.
Still, it's a fascinating study in psychology. The idea, which resonates even now —though long-distance calling service is hardly a thing anymore — is simple: If you can't be there, call. Your voice is all you need to connect with someone you care about. Or something like that.
You get it, and it still applies, except we can do better now. We can easily add video to the experience. Instead of calling Grandma to report your one-year old munchkin is taking her first steps, you can "conference-in" Grandma so she can see it for herself.
We do it with our smartphones, tablets and computers. For services, we have oh-so-many options: Facetime, Skype, Hangouts. And in business, we often rely on one of a dozen or more webinar/web meeting platforms. Today, Zoom seems to be the brand zipping from everyone's lips. Zoom, Zoom, Zoom.
Zoom's a beautiful thing
I'm approaching the point in the article where some might expect me to explain why Zoom doesn't fulfill the same purpose as our platform, which is a cloud-based solution for conducting virtual labs.
I'm not dissing Zoom – I love it. I've used it several times today. I had to.
It's late March 2020 and responsible citizens around the world are heeding the advice of scientists to slow the spread of the coronavirus. We're staying home. If we're lucky enough to have work to do, many of us are online and collaborating via Zoom or one of the other aforementioned services.
I might also add I was a user and fan of Zoom well before the outbreak. My office is in Tel Aviv. The company HQ is in San Francisco. Partners and vendors span the globe. So, as long as I'm willing to connect before, during and/or after hours (business hours, that is), I'm a full-on Zoomer. It's a great tool for so many things, but not everything.
Effective software sales and training done remotely, calls for something more than an online meeting.
Virtual labs support software sales and training
If you're in the business of enterprise software sales, you're well aware product demos and proofs of concept (POCs) are a vital part of the process. Though they can — and traditionally have been run mostly face to face — virtual labs provide new levels of efficiency, effectiveness and scalability.
Most of all, cloud-based virtual lab platforms enable sales reps and/or pre-sales engineers to deliver an interactive, hands-on experience for prospective customers.
The same set of features and benefits apply for post-sales support. Cloud-based virtual labs enable hands-on training, onboarding and certification sessions. You can run as many instances of your software as you need. Plus, instructors have real-time visibility into each student's progress and can jump in and provide guidance via chat in real-time, exactly when it's needed most of all.
Of course, each of these scenarios also require a live communication channel. The virtual lab platform does not integrate voice and video chat. It simply runs side by side with Zoom or any VoIP you prefer.
So, friends, do reach out and Zoom someone. But, if you're aiming to support a complex software product sell or customer training, look to virtual labs. You accelerate your business by shortening time to training and time to PoC. And, you can make things happen from any device, whether you're sitting behind your remote desk or taking a breather in your garden.
---
What you should do next…
1. Subscribe to our newsletter:
Subscribe to our newsletter below for the latest news, advice and thought-leadership for software professionals. Or visit our blog to browse our most recent articles.
2. Learn how virtual labs can grow your business:
To learn more about how CloudShare helps software organizations grow revenue, increase efficiency and improve quality, visit our resources page. You'll be able to browser dozens of valuable white papers, eBooks, webinars, case studies, and brochures.
3. Get a FREE, no obligation demo:
Discover just how easy it is to create your cloud environment—in minutes! One of our friendly virtual labs experts will be happy to:
Show you the platform in action
Calculate pricing for your business
Set you up with a 14-day free trial
Answer any questions you have
No pressure or obligation