Step 1: Define your customer training needs
Work out what you need to deliver an efficient customer training/onboarding process and the business value of customer training.
Take a top-line view of your goals
Understand how customer training supports your business goals now and how it'll be next year. This is an important first step.
Goals can include:
Reducing customer churn
Strengthening customer relationships
Boosting customer satisfaction/loyalty
Increase in product renewals
Growing profit
Along with your goals, remember to look at your sales teams as well.
Consider your sales success
Talk to your customer success teams to understand what to expect in the coming year.
Are your customers' training needs expected to expand? If so, your training department may need to grow to provide rapid onboarding.
Analyze how your training has performed so far
Ask: is the training you currently provide effective?
Investigate whether your training processes met your KPIs for 2022.
These KPIs can be:
% increase in customer engagement
Time to competency
Time to value
From trial to paying customer
You should know the customer churn rates and the level of competency of students who have completed the training.
Pro tip: from pre-sales engagement with prospects to onboarding to ongoing education, you should approach these in a way that delivers a unified experience.
Where will your training take place?
How much of your training will need to be conducted in-person/on-premises, virtually, or hybrid?
This will tell you how much you need to invest.
During the COVID-19 pandemic, the move towards virtual training reached a new peak.
In 2017, 77% of companies leveraged virtual training. By 2020, this increased to 98%. And virtual training looks like it might be a permanent change. Reports suggest virtual training can reduce instruction time by up to 60% and cost 50% less than classroom training.
Companies leveraged virtual training

Self-led or VILT
How much of your training is conducted via self-led methodology, and how much will be an instructor or virtual instructor-led training (VILT)?
According to a report from Ken Blanchard Companies, over the course of the pandemic, the prevalence of in-person classroom training dropped from 63% to 9%, while virtual instructor-led training increased from 10% to 53%.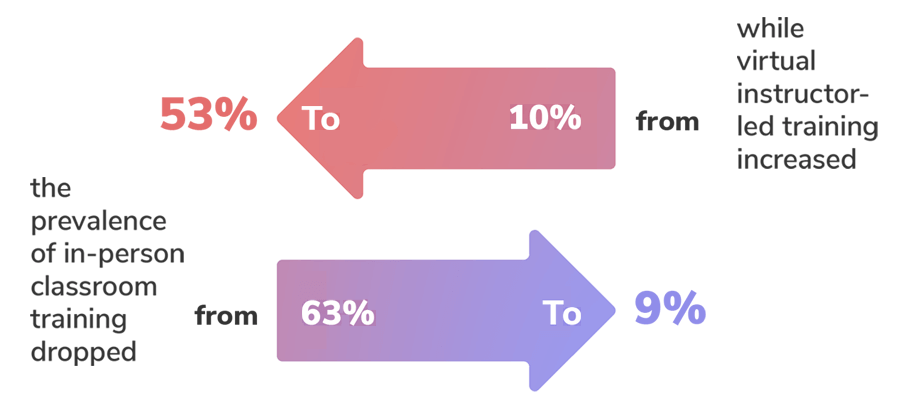 This is a good time to analyze how close your training setup is to meeting your needs
It already completely meets our needs
Close to ready – we may need to tighten a few screws
Okay – we will need a little investment
Not close at all – we will need to invest heavily