13 Software & Technical Training Leaders You Should Follow on Social in 2022
To get articles like this free in your inbox, subscribe to our newsletter.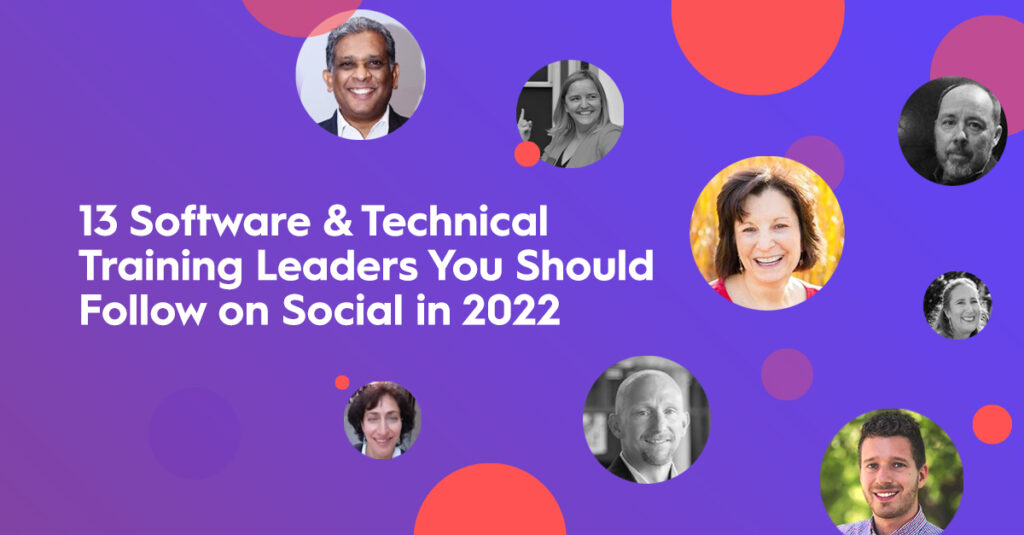 You've heard that the best leaders are lifelong learners. That the most successful businesses are those with effective employee training programs. That the right training can make all the difference in the world. 
But what you may not know is how to actually implement that training. It isn't something that can be done as a half-measure. You need a measured, strategic approach informed by extensive research. And you need your training to mesh seamlessly with your organizational culture.
Of course, this isn't an easy task to accomplish. The good news is that you don't need to fly blind here — you don't need to pursue corporate learning and development entirely on your own or reinvent the wheel. There are a great many thought leaders and experts to learn from!
In fact, as a general rule, we believe that sharing knowledge and expertise is part of every learning and development professional's DNA, which is also why we wanted to highlight some of the most distinguished training leaders out there. 
So here are some of the most compelling influencers in the learning and development space (and yeah, we absolutely love these "shout-out" posts. Check out our "19 Top Sales Enablement Leaders on Social Media in 2022" piece from earlier this year).
(WEBINAR) Students Are Bored Out Of Their Minds??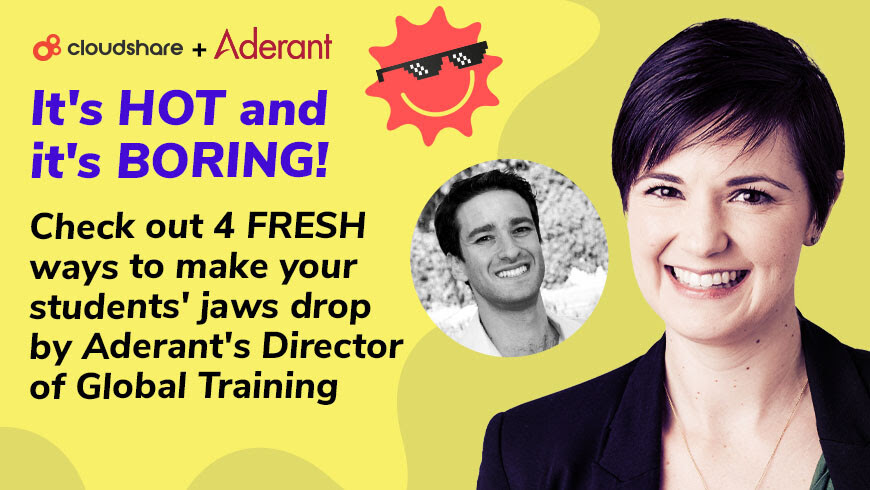 Debbie Smith
Director of Customer Education, Checkr
Smith is an innovative entrepreneurial customer education leader that specializes in learning strategy, instructional design, eLearning design and development, user experience, and project management. She works to help companies build relationships that promote synergy across organizational lines through a guidance-driven and mentorship-based approach. With more than a decade of experience in the industry at companies like Fullbridge, Performance Design Group, Quick Base, Braze, Smartsheet, Customer Education Management Association, and Checkr, Smith is an established subject matter expert in all areas of certification, competency-based learning, and instructional design. Smith is primarily active on LinkedIn, where she shares insights, updates on training industry conferences and workshops, and more.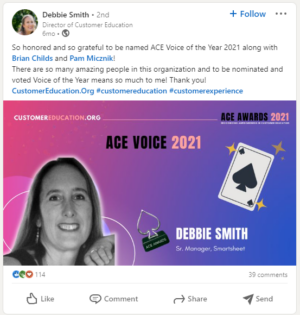 Sumeru 'Sumo' Chatterjee
Co-founder, Stealth Startup
Chatterjee, better known as Sumo throughout his online presence, focuses on helping startups grow through community, content, and customer education. He previously bootstrapped an e-learning company, CustomerEducation, to give SaaS companies the knowledge necessary to educate customers about their platforms. Additionally, Sumo writes an impressive amount of LinkedIn articles, striving to achieve one article per day on the platform. With a roster of successful startups under his belt, Sumo has become a recognized thought leader in the world of entrepreneurship and customer education.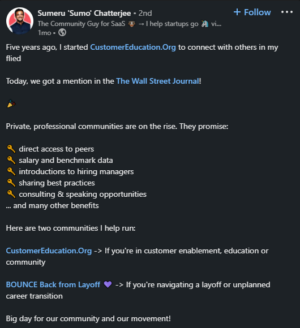 Adam Avramescu
VP of Customer Education, Personio
With a resume ranging from Slack to Optimizely, Avramescu is an industry leader in customer education. He's been helping companies understand the importance of training their customers for over a decade, leading many of them to create effective training solutions. Avramescu also authored "Customer Education: Why Smart Companies Profit by Making Customers Smarter," an in-depth examination of how and why companies need to educate their customers. He currently leads the customer education side of Personio, a SaaS platform that provides a modern approach to HR processes. Additionally, Avramescu operates a Bay Area meetup group focused on customer education. His often long-form posts provide insights and industry news.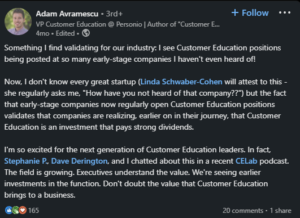 RK Prasad
CEO & Co-Founder, CommLab India LLP
An entrepreneur at heart, Prasad holds a Ph.D. in Mobile Learning and is the mind behind CommLab India, a global e-learning company that works with some of the world's biggest brands. Thought leadership pieces comprise the majority of the content shared by Prasad on both Twitter and LinkedIn, all authored by Prasad himself — though he does occasionally share company updates about CommLab India, as well. If you're looking for valuable, relevant content related to corporate learning and development, Prasad is one leader you'll want to follow.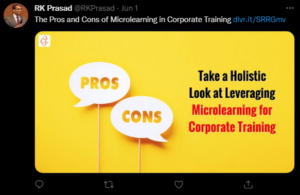 Kevin Streater
Vice President, ForgeRock University
As a career-long educator, Streater has been developing and leading training courses since 1996. He is currently the Vice President at ForgeRock University, where he guides the development of global learning platforms, and serves as a Member of Council at The Chartered Institute for IT (BCS). Additionally, Streater has a strong technical background, giving him insights into how to create practical and effective technical and software training courses. He is active on LinkedIn, sharing insights into IT, technical training, and significant industry events.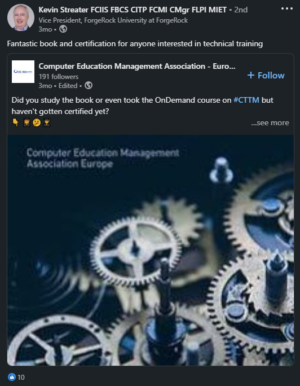 Simon Dunant
CEO & Founder, CourseProfs
Dunant regularly shares insightful and uplifting content from across the leadership development space on his LinkedIn, where he also supports multiple social causes. Other content includes valuable resources and advice about everything from leadership development to web analytics.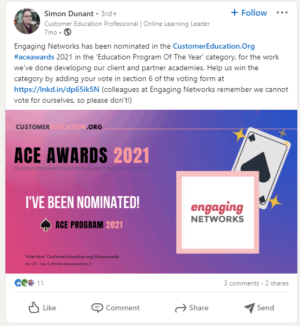 Patti Shank, PhD.
Founder, Learning Peaks LLC
An award-winning instructional designer and trainer, Dr. Shank is an expert in identifying the strengths and weaknesses of existing learning environments. Her primary focus is on evidence-based learning in the workplace, and the majority of her social content provides actionable advice in that regard. Shank has also published multiple books and offers multiple courses via her website.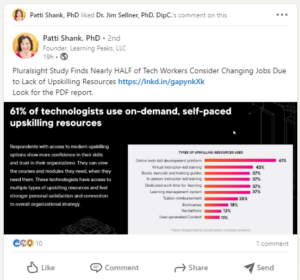 Justin Lake
CEO & Founder, Skyllful
Lake is an experienced mobile technologist and business strategist focusing on empowering frontline workers with essential mobile technologies to enhance their work performance. He is the CEO and Founder of Skyfull, which provides workers with on-demand mobile training. Lake also co-hosts the podcast "Frontline Innovators," which discusses how companies can address the hurdles of technology adoption by frontline workers. In addition, he is active on LinkedIn, sharing insights, company news, and notable industry event information.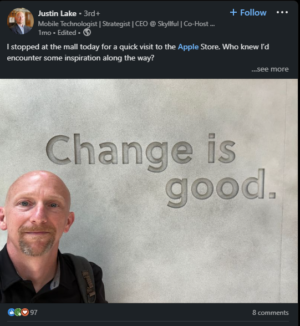 Pam Micznik
Founder & Strategic Advisor, Zenya Learning LLC
Micznik founded Zenya Learning LLC in 2017 to help global organizations build effective training programs for customers and employees. She uses a data-driven approach to help improve the customer experience with effective eLearning, LMS implementation, and insightful onboarding experiences. Her diverse skill set, including video editing, technical writing, and educational consulting, give her unique insights into what businesses must do to craft effective training programs. She regularly shares customer experience advice, training insights, and customer education news on LinkedIn.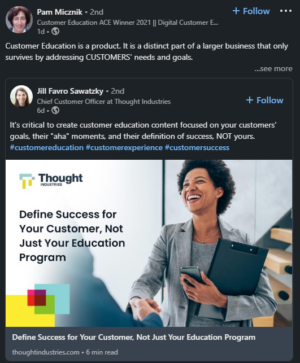 Alessandra Marinetti
Head of Academy & Customer Enablement, Asana
With a diverse background in the world of training, Marinetti has organizations ranging from the United Nations to Asana develop effective training programs. She's also previously worked as a university educator, giving her an in-depth understanding of how to create learning environments conducive to information retention. Marinetti has a self-proclaimed obsession with podcasts, and she regularly shares industry-related shows with her own insights. As a thought leader in the industry, she is also actively involved with the learning and training community on LinkedIn.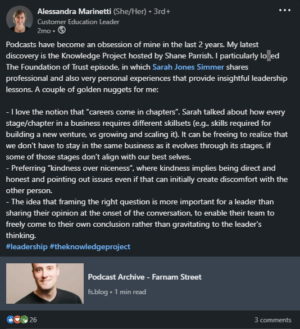 Kevin Ruse
Training Consultant, Kevin Ruse + Associates Inc.
As a trainer to trainers, Ruse has an extensive background in technical and software training reaching back to 1996. He has also authored several books for trainers, including "75 Practical Tips for Technical Trainers." In addition to providing consulting services to organizations, Ruse also develops courseware for those looking to gain new skills in technical fields to advance their careers. As a former university instructor for the University of California, Ruse has hands-on experience with institutional education. Now, he leverages his diverse skill set to help organizations create effective training solutions for their employees.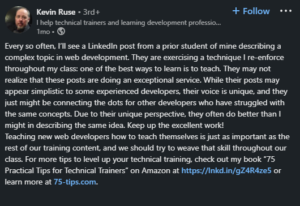 Leslie Chamberlain
Senior Director of CX, CareerPlug
Chamberlain is an experienced educator with both university and customer education experience. She currently leads the customer experience team at CareerPlug, where she guides community building and customer education initiatives. Her previous work experience heavily emphasizes customer education, giving her a unique perspective on the world of learning. With a specialty in micro-learning, Chamberlain has created and led training courses throughout 27 countries. Her LinkedIn posts span industry news, unique insights, and company updates.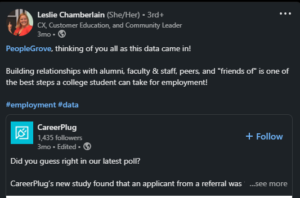 Learn the Latest Software and Technical Training Insights
The world of customer education and technical training moves quickly. New techniques and technologies have empowered both companies and trainers with potent new education capabilities. Expanding your social media network by following the right people will keep you informed on the latest trends and unique insights in this fast-moving industry. 
Interested in learning more about notable industry influencers? See our picks for the top sales enablement leaders. These industry experts will keep you updated on the latest trends, news, and insights you can immediately put to use in your career.
Next-generation software training experiences start with CloudShare
CloudShare proudly offers next-generation training environments with highly interactive virtualized labs for technical training and integrated learning management systems. 
Our mission is to empower companies and trainers with the latest technologies to power their education efforts. Book a demo with our training experts today to discover how CloudShare can take your training requirements to the next level.
---
What you should do next…
1. Subscribe to our newsletter:
Subscribe to our newsletter below for the latest news, advice and thought-leadership for software professionals. Or visit our blog to browse our most recent articles.
2. Learn how virtual labs can grow your business:
To learn more about how CloudShare helps software organizations grow revenue, increase efficiency and improve quality, visit our resources page. You'll be able to browser dozens of valuable white papers, eBooks, webinars, case studies, and brochures.
3. Get a FREE, no obligation demo:
Discover just how easy it is to create your cloud environment—in minutes! One of our friendly virtual labs experts will be happy to:
Show you the platform in action
Calculate pricing for your business
Set you up with a 14-day free trial
Answer any questions you have
No pressure or obligation