Corporate Training vs. Cloud Based Virtual Training
To get articles like this free in your inbox, subscribe to our newsletter.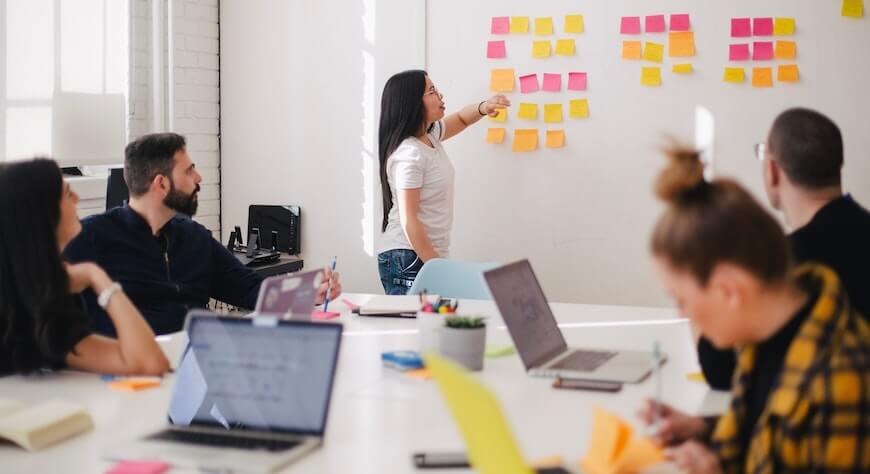 (Last updated in 2018)
Cloud-based services are increasingly replacing traditional applications for almost every business solution. Websites, emails,  marketing platforms, IT support, backup services, data storage and booking systems- name it and it most likely has a cloud solution.  In fact, 80% of enterprises globally are making use of cloud environments and Gartner analysts predict that cloud services will grow to $244 billion by 2017, representing a compound annual growth rate of 17.1% from 2013.
Corporate training is a fundamental part of the cloud computing equation. This is in large part because companies are discovering the benefits of cloud computing and are seeking new ways to further their employees' know-how that are flexible and tailored to the individual person's needs. It is projected that the corporate cloud-based training marketing will grow by about 13% per annum in the period up to 2017.
So if you're still debating whether the cloud is right for you, below are 4 reasons to choose cloud-based training over on-premise corporate training solutions.
It's all about the Training, Not the Infrastructure
Companies with branches around the world have employees around the world.  Consequently, training staff across the globe is no easy task and can not always be performed within the company's premises. Classroom corporate training requires you to bring your staff to a central educational facility and invest time and resources on shipping and installing dozens of specialized hardware units, configuring servers, wrangling with logistics, optimizing each course for different operating systems and dealing with the challenges of gaining access to data centers, networks, and equipment.
With cloud-based training platforms – this is non-existent. The infrastructure is managed for you by your online training provider, removing added infrastructure distractions, installation requirements, and maintenance.
Moreover, with online training tools, you don't need to build a new corporate training class all over again for each class or deal with different operating systems. You simply create a custom curriculum template or select from a vast template library to get started, install your lab application in the cloud environment, clone it, and send to each student a URL complete with a pre-installed and configured training application. If they need to learn on a different operating system or start from a different point in the course, you can offer a different copy just as easily as the first.
Empower the Instructors and the Students
With cloud virtual training, the instructor has complete oversight to each student at all times from his instructor console.
When the course starts, instructors can view students' environments as they work, triage issues if the student is lagging, and take control of the student's computer during the class to provide help if needed (with no need to share a screen or grant permissions like in web conferencing).
From the students perspective, it doesn't matter if they are at home, work, in New York or Tokyo. The experience of the course is similar to a real-life course and they can raise their virtual "hand" if they have any questions, hear the instructor with voice technologies, see the instructor's desktop if he or she steps in for demonstrations and interact with other students via a chat.
Today's virtual training software provides an optimal experience for all things training, for both students and Instructors.
Control Costs
Corporate training cost savings is by far one of the main reason why companies switch to cloud-based training solutions.
As we noted earlier, today's organizations are spread out anywhere in the world and in order to accommodate different sessions, companies need to fly out their instructors to the physical place. With today's travel costs, the travel and lodging expenses can really add up! Up to 40 percent of total corporate training costs are spent on travel and lodging alone. WOW.
Classroom training platforms have large upfront costs and capacity limits. The size of the training room, server inventory, and trainee headcount are all constrained in traditional campuses.  If you under-book, you've wasted money on unnecessary infrastructure. If you overbook, you often must rent out additional space and servers at high cost or forgo the additional income opportunity.
With cloud-based corporate training, all the training takes place in the cloud and students access their session via their web browser. The student can be located in Singapore and the instructor can be located in Canada – either way, it doesn't affect the cost any differently. Most cloud-based training providers offer a usage-based billing model, meaning you have full visibility of activity, usage, and cost and you pay only for what you use.
Enhance the Student Learning Experience
Conventional computer labs function in two main ways. Many use separate applications set up on individual computers. Besides being costly and time-consuming, these applications are prone to tampering and misconfiguration by the user. Alternatively, some computer labs use clones of a real application, but these copies do not provide the full functionality of the original. Cloud-based virtual training is a new and popular training method. Cloud-based virtual IT labs provide the benefits of both the above methods, without the potential downsides. They allow trainees to work on a real, full-functioning application, but since it does not sit physically on the user's computer, it cannot be damaged. If students make a mistake, they can simply revert back to the original training environment.
Simple setup & maintenance, access via any web browser anywhere in the world and the ability to clone previous courses – with such encouraging benefits, it's no wonder that, 77% of US companies offer cloud-based training solutions in their professional development programs.
If you would like to speak to a CloudShare specialist about your training needs and receive a live demo of CloudShare's virtual IT training platform – Contact Us!
---
What you should do next…
1. Subscribe to our newsletter:
Subscribe to our newsletter below for the latest news, advice and thought-leadership for software professionals. Or visit our blog to browse our most recent articles.
2. Learn how virtual labs can grow your business:
To learn more about how CloudShare helps software organizations grow revenue, increase efficiency and improve quality, visit our resources page. You'll be able to browser dozens of valuable white papers, eBooks, webinars, case studies, and brochures.
3. Get a FREE, no obligation demo:
Discover just how easy it is to create your cloud environment—in minutes! One of our friendly virtual labs experts will be happy to:
Show you the platform in action
Calculate pricing for your business
Set you up with a 14-day free trial
Answer any questions you have
No pressure or obligation