6 Practical Tips for Pre-sales Demos in the New Virtual Norm
To get articles like this free in your inbox, subscribe to our newsletter.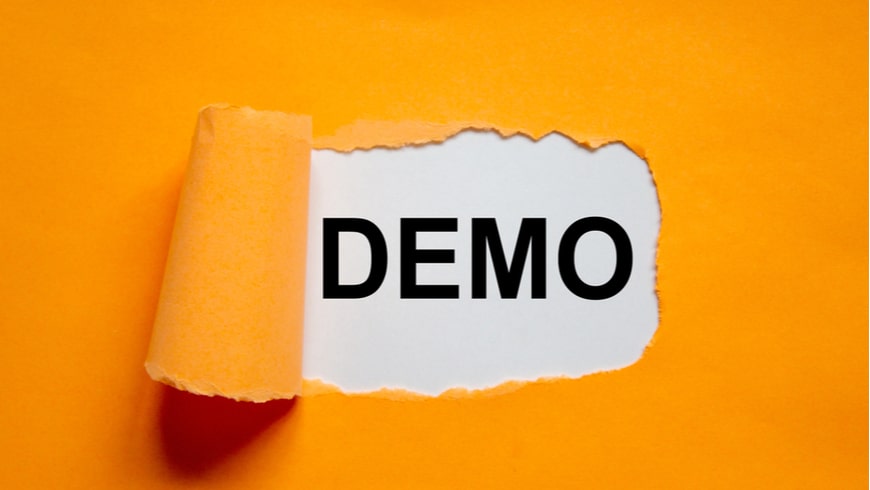 Virtual pre-sales is the very first stage in the customer journey, at least that's how we see it. Unlike the sales demos of old, sales pitches are hosted online bringing numerous benefits, but also a few challenges.
Engaging your prospects with a live video presentation, instead of an in-person walkthrough is the first step when going virtual. While this makes it easier to reach wider and more diverse audiences, it can also limit how much of the product your potential customers can get to grips with, if you aren't using a dedicated solution.
It's important, not only to get the demo right but that you deliver it using the right platform. You want to strike the balance between selling the key points of your product, while also providing the prospect with useful information on your software's capabilities, and perhaps even showing them how it works in real-time. Here are six ways you can create a pre-sales demo that impresses potential new customers in the new virtual norm:
Creating the perfect virtual pre-sales demos
The pre-sales stage is all about ticking your prospect's boxes and showcasing the true value of your product. Technical features can be difficult to explain or imagine, and so it's important to remember your audience and to tailor your demos to them with specific pain points and vocabulary. You aren't here just to read from a spec sheet – make it count.
Here are 6 ways to help your live virtual pre-sales demos make the impact you want:
One challenge that virtual pre-sales demos present is that it's harder to gauge engagement, when compared to an in-person demo. If you want to engage your audience, keep demos long enough for you to cover all bases, yet not so long that they begin to drag.
Diversify your demo with different kinds of media, speak about your features, then perhaps show a video and invite participation in the form of questions and discussion segments.
Knowing what you're up against is crucial in the world of B2B software. If you've got knowledge on where your competitors are stronger than you, and where you can outgun them, it'll be easier to pinpoint the right features to showcase.
Perhaps your software has a unique feature that you know can solve one of the prospect's problems.
3. Personalize the experience
Personalizing your pre-sales demos allows you to tackle each of your prospect's problems one by one. Find out what their pain points are, either through a pre-demo survey or an introductory chat. You could even ask the prospect in advance whether they have any specific goals for the demo and what they're most interested in seeing.
This will allow you to generate scenarios that showcase the way your product solves even their most niche problems. Whether that's through the use of a video demonstration or a virtual labs session – seeing a familiar problem squashed by your software constitutes a good start for your prospects.
4. Be prepared to get into the specifics 
At the pre-sales stage, it's likely that your prospects will be shopping around a little to try to find the right software at the right price. They'll also most likely have a list of features that they're looking for, as well as compliance questions from IT. Be ready with all the technical information you might need, as you never know what kind of questions might be asked.
As we've already covered, your prospects will be looking for some specific numbers when it comes to your software, but it's important to remember that this is still technically a sales pitch. Try to keep the conversation focused on how you can solve their problems and what they're looking to get out of your software.
The best way to engage prospects, and deliver a memorable pre-sales experience, is by giving them the reins. Nobody knows how their organization uses software better than they do, so by letting them get a feel for what the real-life software can do, you'll already have a head start on your competitors that are using Zoom and a slide deck.
Dedicated hands-on virtual sales training and demoing software
By investing in a sandbox virtual sales environment, you can engage your prospects with experiential learning that is focused on their specific working environment and market landscape. It can also isolate a demo version of your product, that is separate from their 'real world' software, that can be poked and prodded without posing a threat. This kind of software can be used and shared anywhere for a truly hands-on virtual experience.
Think of it as all the benefits of an in-person demo, with the ease and scalability of a remote one. What's more, you can control and build the environment that your demo software exists in, making it easier to accentuate your strengths.
Cloudshare makes it easy to create customized environments for your prospects, with a fully controlled sandbox environment ready for your pre-sales demos in the new virtual norm.
To find out more about how CloudShare can help you deliver exceptional pre-sales experiences, get in touch with our team or request a demo.
---
What you should do next…
1. Subscribe to our newsletter:
Subscribe to our newsletter below for the latest news, advice and thought-leadership for software professionals. Or visit our blog to browse our most recent articles.
2. Learn how virtual labs can grow your business:
To learn more about how CloudShare helps software organizations grow revenue, increase efficiency and improve quality, visit our resources page. You'll be able to browser dozens of valuable white papers, eBooks, webinars, case studies, and brochures.
3. Get a FREE, no obligation demo:
Discover just how easy it is to create your cloud environment—in minutes! One of our friendly virtual labs experts will be happy to:
Show you the platform in action
Calculate pricing for your business
Set you up with a 14-day free trial
Answer any questions you have
No pressure or obligation