Best Practices for Choosing a Cloud Training Service Provider [Free Virtual Training Buyer's Guide]
To get articles like this free in your inbox, subscribe to our newsletter.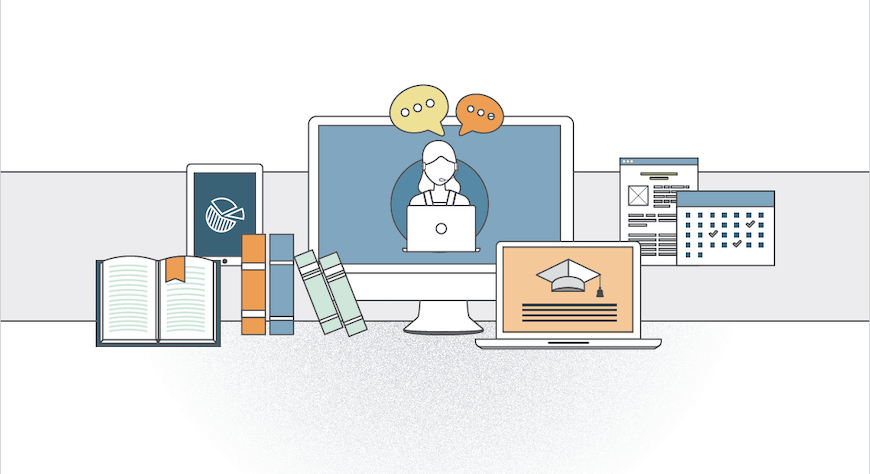 Up until a few years ago, on-site training was the only method available for organizations in need of carrying out their corporate training sessions. The advent of cloud computing has changed this drastically and has brought about exceptional benefits such as instant worldwide scale, cost control and a direct connection with students. According to McKinsey, "Between 2010 and 2015 alone, cloud computing spending has skyrocketed from $10 billion to $85 billion."
With all these benefits, it's no wonder that more and more organizations are shifting to cloud-based technical training sessions. To name a few, Dow Chemical has successfully made the shift and reduced their corporate training costs by 88% by switching to cloud computing training. As a direct link, there has been a surge in the demand for cloud vendors offering virtual training software and platforms. But with so many options, it has become more challenging for software and technical trainers to choose a cloud training provider that best fits their needs.
To help you find your way through this jungle of options, we turned to software and IT trainers who have successfully made their buying decisions and asked them to share and highlight the key success criteria for the different stages of the evaluation process. You can view the full guide in our new whitepaper, "Virtual Training Labs: The Cloud Buyer's Guide".
Let's get started!
Setting the Baseline

First things first, training leaders who have taken advantage of cloud based training, have built strategies around 3 pillars:
1. Delivering a Complete Cloud Based Training Center
2. Choosing Cloud Architecture that Scales
3. Applying Cloud Economics and Delivering ROI
Each week we will peel back the layers of each pillar for a closer look. This week we'll focus on the first, "Delivering a Complete Cloud Based Training Center".
Illusory Cost Savings of Patchwork Solutions

Screensharing, video conferencing and webinar applications are great ways to connect online. Likewise, virtualization and infrastructure solutions (IaaS) can now deliver servers anywhere in the world in a few minutes. Just add a learning management solution and you have the full training stack, right?
Not so fast. Stitching the stack together requires trainers to learn multiple systems and keeps them from making even the simplest adjustments. For example, rightsizing hardware for class attendance is very difficult without a full stack solution. Additionally, this approach requires you to assess training class spend up-front and makes it nearly impossible to associate costs with classes:
– Do you amortize training servers?
– Are you including the cost for OS and server licenses as well as raw infrastructure?
– Are you using all of your training and LMS licenses?
– Are you able to share your VMs and licenses across the entire organization?
More complexity means more cost.
CloudShare's Virtual Training Buyer's Tip:
Connecting with students means more than sharing your screen or sending a copy of a virtual machine. Buyers should demand a "full stack solution" that associates costs directly to consumption. A single, central cloud based training environment connects trainers to best practice templates and allows for instant updates to the entire virtual training software inventory. This keeps costs low by centralizing images and keeping tight control over cloud "inventory". It also ensures a consistent student experience in one platform.
This is not possible in a fragmented training lab solution; redundant work is required for every product update, and consolidated reporting is impossible with siloed systems.
Ask for help

To determine additional requirements for your full stack training lab solution, consult with the IT team that currently support your training requirements. Once you have a basic grasp on these requirements, you will be able to better narrow down which cloud providers are worth investigating.
Reaping the Benefits of Virtual Training

Before you dive headfirst into the pool of cloud training providers, consult with your IT team, list your requirements, and assess your strategy. Once you have a basic grasp on your needs, consider a full stack solution as opposed to Patchwork Solutions. Follow these guidelines and you will be on your way to reaping the benefits of virtual training!
To learn of additional successful habits you can employ when choosing the right cloud based training provider for you, download CloudShare's new Whitepaper: "The Software and IT Trainer's Buyer's Guide to Virtual Training Labs".
---
What you should do next…
1. Subscribe to our newsletter:
Subscribe to our newsletter below for the latest news, advice and thought-leadership for software professionals. Or visit our blog to browse our most recent articles.
2. Learn how virtual labs can grow your business:
To learn more about how CloudShare helps software organizations grow revenue, increase efficiency and improve quality, visit our resources page. You'll be able to browser dozens of valuable white papers, eBooks, webinars, case studies, and brochures.
3. Get a FREE, no obligation demo:
Discover just how easy it is to create your cloud environment—in minutes! One of our friendly virtual labs experts will be happy to:
Show you the platform in action
Calculate pricing for your business
Set you up with a 14-day free trial
Answer any questions you have
No pressure or obligation