10 Best Practices to Increase Your SaaS Training Renewal Rates
To get articles like this free in your inbox, subscribe to our newsletter.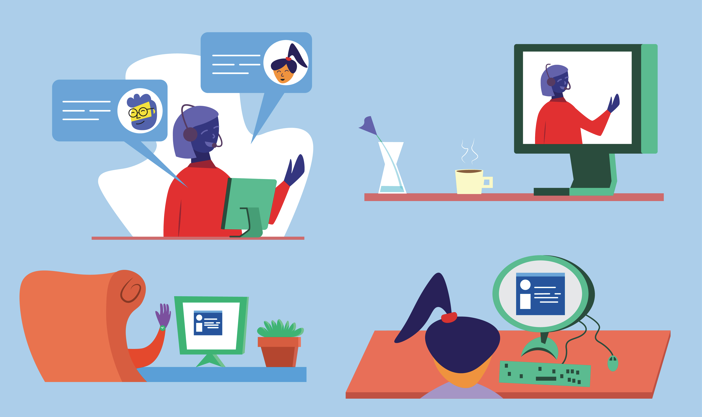 A SaaS training subscription isn't going to renew itself….
The same concerns were echoed in CeDMA's 2022 conference, where every company was facing a drop in SaaS training renewal rates—which also impacted their product adoption rates.
Renewal rates are the percentage of clients who continue their subscriptions after their initial signup period. But keeping this number high, especially in this economy, can be challenging.
Customers either think they know your product "enough" to get by, don't have the time to take training programs, or don't see the value in spending time and money on "another subscription." And it's a fair concern. Customers will only invest in it if they're sure about the exact value they can receive from your training sessions. And this is a core challenge that SaaS companies face today. 
Many SaaS companies are unable to market their saas training because they lack the right data and customer knowledge. To help you solve this issue, we've listed renewal best practices that you can use to entice customers to continue their subscriptions year-over-year.
10 best practices to maximize
SaaS renewal rates
for training
Here are a few sales renewal strategies that can help you increase training renewal rates:
1. Set clear expectations for the program right from onboarding
Focus on making a good first impression. This means that right from the customer onboarding stage, you need to stay on top of your customer's expectations. 
This step is the first of many training sessions, showing them how your product can resolve their challenges. Understand their needs by aligning with the sales and customer success teams and create a tailored experience focusing on specific features they want to explore.

For instance, you can personalize the customer training process based on the following:
Previous familiarity with your solution (or similar solutions)

Level of training required

Features of interest

SaaS subscription goals
You can also email helpful resources like guides or tutorials or onboarding email sequences to encourage adoption early on. This shows customers that your process is catered to them—and they're more likely to test it out and become sticky.
2.  Create a training program worth subscribing to
It goes without saying, but to increase your training renewal rates, you must offer something worth subscribing to. Gone are the days when customers want to attend in-person sessions that last hours to get the point across. They're savvy and may prefer on-demand resources that are interactive and intuitive.
Create specific learning paths that are broken into smaller, manageable steps. You can add video courses and even hands-on training sessions using a VILT solution like CloudShare to give them an interactive learning opportunity. They can test their knowledge in these sandbox trial environments—and cement their product knowledge.
For instance, Atlassian worked with CloudShare to create on-demand training resources, including many lab sessions with training workbooks. After that, they maintained a Net Promoter Score (NPS) rating between 25 and 35.
3. Automate the follow-up process based on friction points 
Automating the follow-up process is one of the best ways to ensure you're always on your customers' minds. You can segment the customer lifecycle based on goals, company size, industry, etc. Next, research your customer and customize the lifecycle so that you know exactly when to reach out to them.
You can set up automations to send them personalized notifications, account or feature updates, or availability of new training sessions. You can also tie their training goals to specific automations so that you intervene when a problem arises. 
For example, if your customer hasn't used the product for over 30 days or hasn't completed a training session, send them a reminder email with helpful resources. This proactive service keeps you top of mind and resolves friction as it arises.
4. Track your training KPIs and communicate ROI to customers
Most companies usually don't have the data they need to prove the ROI or value of their training subscriptions. This happens because they don't know how to track what they want to measure. When you don't monitor progress, it's hard to know if your bundle is even worth the investment. To avoid that, set the baseline metrics and monitor them regularly.
You can track your training metrics in a virtual training solution like CloudShare. CloudShare provides you with access to a comprehensive dashboard, so you can see who is accessing their training session, time spent in the platform and more.
In turn, you can also establish relationships with training champions within the customer's company to get insights into hard data like employee skill improvement, cost savings, productivity gains, and improvement in efficiency. The goal is to focus on the customer's goals—not your product features.
Use these data points to create case studies that help you prove the ROI of your product and the training bundles. Remember that apart from your ideal client, you're always selling to their Chief Financial Officer (CFO), too, so proving ROI is crucial.
5. Create a dedicated training renewal team for maximum success
Alignment with customer success and go-to-market teams is essential to know what to include in your training program and how to improve it. But there's another role you need to account for: the training renewal manager.
Too often, customer success reps are overburdened with their service level agreements (SLAs) and internal performance metrics. In that case, it's challenging to help the customer resolve existing issues and push them to continue their subscriptions. You'd be better off separating these roles and dedicating an entire team to renewals.
Think about it this way. Increasing renewal revenue is critical, so invest in the right employees to get the job done. These managers aim to cater to existing customers with the purpose of renewal. But you also need to enable them with the necessary tools and data to help them identify risks early.
6. Stay connected with customers using multiple channels 
Customers should be able to communicate with you whenever they need. This means you should create various channels of communication that serve them best. You can include options like one-on-one email support, live chat, newsletters, video support, and social media.
Plus, you need to maintain a consistent level of service and messaging. It means responding to questions and addressing any complaints or issues as soon as possible. 
Another customer renewal strategy is hosting webinars or virtual events related to the training subject matter. It helps customers stay engaged and motivated about the topic and reminds them why they signed up for the course in the first place.
7. Provide ongoing support and resources as part of the training program
Training is not a one-and-done game anymore. Most companies have already shifted to a training-as-a-service (TaaS) model, bundling it with software subscriptions. Customers can take advantage of all your resources without additional, a-la carte payments.
The key is to keep your foot on the gas pedal. You never know when customers might shift their idea of training as a "must-have" to a "nice-to-have" investment. Especially when budget and value are not easily found. 
Keep your options open by offering different types of training sessions, such as:
One-on-one coaching sessions (in-person or virtual)

Academy with on-demand resources

Certification courses for skill development

Webinars for specific customer challenges

Individual hands-on sessions for training
You can also provide rewards for completing courses or tracking progress over time which incentivizes customers to stay engaged and complete their training.
8. Analyze customer feedback regularly to improve your training program
Sometimes your customers don't renew their subscriptions because they don't have the time to do it. But sometimes, it's because the content is not good enough. They might think it's too dull, lacks depth, or is lengthy. The only way you can find this out is by asking them.
Make it a point to reach out to them regularly and build rapport. It's a good practice as it helps you identify individuals who are making the most of this bundle and will eventually champion the product. Send out NPS surveys, do a 2-min feedback call, or conduct in-app feedback surveys to gauge their feelings.
Based on their feedback, you can improve or tailor the program for them—helping them get the most out of it. This process gives you access to testimonials and opportunities to upsell or cross-sell packages.
9. Understand that renewals are about relationships—not just budgets
Renewals are not just about the customer's budget—but the quality of your relationship and the service provided. To ensure that they repeatedly invest in your product and training bundles, you must establish a solid rapport.
This means creating dedicated customer success and training renewal teams in constant contact with the customer. You should also identify multiple training champions within the company to ensure that your bundle is not seen as a nice-to-have once any of them leave the organization.
In addition, offer consistently excellent service so that they champion your product within the company and outside it too. You can also incentivize customers using discounts or loyalty programs.
10. Focus on early renewals to seal the deal 
A clear benefit of having a separate renewal team is that they can focus on signing renewal contracts. This proactive approach allows you to identify churn as early as possible. This allows you the time to understand why your product is no longer a priority and address it before surprises come up during the renewal process.
You can encourage this via discounts, loyalty programs, or add-on services. It also gives you time to show the value of training, as you already have the data. By focusing on cost savings and the ROI of your product and training bundle, you reduce the risk of churn and extend the customer's lifetime value (LTV).
Offer interactive training programs with CloudShare
Maximizing SaaS renewal rates for training is a crucial goal that requires an effective strategy. You can increase renewal revenue over time by improving customer satisfaction, providing valuable and actionable content, using a mix of platforms to deliver training, and providing personalized support. 
The goal is to ensure that the customer gets maximum value from your product throughout their contract—which helps your brand remain top of mind. By employing these sales renewal strategies, you can make a significant difference to your bottom line and stay ahead of your competition. 
---
What you should do next…
1. Subscribe to our newsletter:
Subscribe to our newsletter below for the latest news, advice and thought-leadership for software professionals. Or visit our blog to browse our most recent articles.
2. Learn how virtual labs can grow your business:
To learn more about how CloudShare helps software organizations grow revenue, increase efficiency and improve quality, visit our resources page. You'll be able to browser dozens of valuable white papers, eBooks, webinars, case studies, and brochures.
3. Get a FREE, no obligation demo:
Discover just how easy it is to create your cloud environment—in minutes! One of our friendly virtual labs experts will be happy to:
Show you the platform in action
Calculate pricing for your business
Set you up with a 14-day free trial
Answer any questions you have
No pressure or obligation