Ready to See Your Company on that Podium?
To get articles like this free in your inbox, subscribe to our newsletter.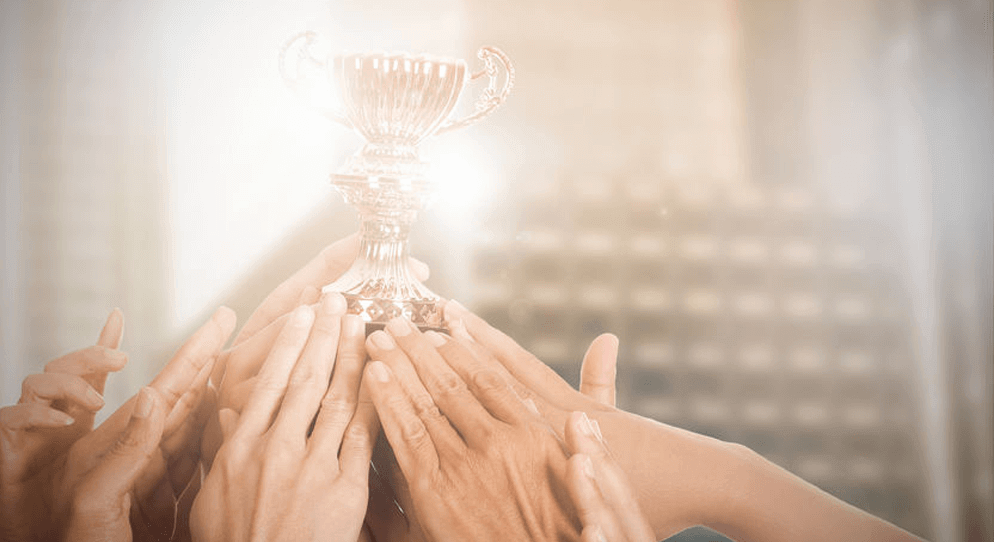 Learn how to turn your trainers into Olympic champions!
The trainer behind the athlete
Usually, we see the athletes as the Olympics champions, and they rightfully deserve that title. But we so often leave behind their coaches, the ones training them for years on end to get them to accomplish their goals, withstand the pressure and eventually get on that podium and hear the applause.
Olympic athletes grow upon the shoulders of Olympic trainers. And the same goes for organizational cloud based training – If we want our employees to become successful in what they do and benefit the brand, we need to learn something from those Olympic trainers. The only difference is that in our business world, we usually can't train our team all in the same place at the same time. That's exactly why virtual training was born.
In fact, we know today that synchronized online communication can benefit any organization with a distributed workforce – being available anywhere, anytime – and that it is statistically the best way to learn a new topic.
"Death by PowerPoint"
As far as businesses go, an effective virtual training is one that improves our employees' job performance and develops their skill sets.
But anyone familiar with the term "death by PowerPoint" is aware that virtual training can quickly become a disastrous waste of everybody's time, with no actual added value for the company, nor its employees.
And while a lot depends on the trainers themselves, they need to have the best virtual tools in order to become champions.
So here are a few tips on how to turn your trainers into Olympic champs:
First thing's first. No one can teach anything when the students just don't have the facilities they need. Trainees need to have easy access to the training session, especially when they're not tech-savvy, and learn in an appropriate space with adequate equipment. Make sure you're using

virtual cloud based training labs

that allow easy access to all the necessary infrastructure resources, anytime and anywhere regardless of configuration.
Visuals, visuals, visuals! Let's face it, the most amazing trainer is still no match for visual effects, since 80% of our sensory information is visual. So compensate for your employees' lack of listening with visual features to catch their attention and get the message across. It's clear that virtual training developed with thoughtful design creates a high-quality online learning experience.
Make them practice just like athletes! The best way to keep your employees engaged is by letting them practice more and more. Your trainer is better off keeping them engaged than overwhelming them with information. With the right technology, trainers can let students participate online and give them the assistance they need in real time.
Keep them on their toes! Make no mistake- your employees will most probably forget most of the information presented if they don't practice after the session is over. So before they go on catching more Pokémons, trainers can give them a test-run in a realistic environment. The right cloud based training lab will allow trainers to track students' progress as they train individually.
Make your trainer's life easy. Do you have any idea how long it takes to develop comprehensive environments for each practice? Don't waste your trainers' (and your IT team's) time- use a cloud based training lab provider that offers built-in templates designed for their needs.
In short?
Keeping your employees in shape is no easy task, but it's worth it. By using a smart virtual training environment, you can empower your trainers to eventually teach better.
And as you know, Olympic champion trainers make Olympic champion employees.
Want to talk to us about improving your virtual training strategy?
---
What you should do next…
1. Subscribe to our newsletter:
Subscribe to our newsletter below for the latest news, advice and thought-leadership for software professionals. Or visit our blog to browse our most recent articles.
2. Learn how virtual labs can grow your business:
To learn more about how CloudShare helps software organizations grow revenue, increase efficiency and improve quality, visit our resources page. You'll be able to browser dozens of valuable white papers, eBooks, webinars, case studies, and brochures.
3. Get a FREE, no obligation demo:
Discover just how easy it is to create your cloud environment—in minutes! One of our friendly virtual labs experts will be happy to:
Show you the platform in action
Calculate pricing for your business
Set you up with a 14-day free trial
Answer any questions you have
No pressure or obligation