Invest in Success: A Guide to the Top 7 Customer Education Events Coming Up in 2023
To get articles like this free in your inbox, subscribe to our newsletter.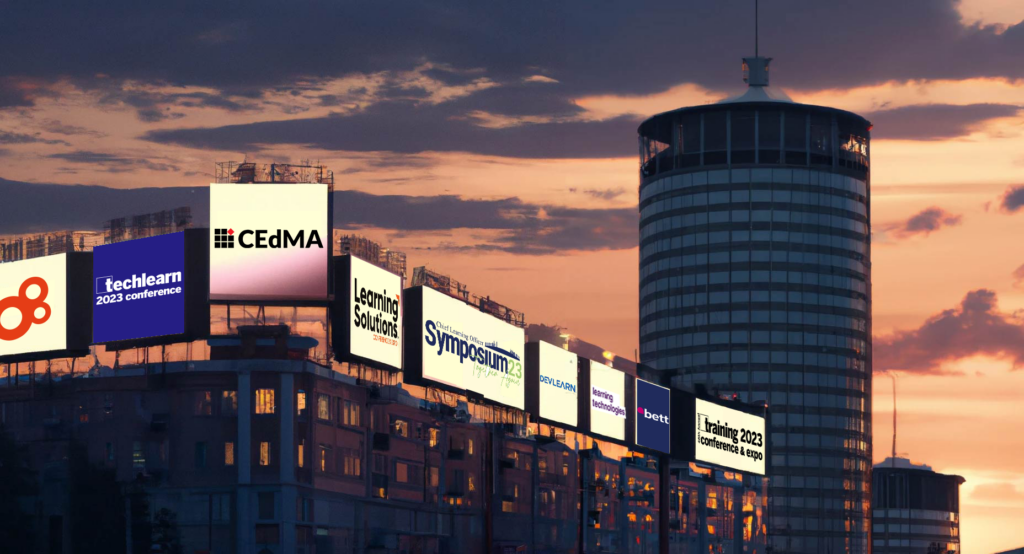 The more you educate your customer about your product, the higher the chances of retention.
But today's customer is technologically-savvy and doesn't have the time to participate in such programs. So, how do you overcome this? 
Attend leading industry conferences to network with folks who have been there and done that. 
Customer education conferences are an excellent way to find out what's working in the industry and build strong relationships with your customers. You'll also walk away with a solid strategy for surviving tough times.
Whether you're new to the field or an experienced veteran, there's always something to learn and implement within your customer training strategy. We've listed the eight best customer education events to ensure you can plan your L&D budget and cash in on the best networking opportunities in this industry.
Let's dive in.
Learning Solutions Conference & Expo: April 12 to 14, Orlando, Florida
Learning Solutions Conference & Expo is an invaluable event for learning professionals that brings together industry experts and innovative thinkers for three days of collaboration and education. 
With 120+ educational sessions and workshops, the conference offers attendees the opportunity to gain insight into the newest methods, technologies, solutions, and practices in the eLearning industry. Attendees have access to a variety of keynote addresses, some of which include:
Learning's role in innovation and problem-solving — Mike Massimino, Former NASA Astronaut

Collaborative communication: The secret to putting learning into action
TechLearn 2023 Conference: September 19 – 21, New Orleans, Florida
TechLearn 2023 conference brings together industry leaders, experts, and researchers from across the globe to explore the latest learning technologies and research developments. It's the ideal conference for corporate trainers and professionals looking to upskill and network with other industry experts.
From Design and Implementation to Evaluation, Assessment, and Testing—attendees will have access to a wealth of knowledge from experienced professionals. ELearning, Adaptive Learning, Games & Simulations, Social Learning, Augmented Reality, and more are on the agenda. 
With a lineup like this, you're sure to benefit from the applications of these technologies you'll learn about.
Chief Learning Officer Symposium:  October 16-18, San Diego
The Chief Learning Officer Symposium is an annual event that brings together leaders from all sectors of the learning and development (L&D) industry. This three-day event provides an excellent overview of how to build a thriving learning culture and encourage personal growth. 
You can expect to gain in-depth insights into the challenges of creating sustainable learning initiatives. You'll also learn the best practices for implementing these ideas across various organizations. The intention is to inculcate a lifelong learning mindset that requires a conscious effort for every L&D professional.
If you're looking to stay ahead of the curve in the L&D space, there is no better place than the Chief Learning Officer Symposium to do so.
Training 2023 Conference & Expo: February 13 to 15, Orlando, Florida
Training Conference & Expo is the premier event for anyone looking to sharpen their skills in training and development. It has been going strong for 45 years and has seen hundreds of professionals gathering to learn, network, and share insights. 
The conference offers attendees various information on topics such as train-the-trainer essentials, eLearning, behavioral analytics, and more.
An excellent benefit of this expo is that you can take up Certificate programs and attend the Learning Leaders Summit to stay on top of what will be discussed. Almost like a pre-game experience—which you shouldn't miss out on.
You can expect sessions like:
Blending Personalized Learning with Coaching

In-Person Learning in a Digital World

Skills-First Learning Strategy

+ more!
CEdMA Europe Spring Conference: April 24 to 26, London, United Kingdom
With a tagline of "Doing More With Less," they're set to discuss new trends in the customer training industry and Information Communication Technology (ICT) along with fresh perspectives. 
If you're implementing customer training events or a part of the ICT industry, it's a have-to-attend conference. 
Not only do participants gain valuable insight into customer education programs and best practices, but they also get to interact with peers from across the globe who are facing similar challenges. 
Last year they had sessions like Scaling Customer Education – Innovation and Partnerships, Micro-credentials: A Solution for the Rapidly Changing Nature of Work, and more. This year is expected to discuss similar trends too.
Note: The 2023 schedule is yet to be published
Whether you're looking for new strategies for growing your ICT business or discovering cutting-edge technologies in the same space, this customer training event has something for everyone.
Learning Technologies: May 2 to 4, London, United Kingdom
Learning Technologies is the premier global conference for L&D professionals looking to stay abreast of the latest trends in technology-supported learning. 
Drawing in over 9000 attendees from 50 countries and 200 exhibitors—it'll be a power-packed event. 
From exploring the emerging practices that leading organizations use to build effective learning strategies to discovering how you can use technology to support learning goals—you'll find it at Learning Technologies. 
This year they're focusing on several themes like AI, data and analytics, Content design, Learning engagement, Talent and learning, and more.
Note: The rates and schedule for the 2023 edition are yet to be published.
Training Industry Conference & Expo: June 27 to 29, Raleigh, North Carolina
The Training Industry Conference & Expo (TICE) is coming to Raleigh, North Carolina this summer. This three-day learning event promises to be an informative and interactive experience for anyone involved in corporate L&D.
The customer training event will feature 425 L&D leaders, and peers from across the world to share ideas, tackle common challenges, and learn from expert facilitators. During the conference, attendees can look forward to attending 50+ engaging breakout sessions, roundtable discussions, and keynote sessions on trending topics in the industry.
From live product demonstrations showcasing cutting-edge learning solutions to hands-on workshops designed to hone your training skills, this three-day event has something for everyone in attendance.
Note: The schedule for the 2023 edition is yet to be published.
Final thoughts
After reviewing the upcoming conferences for customer education in 2023, there are opportunities galore in the training industry. 
To maximize your growth potential, attend these events—and combine lessons learned from leading experts with hands-on activities and practical tips.
---
What you should do next…
1. Subscribe to our newsletter:
Subscribe to our newsletter below for the latest news, advice and thought-leadership for software professionals. Or visit our blog to browse our most recent articles.
2. Learn how virtual labs can grow your business:
To learn more about how CloudShare helps software organizations grow revenue, increase efficiency and improve quality, visit our resources page. You'll be able to browser dozens of valuable white papers, eBooks, webinars, case studies, and brochures.
3. Get a FREE, no obligation demo:
Discover just how easy it is to create your cloud environment—in minutes! One of our friendly virtual labs experts will be happy to:
Show you the platform in action
Calculate pricing for your business
Set you up with a 14-day free trial
Answer any questions you have
No pressure or obligation