Face to Face, At Last! The SENY Meet-Up in NY
To get articles like this free in your inbox, subscribe to our newsletter.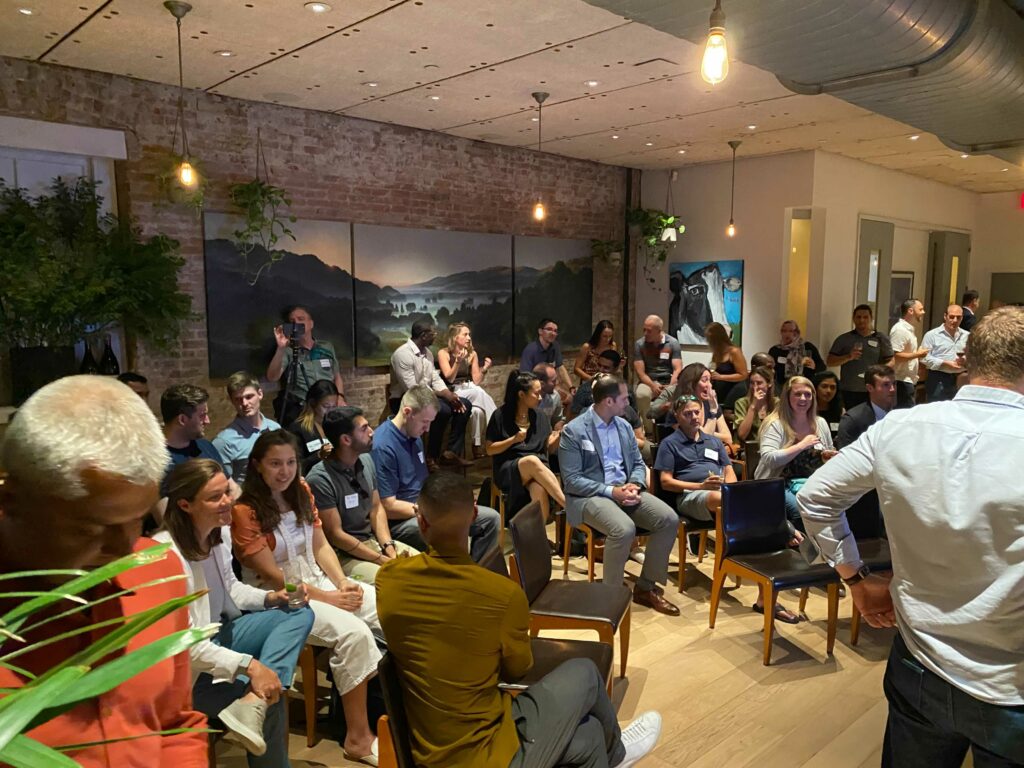 Earlier this summer, we took advantage of the brief dip in COVID frenzy to meet in person with a terrific community of sales engineers at the SENY 3-year Anniversary Celebration in New York. Like so many professionals in the high-tech space, SEs are reimagining their tactics to help turn sales pitches and product demos into long-term, profitable client relationships.
Yes, the food and drinks at the Craft Restaurant were fabulous. But it was even more exciting to interact with so many specialists – and those eager to become experts in sales engineer training skills – who understood the impact of what we do at CloudShare. It was fascinating to hear how virtual demos can help solve so many of their daily challenges, like:
Time waste creating environments
 Limited integration between tools
Distractions
Being limited to a single cloud vendor
Visibility limitations on how demos and POC affect sales cycles
Technical glitches like latency, hardware failure and other disruptions
Both in our brief presentation and in private conversations afterward, we knocked down these "sales enablement training" challenges one by one. We walked SEs through our platform and the features that eliminate so many of the headaches they had thus far simply accepted as part of the process.
So what were the top 3 benefits that got the biggest reactions?
Ease & Simplicity. They loved hearing that by running the entire process through a browser using a centralized virtual environment that could be cloned in a click, they'd be free of the non-stop distraction of hardware and configuration "tech support" calls from sales reps.
Security. They appreciated the security of using a brand-new (either pre-populated with demo data, or empty and ready to populate) copy of the product in a save sandbox environment without hurting production. They realized they could relax, knowing they wouldn't accidentally expose proprietary data from a previous POC with another prospect.
Reporting. They looked forward to seeing reports on prospect activities and engagement in scenarios where they left them behind with access to the demo environment to try out on their own. This would, they saw, give them insight into how much the prospect had truly worked through the features they'd discussed.
In Short
It was an exciting evening with people who "speak our language" – and who now understand that with CloudShare as part of their sales enablement strategy, they can reduce the friction, wasted time, and unnecessary distraction so common in this sector.
See you next time, Sales Engineers of New York!
---
What you should do next…
1. Subscribe to our newsletter:
Subscribe to our newsletter below for the latest news, advice and thought-leadership for software professionals. Or visit our blog to browse our most recent articles.
2. Learn how virtual labs can grow your business:
To learn more about how CloudShare helps software organizations grow revenue, increase efficiency and improve quality, visit our resources page. You'll be able to browser dozens of valuable white papers, eBooks, webinars, case studies, and brochures.
3. Get a FREE, no obligation demo:
Discover just how easy it is to create your cloud environment—in minutes! One of our friendly virtual labs experts will be happy to:
Show you the platform in action
Calculate pricing for your business
Set you up with a 14-day free trial
Answer any questions you have
No pressure or obligation