How Cloud-Based Product Demos and POCs Increase Sales for Software Vendors
To get articles like this free in your inbox, subscribe to our newsletter.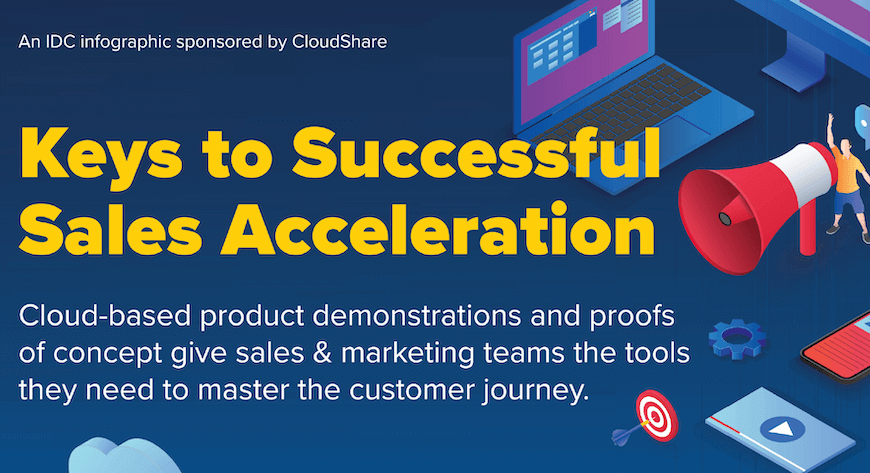 Why Online Demonstrations and POCs matter
Excellent sales execution is a key success factor for organisations today. In high value / low volume B2B software businesses sales execution is probably the most important factor in defining winners and losers. But superior sales execution requires organisations to digitally transform their traditional sales operations to better support modern salespeople and ensure their retention. Conventional sales thinking in regards to virtual product demonstrations (demos) and POCs (Proof of Concepts) is no longer fit for purpose.
No longer do salespeople 'own' sales processes from initial meeting to close. The first 60-70% of software vendor sales processes are mostly invisible to salespeople as customers check out their products and services' efficacy online, reviewing web sites and advocacy and recommendations and analyst reports before contacting Sales. In fact, a recent survey from IDC revealed that Marketing-guided information sources are now preferred over sales engagement at every stage of the tech customer's decision-journey.
So, when Sales has an opportunity to interact directly with buyers, Sales had better take the opportunity with both hands! Even then, the rep is often not invited to face-to-face meetings, but rather to present a product demo or a POC online. This situation can fill sales reps in digitally ill-equipped organisations with dread. With good reason. In an IDC survey of IT Buyers over 80% were willing to switch vendors, even if they liked their solutions, if dissatisfied with the vendor's marketing and sales. Failure at the product demo or POC stage not only loses deals, but also risks losing customer value for life.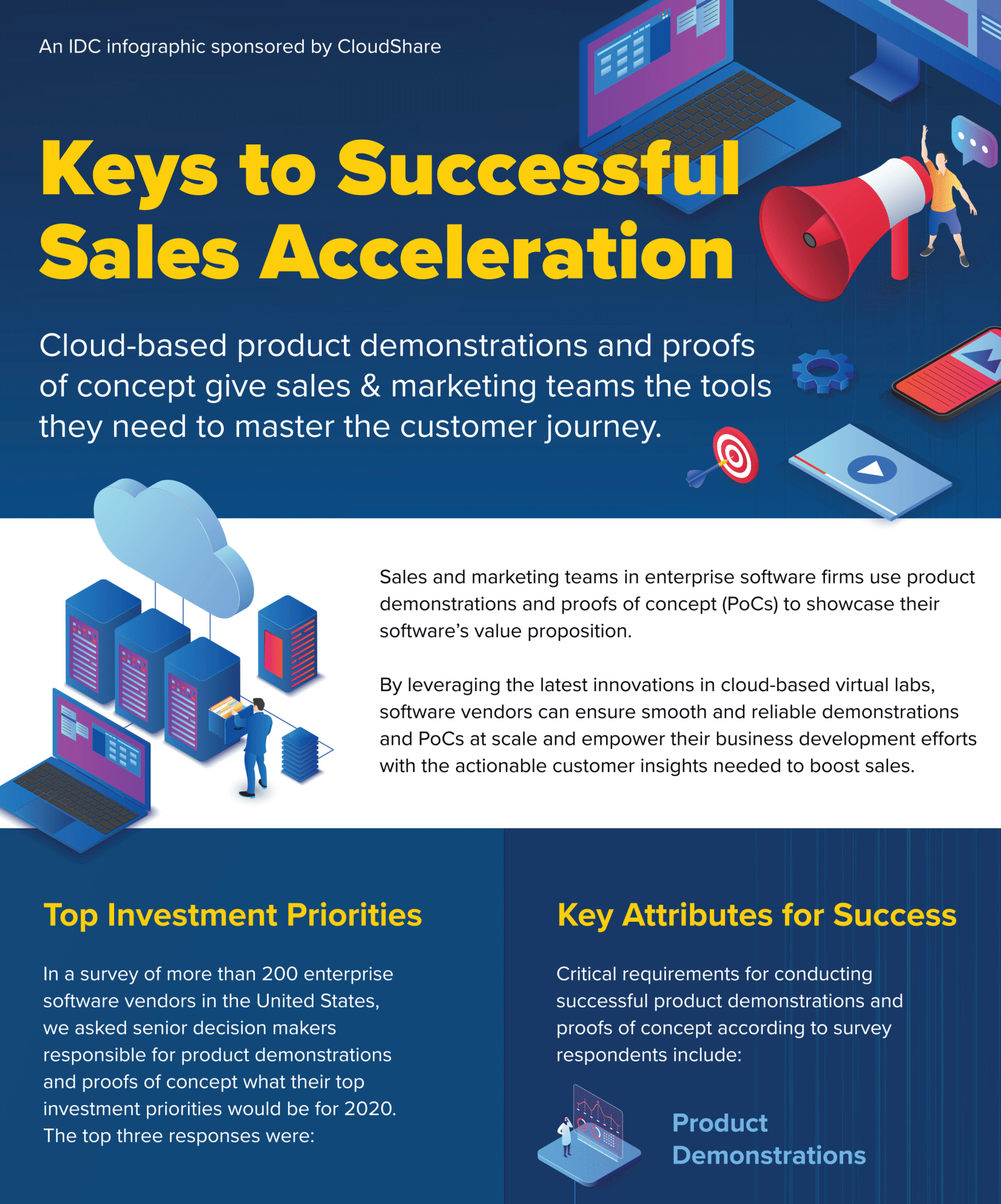 Click here to download the full infographic
What could possibly go wrong?
In new research by IDC, commissioned by CloudShare, a shocking 52% of software vendors reported that customers abandon POCs in progress 'sometimes' or 'often'. 50% reported needing significant technical support and guidance during POC installations, and 47% have problems with the customer's hardware not supporting the POC process. Such instances are likely to cause the customer to withdraw entirely from the sales process. Little surprise therefore that 9/10 of software vendor sales organisations are prioritising customer experience improvements during their POCs and product demos.
Avoid dropping the ball
When the salesperson gets their chance, they must not fluff it. The best sales organisations use the best technology to prove their value propositions and product claims and respond to questions and objections with highly polished responses that impress potential clients. Only then can salespeople then move onto negotiation and contract close. But a salesperson rarely works alone in achieving this goal. Salespeople need to work in collaboration with colleagues in pre-sales, technical support, and marketing to deliver POCs and product demos. It's a team effort which is only as strong as its weakest link.
Building robustness and agility into POC and demonstration processes
The Cloud brings flexibility and adaptability into virtual POC and product demo processes. Unbound from inflexible on-premise systems, POC and product demo adaptions and adjustments are made 'in flight' which are invisible to client, that enhance customer experiences and reduce customer abandonment risk. A multi-disciplinary demo / POC team can be distributed remotely so the stress of having all contributors all at your offices all at the same time, all with the optimum level of preparedness is removed.
Cloud-based POC and product demo systems have simpler user interfaces than traditional on-premise systems, so all sales reps can use them with a minimum of training. No power users required. No longer does IT and / or technical support have to be involved in every demo or POC – thus simplifying the set-up co-ordination process and reducing the burden on the IT Department and the associated cost.
No longer is Sales dependent upon the internal IT infrastructure's frailties in high-pressure sales situations. Technical risks such customer hardware incompatibility are mitigated. Hence sales reps have more freedom and flexibility in setting up POCs and product demos at a time to suit the customer, reducing sales cycles time, improving win rates, and delivering higher quality customer experiences that create sales competitive advantage.
Next Steps
Download an infographic on IDC's latest exciting research findings on virtual product demos and POCs' best practices on behalf of CloudShare here. To learn more about CX please contact Gerry Brown or visit https://idc.com/customerexperience for more information.
---
What you should do next…
1. Subscribe to our newsletter:
Subscribe to our newsletter below for the latest news, advice and thought-leadership for software professionals. Or visit our blog to browse our most recent articles.
2. Learn how virtual labs can grow your business:
To learn more about how CloudShare helps software organizations grow revenue, increase efficiency and improve quality, visit our resources page. You'll be able to browser dozens of valuable white papers, eBooks, webinars, case studies, and brochures.
3. Get a FREE, no obligation demo:
Discover just how easy it is to create your cloud environment—in minutes! One of our friendly virtual labs experts will be happy to:
Show you the platform in action
Calculate pricing for your business
Set you up with a 14-day free trial
Answer any questions you have
No pressure or obligation