How Cloud-Based Product Demos and POCs Increase Sales for Software Vendors
To get articles like this free in your inbox, subscribe to our newsletter.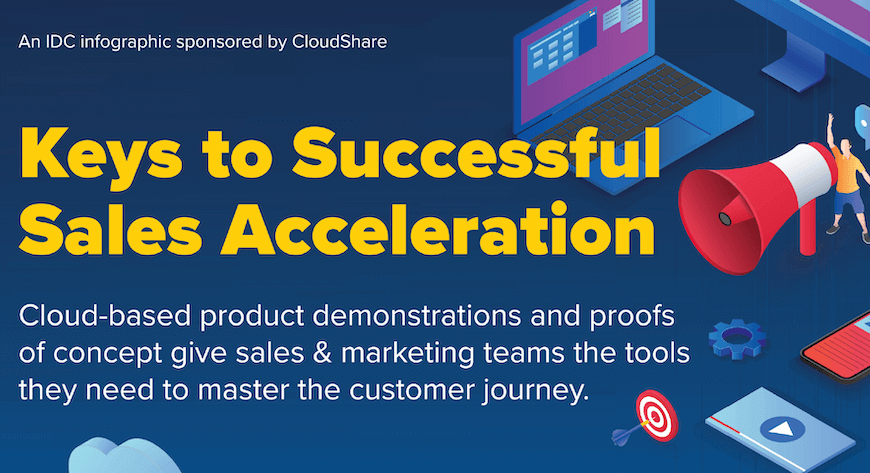 Superior sales execution requires organizations to digitally transform their traditional sales operations to support modern salespeople better and ensure their retention. 
As a result, conventional sales thinking regarding virtual product demonstrations (demos) and POCs (Proof of Concepts) is no longer suitable.
No longer do salespeople 'own' sales processes from initial meeting to close. The first 60-70% of software vendor sales processes are primarily invisible to salespeople as customers check out their products and services' efficacy online, reviewing websites and advocacy and recommendations and analyst reports before contacting Sales. 
In fact, a recent survey from IDC revealed that Marketing-guided information sources are now preferred over sales engagement at every stage of the tech customer's decision journey.
So, when sales teams can interact directly with buyers, they need to capitalize on the opportunity. Even then, the rep is often not invited to face-to-face meetings but rather to present a product demo or a POC online. This situation can fill sales reps in digitally ill-equipped organizations with dread. 
With good reason. In an IDC survey of IT buyers, over 80% were willing to switch vendors, even if they liked their solutions but were dissatisfied with the vendor's marketing and sales. Failure at the product demo or POC stage not only loses deals but also risks losing customer value for life.
Learning how embracing cloud-based product demos in virtualized environments can transform a sales team's processes and improve close rates.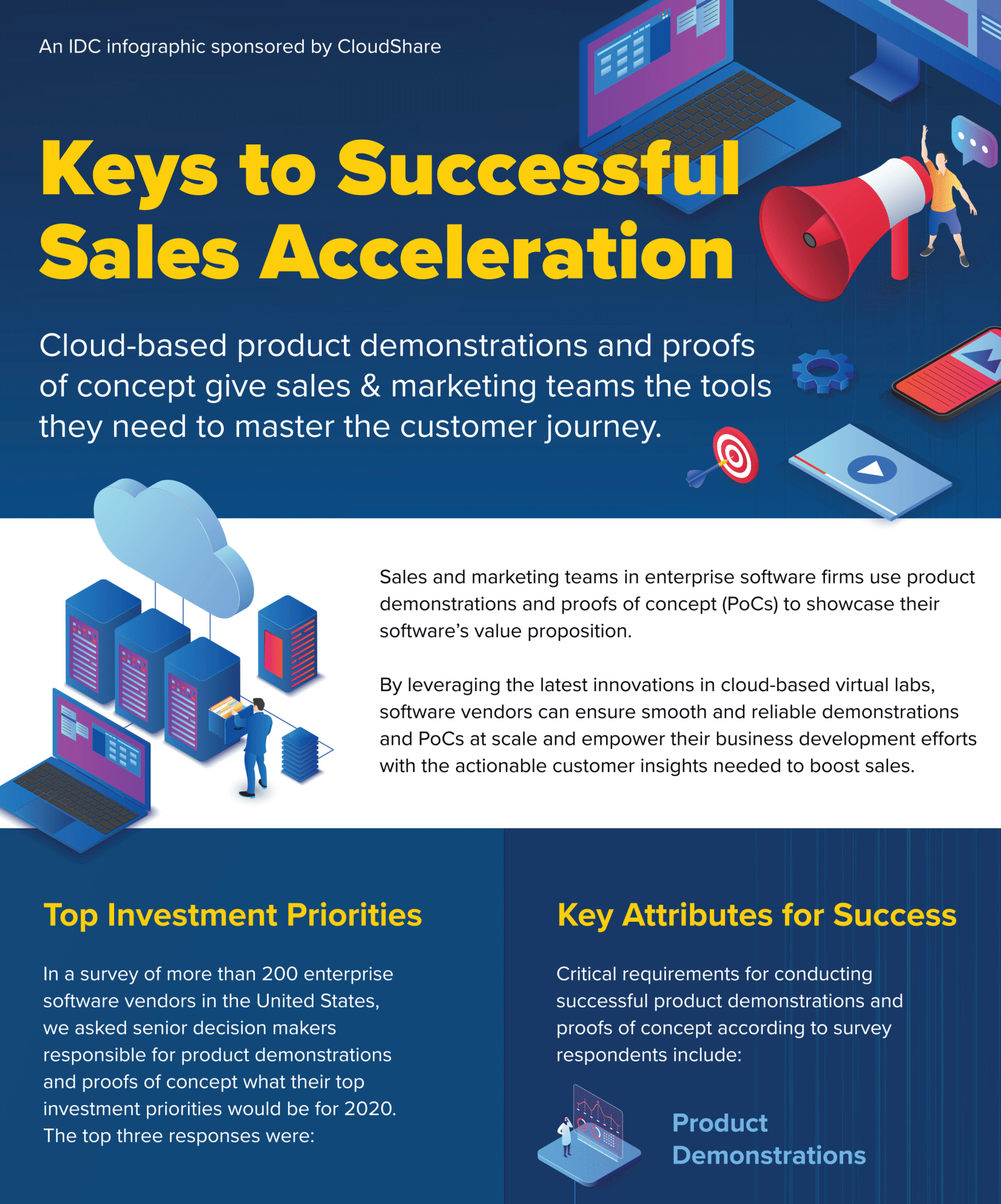 Click here to download the full infographic
The Problem with POCs
In the new IDC research commissioned by CloudShare, a shocking 52% of software vendors reported that customers abandon POCs in progress 'sometimes' or 'often.' In addition, 50% reported needing significant technical support and guidance during POC installations, and 47% had problems with the customer's hardware not supporting the POC process. 
Frustration simply joining the demo will likely cause the customer to withdraw entirely from the sales process. That's why 9/10 of software vendor sales organizations prioritize customer experience improvements during their POCs and product demos.
It's Time to Stop Dropping the Ball
When the salesperson gets their chance, they must give it their full attention. The best sales organizations use the right technology to prove their value propositions and product claims and respond to questions and objections with highly polished responses that impress potential clients. Only then can salespeople then move on to negotiation and contract close. 
But a salesperson rarely works alone in achieving this goal. Salespeople must collaborate with pre-sales, technical support, and marketing colleagues to deliver POCs and product demos. It's a team effort that is only as strong as its weakest link.
Building Agility into POC and Demos
The cloud brings flexibility and adaptability to virtual POC and product demo processes that are unbound from inflexible on-premise systems, POC, and product demo adaptions and adjustments are made 'in-flight,' which are invisible to clients, which enhances customer experiences and reduces customer abandonment risk. 
A multi-disciplinary demo / POC team can be distributed remotely, so the stress of having all contributors at your offices simultaneously, all with the optimum level of preparedness, is removed.
Cloud-based POC and product demo systems have simpler user interfaces than traditional on-premise systems so that all sales reps can use them with a minimum of training. 
No power users are required. 

No longer does IT or technical support have to be involved in every

demo or POC

– thus simplifying the set-up coordination process and reducing the burden on the IT department and the associated cost. 

No longer is the sales department dependent upon the internal IT infrastructure's frailties in high-pressure sales situations. 
Technical risks such as customer hardware incompatibility are mitigated and eliminated. This grants sales reps more freedom and flexibility in setting up POCs and product demos at a time to suit the customer, reducing sales cycle time, improving win rates, and delivering higher quality customer experiences that create a sales competitive advantage.
Top POC Best Practices for Flexible Cloud-based Demos
Upgrading to cloud-based demos will provide powerful benefits, but it must be done correctly to make the most of this new opportunity. Having a successful POC requires embracing the following best practices:
Provide sales teams with in-depth training about configuring, deploying, and sharing demo environments with buyers. Configuration and deployment can be relatively simple when using the right cloud-based platform.

Build several pre-made environments to meet the varying everyday needs of buyers. For example, if your SaaS platform has different dashboards for inventory management and sales reports, build both options for sales teams to use based on the lead's needs.

Define the criteria for a successful POC and look beyond landing the sale immediately. If a POC moves the buyer further along the customer's journey, it should still be considered a success.
Giving your sales teams access to a next-generation platform for cloud-based demos can be powerful, but you need to empower them with the right knowledge to go with it. 
Leverage CloudShare for Effective Cloud-based POCs
It's essential to pick the right platform for cloud-based POCs to reap the benefits they provide fully. 
CloudShare is a next-gen platform that provides virtualized environments for cloud-based POCs and demos that are easy to deploy and invite buyers into the process. 
Ready to transform your demo process? Reach out to us today to speak to a virtualization expert to learn more. 
---
What you should do next…
1. Subscribe to our newsletter:
Subscribe to our newsletter below for the latest news, advice and thought-leadership for software professionals. Or visit our blog to browse our most recent articles.
2. Learn how virtual labs can grow your business:
To learn more about how CloudShare helps software organizations grow revenue, increase efficiency and improve quality, visit our resources page. You'll be able to browser dozens of valuable white papers, eBooks, webinars, case studies, and brochures.
3. Get a FREE, no obligation demo:
Discover just how easy it is to create your cloud environment—in minutes! One of our friendly virtual labs experts will be happy to:
Show you the platform in action
Calculate pricing for your business
Set you up with a 14-day free trial
Answer any questions you have
No pressure or obligation