How Do You Develop a Sales Enablement Strategy?
To get articles like this free in your inbox, subscribe to our newsletter.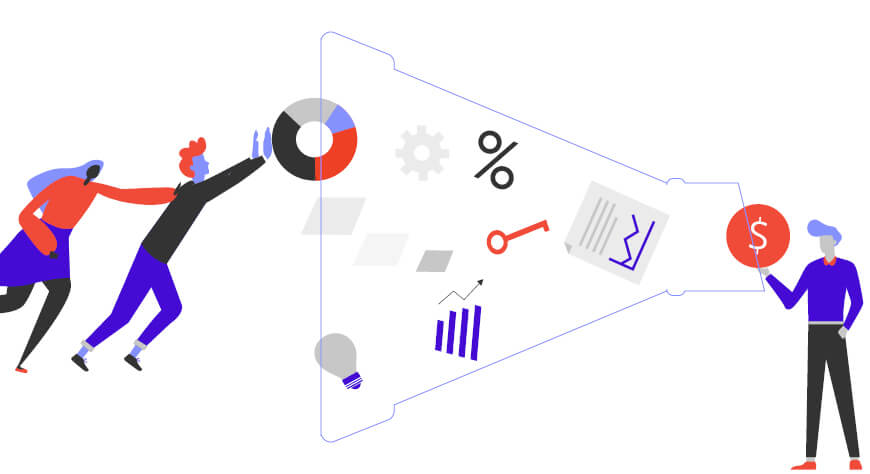 Sales enablement strategy is a topic frequently raised by our customers – and with good reason. Sales teams worldwide have faced a challenging year, with many disconnected from their colleagues, headquarters, and infrastructure. New difficulties and distances between people have gotten in the way of sales personnel doing their jobs as effectively as possible.
In tough times, successfully implementing sales enablement has never been more crucial. So, that's why we've written this blog: to help you in creating a sales enablement strategy for your organization, so you can help your sales team do what they do best: close deals.
What is sales enablement?
But first things first. Let's first define "what is sales enablement?" In essence, it means providing a salesperson with the right resources (such as information), processes, and tools they need to work effectively and close a sale.
Today, many of the communication channels, tools, and resources sales teams rely on are digital – which is why so many managed to overcome the difficulties posed by the COVID-19 pandemic. However, there's a difference between technology being a sales enabler to maintain basic business continuity, versus using technology to reach another level of sales enablement. More on that later.
Now it's time to look at creating a sales enablement strategy.
The first step is taking stock
Look at the tools your sales team uses, the way they communicate between themselves, with leads, and with your marketing department. Talk to your salespeople, learn about the parts of their jobs that are working well and those that aren't. Find out answers to questions like these:
Can they always access the tools they need?
Is sales collateral and data easily available in one place?
Are they able to communicate effectively as a team?
Is correct, up-to-date information reaching them from Marketing?
If the answer to any of those is "no," your strategy will need to address these concerns. That means examining the apps and systems you're using as well as the way in which information and guidance are reaching your team from elsewhere in the business.
Once you've identified the issues, you can identify the solutions. Maybe you need to consolidate sales data in one place for easy reference. Perhaps you need to create a repository where sales reps can always find up-to-date collateral. Or you may need to ensure all your reps are receiving regular training from the marketing department. Your sales enablement strategy will define the steps you take to overcome sales blockers and help your teamwork more effectively.
Using your insights in a sales enablement project plan
Once you have a firm idea of a problem, and the best ways to solve it, it's time to create a sales enablement project plan. Your plan may include other elements, such as a timeline, but for a start, you'll need to define the following:
Your mission (e.g., train the sales team in the latest product positioning)
The strategy (e.g., provide regular training from the marketing department)
Participants (e.g., sales reps, sales managers, marketing executives)
Execution (e.g., online training for new starters and refresher/update sessions)
Metrics for success (e.g., conversion rate, new hire ramp-up time)
For best results, sales enablement should be treated as a continual process, not a one-off exercise to be completed and forgotten. Okay, so you've trained all your salespeople, updated your brochures and other content, and put it all in an accessible location. But training and collateral become out of date. Information repositories become messy and incomplete. Memories become fuzzy, and details are forgotten. Keep analyzing your metrics, your processes, and look for new issues and areas for improvement.
Technical sales demos
Some areas of sales arguably require more – or deeper – training than others. Technical sales training is one element of an enablement strategy that can require a great deal of attention to get the best results.
Dealing with often very complex topics, sales engineers don't just have to sell – they also have to explain. They need an in-depth knowledge of the product or products in question, so that they can most effectively get the benefits across to sales leads. To do this, they also need to know your industry, customers' industries, as well as your customers' challenges and goals.
It's not always a good idea to rely on a few datasheets and word of mouth to build this knowledge and understanding. And delivering a sufficient level of demos may not be easy – especially with staff members working remotely.
Here's where technology can play a valuable role in putting your sales enablement strategy into practice.
---
What you should do next…
1. Subscribe to our newsletter:
Subscribe to our newsletter below for the latest news, advice and thought-leadership for software professionals. Or visit our blog to browse our most recent articles.
2. Learn how virtual labs can grow your business:
To learn more about how CloudShare helps software organizations grow revenue, increase efficiency and improve quality, visit our resources page. You'll be able to browser dozens of valuable white papers, eBooks, webinars, case studies, and brochures.
3. Get a FREE, no obligation demo:
Discover just how easy it is to create your cloud environment—in minutes! One of our friendly virtual labs experts will be happy to:
Show you the platform in action
Calculate pricing for your business
Set you up with a 14-day free trial
Answer any questions you have
No pressure or obligation