How Do You Make the Best Cloud Training Better? Google It!
To get articles like this free in your inbox, subscribe to our newsletter.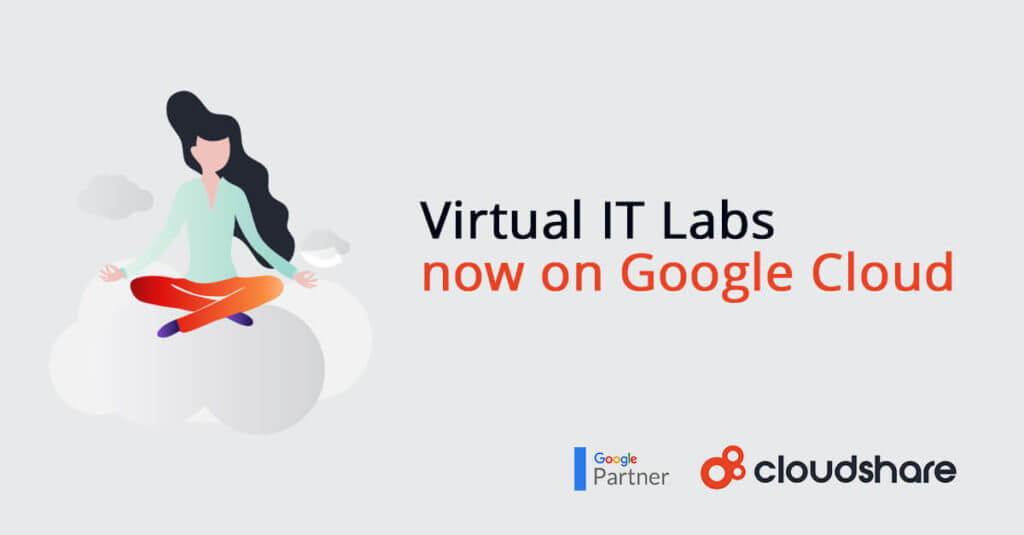 CloudShare takes great pride in providing the most powerful, flexible and immersive virtual IT labs available. Still, you don't stay out front by resting on your laurels, and we're always looking for ways to take it up a notch. So, just how do you make the best cloud-based training solution even better?
Google it!
Hang on, no need to look up the answer – we've already got it. CloudShare is excited to announce we're now available on the Google Cloud Platform (GCP). You've invested in bringing your software offering to the cloud, and you're familiar with G Suite and can make its applications sing. Now, you can kick back and float on the cloud this summer, while delivering hands-on, instructor-led virtual training for a seamless, unmatched interactive learning experience.
Here's how we're helping you lose the training floatie:
We've made it easy for you and your students to get completely transparent access to GCP, directly from any browser. To work with GCP in CloudShare, you simply select GCP as a resource for your environment. We provide GCP admin console access as needed, as well as complete, end-to-end resource provisioning and management, defined user and machine controls, advanced analytics and usage statistics. Companies can train on any number of GCP virtual machines (VMs) and create hybrid class environments based on individual needs and use cases, regardless of complexity.
That means real-world training environments, real fast and really easy!
CloudShare automatically handles all GCP configuration for your class, from setup to teardown. So, grab a hat and put on your favorite pair of sunnies. It's sunshine from here on out. Our key GCP features include:
Fully isolated environments for each end user;
The ability to define GCP resource limits in CloudShare;
Assigned GCP roles, both custom and default, for class users;
Real-time access to the GCP admin console during class to easily work with advanced tools like Kubernetes; and
All of CloudShare's industry-leading console features, including over-the-shoulder viewing, zoom in, broadcasting and more.
If you're interested in a demo of this really cool integration, just get in touch!
---
What you should do next…
1. Subscribe to our newsletter:
Subscribe to our newsletter below for the latest news, advice and thought-leadership for software professionals. Or visit our blog to browse our most recent articles.
2. Learn how virtual labs can grow your business:
To learn more about how CloudShare helps software organizations grow revenue, increase efficiency and improve quality, visit our resources page. You'll be able to browser dozens of valuable white papers, eBooks, webinars, case studies, and brochures.
3. Get a FREE, no obligation demo:
Discover just how easy it is to create your cloud environment—in minutes! One of our friendly virtual labs experts will be happy to:
Show you the platform in action
Calculate pricing for your business
Set you up with a 14-day free trial
Answer any questions you have
No pressure or obligation