How IT-Logix Engages Event Attendees with Virtual Training Labs!
To get articles like this free in your inbox, subscribe to our newsletter.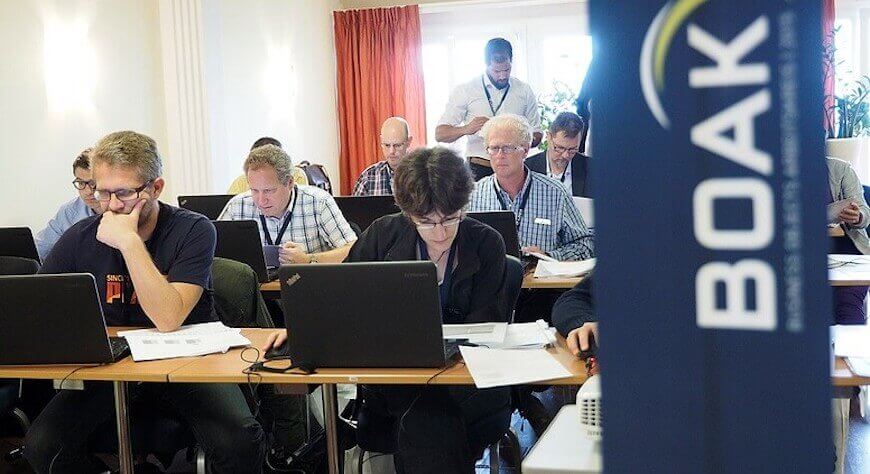 Meet Raphael Branger, the Chief Knowledge Officer at IT-Logix and a good man to know in the BI world.  Raphael is an active community member of the new Scrum Breakfast Club in Zurich (Switzerland), he is a member of the Disciplined Agile Consortium, a contributor to the Data Warehousing Institute (TDWI) and a committer on the International Business Communications Standard.  
On top of all of these (we're thinking, where does he have time for it all?!), he writes the blog: My Life as a BI Consultant.
Most importantly, (well at least for us folks at CloudShare) Raphael runs IT-Logix's largest annual community event, the Business Objects Working Group (BOAK) in Zurich.  Raphael used CloudShare to deliver large, complex hands-on virtual IT training labs to attendees, before, during and after BOAK.
Due to these accomplishments, Raphael has been chosen to be CloudShare's October user-of-the-month.
Congratulations Raphael!
Using CloudShare to Attract and Engage Attendees
Prior to the BOAK conference, Raphael sent a link of the virtual training environment to each prospective attendee so that when they arrived at the conference, they could easily join the hosted training sessions and follow along in a real-world system.  Afterwards, they could access their cloud based training environments from home and continue to tinker.
But how does Raphael have time to provide each attendee with his own hosted computing environment? Doesn't that take days??
Well, Raphael isn't Superman (not to our knowledge, at least). In fact, to prepare the virtual training environment, All Raphael had to do was build one master virtual environment for each session and share it on CloudShare. "A big advantage for us for using Cloudshare is, that we can easily prepare one single master environment for the virtual classroom training session prior to the event. At the event we can scale everything up to allow users their own virtual environment with 28GB of RAM. With CloudShare, we had the flexibility to do this on our own with no support."
80% Time Savings, 80% Cost Savings, and Continued Engagement after the Event  
It's nearly impossible to project event attendance in a classroom technical training session. Usually organizers have to choose between oversubscribing for infrastructure or disappointing their attendees. If the event is off-site — like BOAK – then expensive rental infrastructure is used to meet demand. This can be prohibitively expensive even when it's fully utilized. We asked Raphael to provide us with an estimation for a one-day classroom corporate training session so that we could get a feel of the costs, "We would have to rent 15 very powerful machines with 30GB RAM each. I'd estimate we would have to pay $15-20k if we would find a renting solution at all. Not to speak of the hosting and configuration costs for these machines."
The costs don't stop there, the repeat configuration work carries similarly high costs as well.  By using CloudShare, Raphael could scale from one environment to 15 in minutes, "CloudShare reduces the efforts to set up the technical training infrastructure by 80% compared to the time when we worked with our on-premise infrastructure".
Enabling Connections with Attendees in Real-World Environments
The high up-front costs of on-site classroom training infrastructure lead many event organizers to stick to webinars, videos and powerpoint. Raphael puts it bluntly: "Cloudshare enables us to deliver our hosted technical training sessions in such a simple way. We couldn't do this without a cloud based training solution."
IT-Logix can now share marketing materials in their virtual IT training environments, scale to meet exact demand, and offer attendees the chance to leave an event with a functioning training demo of a cutting-edge product.
Great job engaging your community, Raphael and happy cloudsharing!
---
What you should do next…
1. Subscribe to our newsletter:
Subscribe to our newsletter below for the latest news, advice and thought-leadership for software professionals. Or visit our blog to browse our most recent articles.
2. Learn how virtual labs can grow your business:
To learn more about how CloudShare helps software organizations grow revenue, increase efficiency and improve quality, visit our resources page. You'll be able to browser dozens of valuable white papers, eBooks, webinars, case studies, and brochures.
3. Get a FREE, no obligation demo:
Discover just how easy it is to create your cloud environment—in minutes! One of our friendly virtual labs experts will be happy to:
Show you the platform in action
Calculate pricing for your business
Set you up with a 14-day free trial
Answer any questions you have
No pressure or obligation