How Technology Sales Training Has Changed During COVID-19
To get articles like this free in your inbox, subscribe to our newsletter.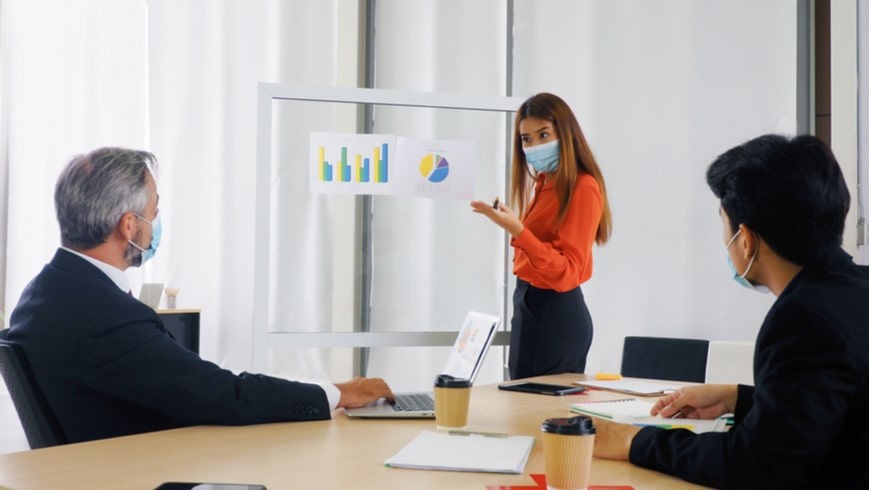 For B2B software companies, there's no escaping the need to reshape sales practices, including technology sales training and enablement. Here's the new reality posed by COVID-19: sales meetings and demos have had to move online, but prospects and customers still expect the same level of engagement. Sales training has had to find a new home in virtual spaces instead of physical ones. One way to accommodate the shift? Investing in a virtual sales training platform.
As many of these changes are here to stay, now is the time to expand the tech stack that makes sales training for technology companies possible. In this blog, we outline how sales training is changing and how B2B software companies should be spending their technology sales enablement and training budgets.
The Opportunity for Remote Sales and Self-Service
At the onset of the COVID-19 pandemic, organizations had to adapt quickly to the challenges of remote working. McKinsey & Company suggests that ten years' worth of digital transformation took place in its early stages. They gave a name to this phenomenon, one straight out of science fiction: the quickening.
The name captures the moment perfectly: what occurred was an acceleration of trends that were already on the rise (remote and self-service sales experiences), which might be why the new virtual norm has been embraced. It seems B2B buyers are still keen for sales to remain virtual. In fact, according to McKinsey & Company, there appears to be little appetite for traditional in-person meetings anymore.
Their research suggests that embracing remote virtual sales methods is an opportunity not to be missed for B2B software companies. Here's what they discovered:
Belief in the efficiency of remote and self-service continues to grow worldwide
Approximately 70-80% of B2B buyers prefer remote and self-service buying experiences
B2B buyers are embracing remote and self-service experiences and, in McKinsey's own words, are "willing to spend big"
89% of B2B sellers believe the move to non-traditional sales practices are here to stay
Organizations need to adjust and expand their technology stack to facilitate this shift. Training should be at the forefront, because sales professionals need to be trained for the new virtual norm.
Enterprise Software Sales Training is Changing for the Better
The next generation of virtual training platforms has emerged in time to power a new era of sales training for technology companies. Sales training platforms can radically change what is possible for technology sales training.
Seamless experiences anywhere, anytime, and on any device
In-person training simply may no longer be an option. Make sure sales reps can access the best training experiences remotely with technology you can rely on. (For example, avoid slow loading times or continual connection disruptions.) Imagine having the ability to scale up immersive and interactive software experiences to an almost unlimited number of users in minutes. That's possible with the right software.
Remote training for remote demos
Sales reps will continue interacting with prospects remotely too. Sales demos, proofs of concept, and other crucial touchpoints on the buyer journey will take place remotely. To make sure these go smoothly, sales reps will need new skills that will be best learned remotely.
Hands-on training for better engagement
People learn best when the training is active rather than passive. Hands-on virtual training is an interactive and engaging way for sales reps to learn through doing. A passive experience, such as a webinar, can pass on information, but it won't necessarily lead to long-term knowledge retention. Training experiences stick in the mind when they throw trainees right into the middle of immersive training scenarios, like pulling up a demo environment or digging into your own software.
Real-life simulations for training staff and impressing prospects
Speaking of training scenarios, the best virtual labs can simulate any training environment for you to create entirely realistic training scenarios. This means sales reps can practice and boost their skills within a secure, safe, sandbox simulation of your software. These environments are also ideal for sales demos, so it's good to get sales reps trained up on using this technology.
Personalization and flexibility for instructors and trainees
Training pros now have the ability to create fully personalized and tailored training for sales reps. Give them the freedom to learn the way that works best for them, whether that's self-paced training, virtual instructor-led training, or a mix of the two. Overcome scheduling issues by letting people train when they want as well as how they want.
Insights and analytics for ongoing optimization
The next generation of technology sales training software offers advanced analytics to help you improve training sessions. You have just delivered a great training session, but why stop there? Dive deep into the data and gain insights on how to improve your training programs.
Technology Sales Training That Sticks
With CloudShare's next-generation virtual sales training platform, you can breathe life into training experiences.
CloudShare's technology offers a number of best-in-class features, such as hands-on training, virtual labs, in-app video, reusable training templates, customizable learning environments, and easy integration with other training technologies including LMS. Spin up training environments in minutes and get your sales teams ready for the new virtual norm.
Learn how to deliver engaging and value-adding sales training for technology companies, by getting in contact with our team today. Or you can request a free demo and try CloudShare for yourself.
---
What you should do next…
1. Subscribe to our newsletter:
Subscribe to our newsletter below for the latest news, advice and thought-leadership for software professionals. Or visit our blog to browse our most recent articles.
2. Learn how virtual labs can grow your business:
To learn more about how CloudShare helps software organizations grow revenue, increase efficiency and improve quality, visit our resources page. You'll be able to browser dozens of valuable white papers, eBooks, webinars, case studies, and brochures.
3. Get a FREE, no obligation demo:
Discover just how easy it is to create your cloud environment—in minutes! One of our friendly virtual labs experts will be happy to:
Show you the platform in action
Calculate pricing for your business
Set you up with a 14-day free trial
Answer any questions you have
No pressure or obligation