The Top 10 Sales Engineer Communities to Join in 2023
To get articles like this free in your inbox, subscribe to our newsletter.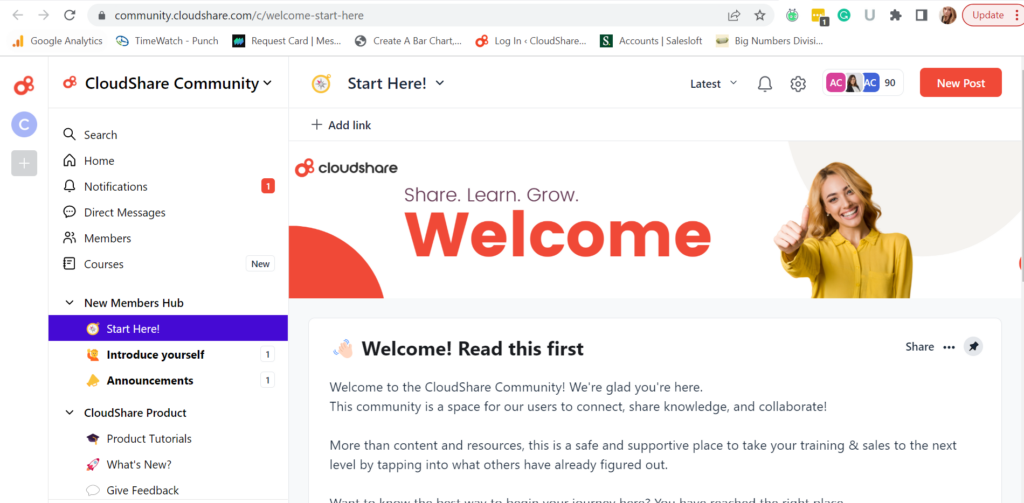 As a sales engineer, people are the lifeblood of your profession. We're not just talking about your customers, either. There's also your colleagues — professional contacts that can connect you with everything from new opportunities to continued learning to up your game
With that in mind, here are some of the best sales engineering communities to help you gain new knowledge, discover new tools, and develop your career. 
The Benefits of Joining a Sales Engineering Community
The most significant benefit of joining a community by far is the access you gain to a wealth of collective knowledge. Connecting with sales engineers both new and old — including some of the top minds in your profession — means learning things about your profession you may otherwise have never considered. This includes: 
Details on the best sales engineer training programs. 

Information about new and emerging

tools for sales engineers

. 

The value of connecting and collaborating with others in your field. 

Discussions on emerging opportunities in your market. 

Learning about the most common mistakes made by new sales engineers — and how to avoid them. 
More compelling than any of that, however, is the feeling of being a part of something. Humans, after all, are social creatures. The ability to communicate, collaborate, and share experiences with like-minded professionals is incredibly important not just for your career, but for your well-being. 
The Top 10 Sales Engineering Communities to Join
1. National Sales Network
With over 50,000 members nationwide, the National Sales Network (NSN) maintains chapters in major cities across the United States. Founded in 1992 by veteran sales professional David Richardson,the NSN also recently expanded into the United Kingdom. In addition to supporting the professional growth and development of salespeople and sales engineers, the NSN also hosts an annual conference and career fair — this year, it will be taking place from August 2-4 at the Sheraton Dallas Hotel. 
The organization has partnered with Harvard University to offer a Strategic Sales Management Certificate to sales managers and executives attending the event. 
2. The r/Sales Subreddit
Reddit doesn't refer to itself as the front page of the Internet without cause — there really is a subreddit for everything. 
With more than 230,000 members, r/sales represents one of the largest online sales communities in the world and is in the top one percent of reddit communities by size. Better yet, membership is entirely free. In addition to weekly hiring posts and resources for sales professionals, r/sales encourages open and honest discourse by virtue of being completely anonymous. 
Alternatively, you might consider checking out r/salesengineers, a smaller and more focused subreddit that encompasses both pre sales engineering and post sales engineering. 
3. RevGenius
With more than 35,000 registered members worldwide, RevGenius bills itself as one of the fastest growing communities in revenue. With a notable focus on SaaS sales, RevGenius includes among its membership some of the top minds in the sector and represents thousands of SaaS companies. It hosts multiple curated events both online and in its twelve chapter cities while also giving members access to roundtable discussions, a Slack group, a regular newsletter, and a comprehensive knowledge base. 
4. Sales Hacker
If you've spent any time in sales, you've probably at least heard of Sales Hacker. It is, after all, one of the largest B2B sales communities in the world. Equal parts community, publication, and job board, Sales Hacker combines thought leadership content with live events, open conversation, and training opportunities. 
Free to anyone who wants to join, it's a great place for you to ask questions about anything that's challenging you — or build up your own reputation as a thought leader by sharing your expertise. 
5. AA-ISP
A global association for digital and inside sales professionals, AA-ISP empowers members with community surveys, organizational benchmarking resources, virtual workshops, and hands-on training. With a focus on both professional development and revenue growth, it supports sales professionals at all levels with certification programs, a comprehensive knowledge center, and insightful instructional content. Other benefits include access to local chapter events, a weekly newsletter, a list of vetted industry service providers, and mentorship programs. 
6. Sales Best Practices
With almost 420,000 members, Sales Best Practices is all about the exchange of ideas. Within this LinkedIn group, you'll have the opportunity to browse and participate in discussions on just about everything involving sales, from team management and lead generation to talent acquisition and recruiting. 
7. Bravado
The first thing most people will probably notice about Bravado at first glance is its similarity to other communities such as Reddit. That's no accident. Conceived in 2017, it's essentially intended to be an exclusive, members-only version of those communities. 
Even with its extensive vetting process, Bravado is home to over 250,000 verified sales professionals from all over the world, including top talent from many leading global SaaS brands. This means that, compared to other discussion groups, conversations on Bravado rarely contain anything in the way of fluff.
Bravado also provides access to tools, networking opportunities, online and in-person events, and a job board. 
8. Pavilion
Formerly known as Revenue Collective, Pavilion is all about professional development through community-powered learning. To that end, it maintains an absolutely massive knowledge base with hundreds of resources including templates and guides. You can join either as an individual or as a team, at which point you'll gain access to not only Pavilion's knowledge base, but also exclusive benchmarking surveys, 24/7 Q&A sessions, curated problem solving groups, and an online learning platform with courses taught by a range of industry experts. 
Pavilion also features daily job listings from its network of verified recruiters. 
9. Modern Sales Pros
Presenting itself as the world's largest peer education community for sales engineering, leadership, operations, and enablement, Modern Sales Pros brings together over 30,000 of the top minds in sales. It's an organization founded on a simple ideal — to use the power of community to address some of the most complex, challenging questions in sales. As you might expect, this means the community is both knowledgeable and highly engaged.
10. The CloudShare Community
Last but not least, we recently built our own sales engineering community. Whether or not you're an existing CloudShare customer, joining this community will net you access to a wide range of exclusive events and content alongside the opportunity to network and interact with multiple sales industry leaders. You'll also be given the chance to connect with your peers, openly sharing experiences, insights, and ideas that help everyone become a better sales engineer. 
Take Your Sales Knowledge to New Heights With CloudShare
CloudShare has always placed considerable stock in the value of collaboration and professional development. The CloudShare Community represents one more step in that direction, and should prove to be an invaluable resource not just to sales engineers, but all sales professionals.
Whether you're looking for advice on a technical sales engineer training program, interested in developing new professional contacts, or simply want to connect with some like-minded people, join the CloudShare Community — we'd love to have you.
---
What you should do next…
1. Subscribe to our newsletter:
Subscribe to our newsletter below for the latest news, advice and thought-leadership for software professionals. Or visit our blog to browse our most recent articles.
2. Learn how virtual labs can grow your business:
To learn more about how CloudShare helps software organizations grow revenue, increase efficiency and improve quality, visit our resources page. You'll be able to browser dozens of valuable white papers, eBooks, webinars, case studies, and brochures.
3. Get a FREE, no obligation demo:
Discover just how easy it is to create your cloud environment—in minutes! One of our friendly virtual labs experts will be happy to:
Show you the platform in action
Calculate pricing for your business
Set you up with a 14-day free trial
Answer any questions you have
No pressure or obligation