Virtual Training Platforms Are Now Just as Important as CRM and ERP: Here's Why
To get articles like this free in your inbox, subscribe to our newsletter.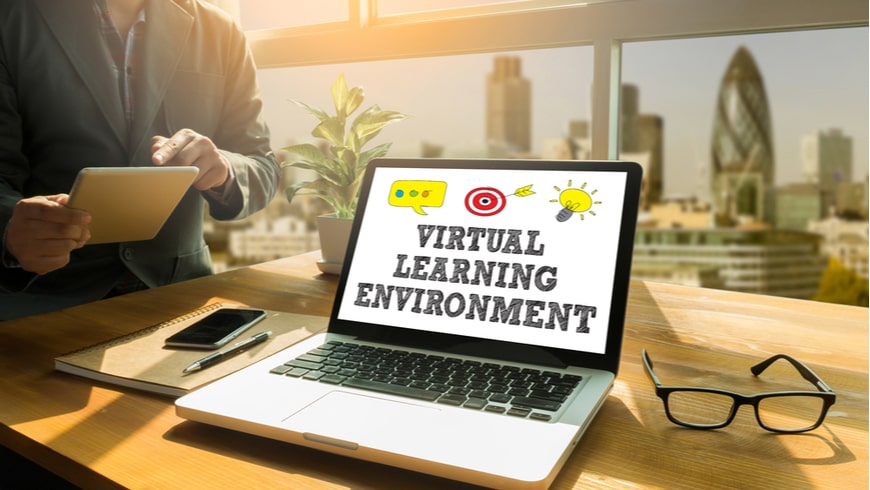 It's no secret investing in the right tools and tactics before your competition gives your company a competitive advantage.
The most successful companies leverage the right software in all aspects of their business. It's likely hard to imagine your company running without its ERP or CRM—and rightfully so. There was likely a major investment of both time and money in both platforms, as well as a whole host of other tools in your tech stack designed to improve company efficiency.
Here's one you might not be thinking about…
Virtual Training Platforms. 
We're not just talking about leading training or onboarding on Microsoft Teams or Zoom. This is a software designed specifically to meet customer training best practices in today's world.
How Software Companies Gain a Competitive Advantage
Companies win when they center their efforts around the customer. Offering virtual training solutions is becoming more of a necessity, as opposed to a differentiator. You're doing your customer base a disservice if you're not investing in a customer training platform.
Your software company is only as good as your customers. You can have the best software in the world, but what good is it if nobody knows how to use it?
Software customer training is the key to ensuring your product is doing what your sales team says it does.
The new remote world changes every single day. Nearly all companies have some sort of virtual customer training in place, but not all programs are created equal. Investing in virtual customer training is one of the best ways to build a community of loyal, happy customers.
Why Choose an All-In-One Virtual Customer Training Software?
CloudShare helps companies consolidate their virtual training efforts into one powerful software rather than relying on seven or eight different technologies.
Today's buyer is smarter than ever and not only expects an incredible experience, they demand it. If they don't get it from your software there are plenty of competitors cold emailing them every day.
A strong virtual customer training program is the foundation to building trust with your customers. It's also a great reason to spend more time with them. Too many companies forget about their customer once a rep slides their deal over to closed-won in the CRM.
CloudShare creates a natural next step in the prospect-to-customer handoff experience. These courses and virtual instructor-led training lead to increased customer retention and lifetime customer value.
How?
Your customers will know what they're doing when they dive into your software.
Companies not investing in virtual training experiences end up dealing with churn because a prospect only uses or sees a fraction of the software during their trial, or demo experience.
CloudShare allows you to create personalized courses for each aspect of your software. No more canned onboarding experiences. Solve for the customer's pain points upfront through virtual training and based on what you learn you can show them opportunities to leverage your software they didn't even think about.
Customer Training is Critical, Not Just an Add-On
Whether you're working on a go-to-market strategy, or you've already implemented your GTM, the data tells us you need to prioritize virtual customer training.
Imagine the impact a more focused customer training experience would have on your IT and customer service department. Both departments can likely rattle off 10 things they answer each and every day.
Sure, you probably have knowledge base articles addressing each issue, but it shouldn't even come to that. Customers don't want to be digging through a knowledge base to figure out how to use a software they invested in to make their day-to-day more efficient.
Take insight from each department and ensure these common issues are addressed in the sales process, or immediately during the onboarding process. This allows everyone to focus on issues related to revenue growth or product development. There's no need to fight the same little fires each day.
The virtual customer training space is growing and constantly evolving. However, there are a few trends we've seen since the pandemic. For example:
90% of companies are now leveraging virtual customer training.
80% of buyers say that a good customer experience is just as important as quality products.
We've seen a 53% increase in the use of virtual instructor-led training, and virtual classrooms are half the cost of in-person training.
These changes aren't going away anytime soon.
Training and Retraining in the New Normal
Maybe you've heard this 100 times before, but COVID-19 really did expedite what should have been years of digital transformation. Remote work isn't going anywhere – even when the pandemic does end. This led to workers across all roles and industry to adapt to the technology required for more remote work. Many companies tried doing this through written SOPs or zoom calls with hundreds of participants forced on mute.
People crave personalization and self-paced learning. Also, some people might be able to grasp a concept through a written document while others need a video or a virtual instructor-led course. The important thing is you need to provide your customers options.
Virtual training is on the rise and the customer experience is more important than ever. Investing in a software like CloudShare isn't just a nice to have if you have money left over in your budget for the year. It's a necessity for revenue growth.
The benefits of great customer training include:
Better overall customer experience
Improved customer onboarding
True competitive advantage
Less customer churn
Many software companies preach about how the customer is their main priority. Investing in a virtual training software like CloudShare will make sure your customers not only hear you say that they're the main priority, they'll feel it.
---
What you should do next…
1. Subscribe to our newsletter:
Subscribe to our newsletter below for the latest news, advice and thought-leadership for software professionals. Or visit our blog to browse our most recent articles.
2. Learn how virtual labs can grow your business:
To learn more about how CloudShare helps software organizations grow revenue, increase efficiency and improve quality, visit our resources page. You'll be able to browser dozens of valuable white papers, eBooks, webinars, case studies, and brochures.
3. Get a FREE, no obligation demo:
Discover just how easy it is to create your cloud environment—in minutes! One of our friendly virtual labs experts will be happy to:
Show you the platform in action
Calculate pricing for your business
Set you up with a 14-day free trial
Answer any questions you have
No pressure or obligation