Working On Your Software Training Budget During an Economic Downturn? Read This First.
To get articles like this free in your inbox, subscribe to our newsletter.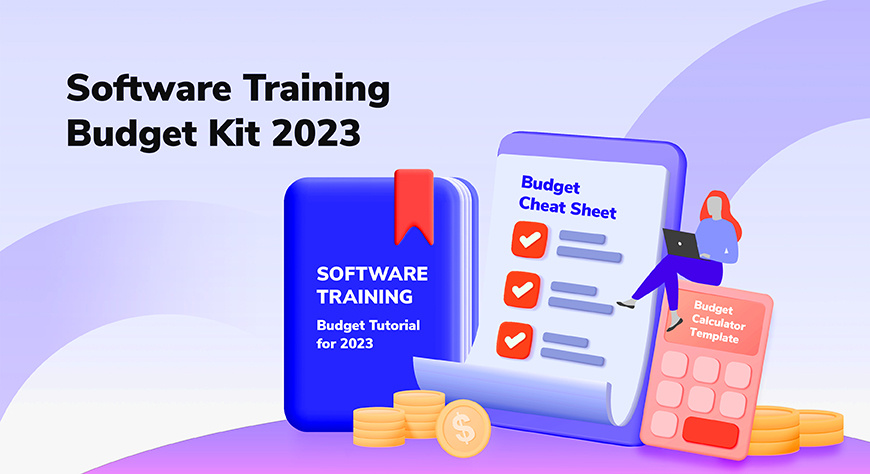 In the eye of what looks like a recession-shaped hurricane, there is anything but quiet. Every department is vying for budget so that they don't need to reduce headcount, abandon ongoing projects, or cut items from their roadmap. 
Training managers are in the spotlight, with budget for training initiatives on the rise. In fact, 67% of managers were given an increase when developing a training budget for this year. What does this mean for software companies who are managing customer and partner training projects for 2023?
Explaining the Value of Training to the C-suite
First and foremost, it means that a recession is no time to hide. As tech businesses such as Apple, Meta, Google and many more implement hiring freezes, upskilling the existing workforce is going to be more important than ever, and training professionals are the ones to make it happen! After all, if a tech business can't easily hire new talent to meet skills gaps, they will need to look for ways to improve the capabilities of existing staff, and software training is high up on that list. 
This is a win/win for both you and your customers, as professional development and skills training is one of the most essential differentiators for employees in sticking around for the long term. While only 13% of job seekers are looking to switch their jobs because of pay, professional development opportunities are one of the top 3 reasons to look elsewhere, beat out only by the culture of an organization and the employee looking for a greater sense of purpose. 
While it's true that many tech companies are freezing hires, others are still looking to recover from the impact of the Great Resignation, and need to make sure they keep existing teams happy and engaged, while attracting new people to fill the gaps. If your customers can support their employees in getting certified or upping their skills with on-demand software solutions, that's going to keep them ignoring those recruiter calls. 
These are two great reasons to boost software training efforts during an economic downturn, and both can be easily described to managers and decision-makers to prove your value as a skills-gap-closing, learner-engagement-grabbing superstar! 
Bottom line. The cost of training employees is well worth the dollars, so that your company can: 
Support businesses that are looking to reskill existing employees and close those darn skills gaps.

Be part of a critical strategy for your customers in order to boost their own employee loyalty and retention. 
We call that the software training one-two punch. 👊✊
Need some practical support with getting your budget signed, sealed and delivered? Download CloudShare's ultimate budget template kit, which includes an ROI calculator, a budget checklist and a 5-stage tutorial to cover all your bases. 
Proving You've Worked Out the ROI of Virtual Training Program Costs
Of course, that doesn't mean you can shoot for the moon the same way as you might have done pre-pandemic. Businesses are tightening their belts in anticipation of losing customers, incurring bad debt, and utilizing more of their cash runway than they feel is comfortable. This means that training budget management is more important than ever, and it's why you need to be 100% prepared when you walk in to talk to the C-suite about training budget for 2023.
In this case, prepared means a clear business plan for your training program, including accurate costs and projected ROI. Ask yourself questions such as: 
What are your projected training needs across all products and regions for 2023?
Will your current training capabilities allow you to meet your training KPIs?

Are you meeting customer expectations for a modern training experience?
If the answers to these questions feel cloudy to you, we're here to help. Our ultimate budget kit for 2023 contains everything you need to track training budget, and step into your budget meeting with confidence. 
It will support you in defining your customer training needs and aligning them with organizational goals, and also help you to accurately identify gaps between your existing capabilities and those that are required to support customer engagement and success. 
That's not all! The budget kit also includes practical and shareable templates that can be used to calculate your training budget for 2023, so that you can make sure no line item gets missed, and no opportunity for ROI is lost in the shuffle. 
CloudShare's ultimate budget template kit contains:

Calculator template to help you work out both current and projected ROI

Easily shareable checklist that covers all your training bases

Thorough 5-stage budget tutorial for your training program
---
What you should do next…
1. Subscribe to our newsletter:
Subscribe to our newsletter below for the latest news, advice and thought-leadership for software professionals. Or visit our blog to browse our most recent articles.
2. Learn how virtual labs can grow your business:
To learn more about how CloudShare helps software organizations grow revenue, increase efficiency and improve quality, visit our resources page. You'll be able to browser dozens of valuable white papers, eBooks, webinars, case studies, and brochures.
3. Get a FREE, no obligation demo:
Discover just how easy it is to create your cloud environment—in minutes! One of our friendly virtual labs experts will be happy to:
Show you the platform in action
Calculate pricing for your business
Set you up with a 14-day free trial
Answer any questions you have
No pressure or obligation