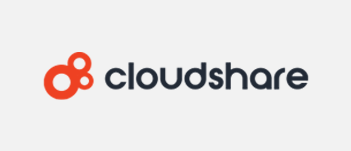 CloudShare and Training Industry Survey of Decision Makers Details COVID-19 Challenges and Tech Strategies
Registration now open for July 23 webinar and expert demo, "How to Build and Deliver Your First VILT Course In Under 60 Minutes"
SAN FRANCISCO — JULY 16, 2020
CloudShare, the business acceleration cloud company, has announced results of a survey it commissioned from Training Industry, a trusted source of information on the business of learning. The study was conducted during Q2 to understand the challenges training teams face as a result of COVID-19 and possible solutions. Approximately 150 respondents from across the U.S. participated, all qualified as decision makers in training, sales or business development in the tech sector.
When asked, "What is the biggest business challenge your department/division encountered as a result of the COVID-19 pandemic?," top answers were: Team reduction (25%), changes in travel policy (23%), budget cuts (19%) and struggles collaborating (14%). The data highlights the pressure training is under to do more with less and realize greater cost-efficiencies, while also closing personal gaps due to social distancing.
Asked if the pandemic would increase investment in specific technologies to improve virtual learning capabilities, respondents most selected: Virtual conferencing (53%), virtual IT labs (35%), augmented reality (16%) and gamification (14%). The remote migration has prompted a sharp rise in virtual conferencing but that's clearly not enough. Tech training requires real-world, interactive experiences to compensate for a lack of face-to-face and that's prompting immediate strategic investments.
With virtual labs increasingly a critical component in the tech stack of many software orgs (see below), participants were asked about its primary benefits to their company. Respondents answered: Self-service training (38%), better automation (16%), cost control (15%) and channel management (15%), stronger analytics (9%). Not surprisingly, all address the industry's need to accomplish more with less, operationally and financially, while gleaning further insight that'll help them competitively.
The survey followed an earlier one on customer education (CE) conducted at the start of Q1 – just prior to the pandemic's major impact – involving roughly the same size and group profile. Further findings of particular interest from that study included 32% of respondent companies were already using virtual IT labs in their tech stack, and, the average buying cycle for learning technology solutions was seven months.
"We're seeing video conferencing isn't enough for a tech sector that deals with highly complex software," said Michal Frenkel, vice president of product for CloudShare. "You need to train and sell using exact products in real-world environments and processes must be faster and more cost-efficient. For this, virtual labs must also be part of a business acceleration cloud with features like purpose-built tools to automate functions and analytics for greater insight. This will decrease cycles, speed results and increase margins."
On a related note, registration is now open for CloudShare and Training Industry's July 23 webinar, "Product Demo: How to Build and Deliver Your First VILT Course In Under 60 Minutes." The event will explain how virtual instructor-led training labs can free up budget previously reserved for travel while maintaining the impact of face-to-face software training. In one hour, experts will show how to build scalable environments, create outstanding experiences and increase engagement.
CloudShare's virtual labs accelerate time to value. Typical customers include large technology enterprises that need to deliver hands-on, real-world experiences. Complex scenarios are easily replicated and environments spun up in seconds. Self-paced, instructor-led training and events can handle groups of all sizes. Organizations can provide powerful sales demos and PoCs with greater efficiency and speed. And not only are cycles compressed, but enterprises can track and analyze engagement to shed light on user behavior, continually boosting performance and increasing ROI.
CloudShare provides comprehensive support for Azure, Google Cloud Platform (GCP) and Amazon Web Services (AWS). The company is continually exploring ways to ensure customers have the most flexible, specialized cloud options available for accelerating business.
" With CloudShare, we have scaled the business without having to give another thought to the platform we're running on. "

Kevin Streater - ForgeRock

VP ForgeRock University

" CloudShare provides Check Point's global pre-sales community with a cloud-based system to deliver engaging product demonstrations to our customers and partners. The system enables our sales engineers to demonstrate how the full set of Check Point's Gen V technologies operate in multiple use cases – network, cloud, endpoint and mobile – with nothing more than a simple laptop and Internet connection. "

Avi Rembaum - Check Point Software Technologies

VP Security Solutions

" A few years ago... there was no training because we didn't have the infrastructure available. We now have over 4,000 environments set up during the last year and over 21,000 hours of run time so the scale is unbelievable and we just see this growing. "

Viggy Book - Tufin Technologies

Director of Training

" We started using CloudShare for our dev environments, and now we use them for our QA labs as well. We have all the resources we need – whenever we need them. "

Amit Lohogaonkar - Alliance Life Sciences

Lead Architect

" We spin up environments on CloudShare to perform regression and ongoing tests. With the API, we've been able to automate much of what we used to do manually. "

Steve Rice - Smart Logic

Senior Technical Consultant

" With CloudShare, we spin up ready-made templates in minutes. We are able to meet our customers' needs more efficiently and we've cut our troubleshooting time by over 20%. "

Avi Karnon - MuleSoft

VP Global Support

" We can now confidently use an environment that stimulates a company with multiple sites, multiple separate networks at each site, and redundant internet connections. "

Robert Lillywhite - Sophos

Global Technical Enablement Manager

" The fact that students can access their environments during instructor-led training and on their own, has made for an effective learning experience for students and educators. "

Shaundra Bruvall - InnoTech College

Program Delivery Coordinator

" We passionately believe that practical hands-on experience is vital to aiding understanding and retention of the material by learners. I would go as far as to say that the vast majority of learners taking technical training require practical hands-on activities to form a cler understanding of a topic. "

Robert Lillywhite - Sophos

Global Technical Enablement Manager

" CloudShare is a game changer when it comes to saving time and overhead costs for class setup. I have one central administrator account from which I can add users and take care of any issue, as well as get usage reports for any student. "

Shaundra Bruvall - InnoTech College

Program Delivery Coordinator

" As we continue to move more and more to the cloud, it's partnering with innovative companies like CloudShare that will get us where we need to go. "

Alan Boehme - Innovation P&G

Global Chief Technology Officer and Vice President of Information Technology
Subscribe to our newsletter
Join our growing community of professionals who leverage our award-winning IT labs