The 12 best LMSs to look out for in 2023: a starter's guide
To get articles like this free in your inbox, subscribe to our newsletter.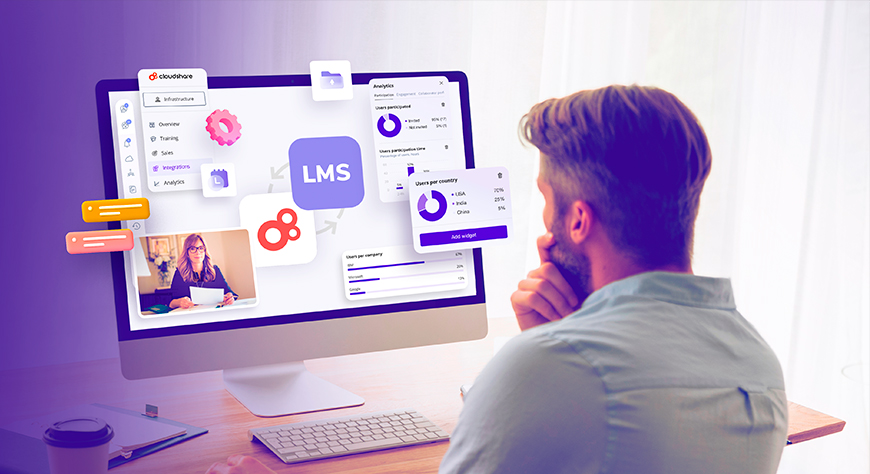 Introduction
Learning management systems (LMS) are platforms where you can create and share educational content with students. They're designed to make the individual steps in training and education easier.
Using them has many advantages, such as the ability to offer classes virtually, robust performance analytics, and intuitive grading systems. Also, an LMS cuts costs associated with in-person training like travel, accommodation, etc. 
For this reason, the LMS market is expected to grow at a CAGR of 19.1% to $37.9 billion in 2026.
However, one of the biggest challenges in training is finding the right tools and resources to facilitate an engaging learning experience. 
Most learner sessions are passive—with no scope for actual interactions. Students spend too much time staring at a screen but not absorbing the information—leading to a waste of their time and your resources.
Moreover, nobody wants to use buggy software that just replays sessions or "loses" progress they worked so hard on.
That's not the case anymore. There are many LMS platforms to choose from in the market, so to simplify this process, we've created a list of 12 tools to help you deliver software training successfully.
We've organized this list based on customer satisfaction scores across third-party review websites. The pros and cons of each tool and its deployment are listed below.
We've also included customer reviews in the recommendations. If there's an LMS that helps you deliver student, employee, or customer training, you can find it in this list.
Let's dive in.
Best learning management systems
of 2023
#1: MATRIX LMS
MATRIX is one of the best cloud-based LMS for businesses. It delivers a great user experience while incorporating many of the essential tools companies need to support efficient training and learning.
It requires minimal technical knowledge, and users can choose goal-based learning paths (AI-powered). The e-commerce integration enables users to create and sell courses.
Pros:
Create

learning paths

based on goals

Easy to manage users and courses

Excellent design and experience

E-commerce features are available

Automation features
Cons:
Lacks transparent pricing

Slow support

Doesn't integrate with hands-on labs
User rating: 9.0/10
Deployment: Cloud
#2: Skilljar*
Skilljar is an external LMS that is built for customer and partner education. 
It enables the user to build courses, monetize training, design learning paths, and improve the customer experience through actionable analytics. 
They focus on enterprise companies and enable buyers to become successful users through extensive product training. So, a customer can become a product adopter—not just a user.
Pros:
Excellent

support system

Easy to use and edit courses as needed

Helpful and out-of-the-box integrations

Analytics page is easy to understand

*Integrates with CloudShare*
Cons:
Duplicate catalog pages and learning paths to the domain

Learning paths lack the functionality that standalone courses have

No preview or testing capabilities
User rating: 8.9/10
Deployment: Cloud
Integrate CloudShare with Skilljar: LTI LMS Integration
#3: D2L Brightspace
Brightspace offers flexible LMS software for schools, universities, and global corporations. 
It has in-person and virtual training management systems—allowing users to track metrics irrespective of the learning mode.
Trainers can also offer certification programs through the software using a huge repository of courses. Moreover, the application provides personalized and scalable experiences too.
Pros:
Intuitive platform for students

Ability to

personalize learning sessions

Institute-wide communication channel (Brightspace email)

Multiple configuration types

Offers hands-on lab training
Cons:
Hard to set up grading systems

Difficult to create modules using the in-built system

Documentation can be scanty
User rating: 8.8/10
Deployment: Cloud-based with open APIs
#4: ProProfsLMS
ProProfs comes with a wide array of features, including creating quizzes, surveys, tests, and a knowledge base. 
The system also has robust reporting tools that allow the user to track student progress and view performance data at a glance. No more sifting through dozens of graded reviews to find out which students are excelling or underperforming.
Pros:
Delivering

time-bound training

is easy

Good security configurations

Good support

User-friendly interface
Cons:
Limited number of templates

Bland user interface 

Not responsive to different devices

Doesn't integrate with hands-on labs
User rating: 8.5/10
Deployment: Cloud
#5: Docebo Learning Suite*
Docebo's AI-based learning suite is a popular learning management system used by enterprises worldwide.
Users can create audience-specific pages and offer a personalized experience to their customers—supporting every stage of the customer lifecycle. It's suited for companies that need to train their employees to support their upskilling efforts. 
Pros:
User interface is clean and intuitive

It's easy to use and navigate

Offers 400+ integrations

Ability to

create curated learning paths

Comprehensive training reports

*Integrates with CloudShare*
Cons:
Price can be high for SMBs 

Customer support needs to be more robust

Requires manual enrollment of users to paths

Latency within the platform
User rating: 8.4/10
Deployment: Cloud
Integrate CloudShare with Docebo: Docebo Setup
#6: TalentLMS
TalentLMS supports training success by offering multiple solutions like customer training, sales training, onboarding training, compliance training, and more.
Trainers can easily create their courses and share them across the organization or with external users. 
It's geared toward corporations with extensive training requirements and supports instructor-led and self-paced learning.
Pros:
Easy to use 

Interactive

user interface

Centralized location for training manuals

Good support and technical assistance 
Cons:
Adding training content or other modifications can be difficult

Reporting is not as robust as needed

Limited templates and customization features

Doesn't integrate with hands-on labs
User rating: 8.4/10
Deployment: Cloud
#7: Absorb
Absorb LMS is a learning management system that allows organizations to build and deliver training courses tailored to their employees' needs.
Organizations can use the platform to create courses, manage training schedules and performance metrics, track employee progress and establish certification programs.
The software is targeted toward mid-sized and enterprise companies. 
Pros:
User-friendly system

Ability to

schedule activity reports

to trainers

Reporting features are comprehensive

Excellent customer support
Cons:
Need to contact sales for enterprise pricing

No mobile app is available

Search functionality is not accurate

Difficult to track conversations internally

Doesn't integrate with hands-on labs
User rating: 8.4/10
Deployment: Cloud
#8: SAP Litmos*
Litmos, owned by SAP, is an LMS software directed toward companies with training needs such as employee training, compliance training, and customer or partner training.
It consists of an LMS called SAP Litmos Training and a course library called SAP Litmos Training Content. Users can access courses in-person or online—based on their preferences. 
Pros:
Ample storage is available

Easy to create and assign courses

Excellent

administrative functions

Good reporting mechanism

*Integrates with CloudShare*
Cons:
Lack of a robust customization feature

Generation of reports has a steep learning curve

Difficult to make modifications (difficult to customize)

Lack of technical support
User rating: 8.4/10
Deployment: Cloud
Integrate CloudShare with SAP Litmos: LTI LMS Integration
#9: Cornerstone OnDemand*
Cornerstone is a talent management software and technology company that helps organizations modernize the learning and development experience. 
They enable users to deliver relevant content from anywhere, accelerate talent and career mobility, and improve their skills. 
It acts as a complete human resources technology software with a dedicated feature for learning and development.
Pros:
Available in multiple languages

Extensive

reporting features

Ability to monitor employee learning
Cons:
Slow support

Lack of personalization 

Steep learning curve 

Pricing is on the higher end

Doesn't integrate with hands-on labs
User rating: 8.2/10
Deployment: Cloud
#10: Moodle*
Moodle LMS is an open-source learning management system for teachers, students, and administrators. 
It gives you the tools to create, deliver and manage flexible online experiences for learning and teaching that meet your learners' needs. 
Currently, the platform has over 343 million users and 43 million courses.
Pros:
Open source software

Easy to install

and access on the server

Cost-effective for institutions

Customizable and flexible

*Integrates with CloudShare*
Cons:
Interface can be difficult to navigate

Reporting is not as robust

Limited number of integrations
User rating: 8.1/10
Deployment: Cloud, Open API
Integrate CloudShare with Moodle: LTI LMS Integration
#11: iSpring Learn
iSpring Learn automates corporate training and improves employee performance. Its goal is to enable users to launch eLearning in one day without training.
Administrators upload learning content, assign courses, and begin tracking learners' progress to start training with the platform. 
You can use the reporting features to see comprehensive breakdowns of performance statistics for users, groups, and organizations.
Pros:
Easy to set up courses on the platform

Reporting features

are easy to use

Cost-effective solution

Training can be set up using any device
Cons:
No feature to tag content using specific keywords

No free option

No support on weekends

Doesn't integrate with hands-on labs
User rating: 8.0/10
Deployment: Cloud
#12: Adobe Learning Manager
Adobe Learning Manager LMS was developed by Adobe Inc. It offers personalized learning at scale to employees, partners, and customers. 
Previously known as Captivate Prime, it uses artificial intelligence (AI) to provide recommendations based on factors like learner history, skills, interests, peer activities, and more.
The AI powers the state-of-the-art gamification tools—keeping learners engaged and motivated for continuous learning. Adults need to be enticed too, and this feature gives them that.
Pros:
Ability to capture Level 1, Level 2, and Level 3 data

Ability to make courses mandatory and monitor the same

Easy-to-use interface

It has

offline access

support

Guided workflow to author and publish content
Cons:
Lack of internal conferencing feature

Lack of robust reporting features

Lack of a useful knowledge base

Doesn't integrate with hands-on labs
User rating: 7.7/10
Deployment: Cloud, Open API
Integrate your LMS with CloudShare
The choice of an LMS will truly depend on your needs as a professional. Some may be more geared toward helping students, while others may focus more on employees. 
The best LMS for you depends on your needs and what you want your learners to achieve. While some may need a simple self-paced course, others might need a whole gamut of interactive quizzes and lectures.
It's difficult to select a learning management system that meets all your criteria, but that doesn't mean it's impossible. 
With the help of this guide, you now have actionable information about the best learning management systems in the market today and how to pick one for your business. 
Plus, your training sessions don't have to be passive anymore. Integrate with our platform to offer a more lively, interactive, and engaging experience to every single learner.
CloudShare allows you to integrate your favorite LMS to offer your users consistent and engaging training experiences. Book a demo with us to find out more.
---
What you should do next…
1. Subscribe to our newsletter:
Subscribe to our newsletter below for the latest news, advice and thought-leadership for software professionals. Or visit our blog to browse our most recent articles.
2. Learn how virtual labs can grow your business:
To learn more about how CloudShare helps software organizations grow revenue, increase efficiency and improve quality, visit our resources page. You'll be able to browser dozens of valuable white papers, eBooks, webinars, case studies, and brochures.
3. Get a FREE, no obligation demo:
Discover just how easy it is to create your cloud environment—in minutes! One of our friendly virtual labs experts will be happy to:
Show you the platform in action
Calculate pricing for your business
Set you up with a 14-day free trial
Answer any questions you have
No pressure or obligation