Hey Zvi, what do you see?

CloudShare's leader takes a look at the year ahead in training and sales enablement
To get articles like this free in your inbox, subscribe to our newsletter.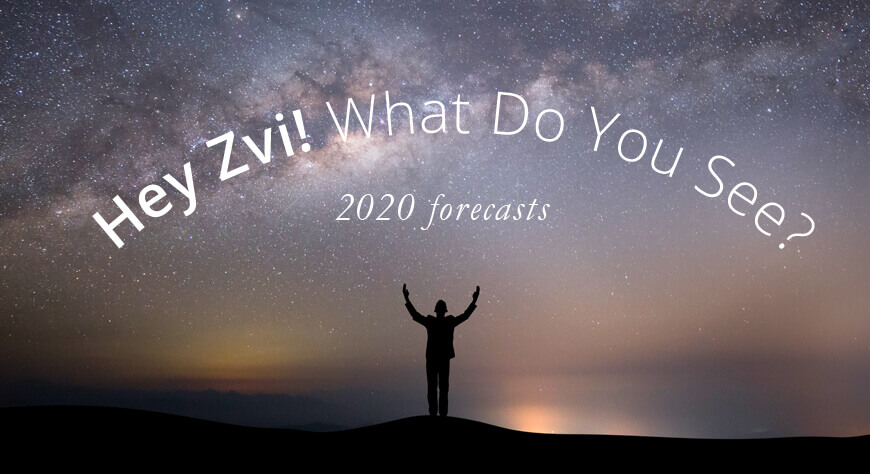 In this blog we sit down with our intrepid co-founder and CEO, Zvi Guterman, to ask questions about what to expect in 2020. From user experiences to cloud provider developments, trends in training to the rise of the sales engineer, here's a bit of what Zvi sees.
What's the big trend to expect and when will we see it?
Zvi: We're at the point where if you're not using virtual IT lab environments that deliver hands-on experiences – whether for training, sales enablement, cybersecurity, sandboxing – you're behind. This is the year it becomes mandatory, and with the growth of the cloud and maturation of this technology, big analyst firms like Gartner and Forrester will recognize specialized clouds as a distinct enterprise category.
Clouds like ours are designed to accelerate enterprise business throughout the customer lifecycle. In sales, that means a faster, easier ability to create more powerful demos and proofs of concept (PoC) pre-sales, with virtual labs accelerating customer training and support post-sale. For training, it means a better ability to educate employees and customers, where and when it's needed, and with options from on-demand modules to instructor led virtual training so trainers can find the right mix.
I think of it like this. A bus is great for getting a lot of people with basic expectations to a similar destination. But business acceleration is a lot different than commodity storage. You've got complex scenarios that require more power to train, sell and develop products effectively and rapidly. Companies need a vehicle with extra purpose-built features that will help them outperform competitors.
Free Training eBooks
Get all of our best training content in one document.
What do you see cloud providers doing in the year ahead?
Zvi: First, we'll continue to see commodity providers – mainly AWS, Azure, Google Cloud Platform, Oracle Cloud – fighting on price, making offers like "first year free." They'll try out differentiators; one might focus on artificial intelligence, another promote storage, all will add further services to try and be all-things to everyone.
Still, for users like ours, it's about delivering a powerful experience, whether it's a class, demo or PoC. While companies may have a relationship with a commodity cloud provider, those handling training, sales, cybersecurity and product development know they need specialized environments and tools.
And, ideally, they'd like to be able to run best-of-breed platforms like ours on top of those clouds.
I'm pleased to say we're making that happen. We've got a partnership with Google Cloud – you can run CloudShare on that platform – and we'll be announcing additional partnerships soon. Similarly, we work with top software vendors to ensure our products integrate and play well together.
Most enterprises and vendors actually aren't trying to align themselves with one cloud; they're hoping healthy competition will provide better options and lower pricing. So, our ability to bridge these worlds – meet specific needs and establish partnerships with more commodity providers and vendors – are ahead of the curve.
What will be the biggest developments in sales enablement in 2020?
Zvi: Enterprises will increasingly look to enhance the efficiency of the sales enablement process. It'll be spurred by technology, similar to the customer relationship management (CRM) revolution decades ago, when new software delivered a more personal experience with each interaction and automated tasks that previously required hours of record-keeping and research.
The ability to create more impactful PoCs, and faster, will be key to gaining a competitive advantage and expediting the sales cycle. Analytics that immediately pinpoint a problem, such as identifying a user having difficulty with a PoC, will be needed to reduce risk and maximize opportunities. Everything must be optimized and it's an area that's developing in other ways, too. In fact, there are a growing number of businesses dedicated solely to educating sales teams, improving operations and execution.
This will also be the year of the sales engineer (SE). We now see organizations with hundreds, even thousands of SEs. They're no longer regarded as the person who is just there to run the demo. Prospects are often well on their way to making a decision before there's even a meeting and proposal. When there is, they often have precise questions that require the technical and product expertise of an SE.
That said, SEs can expect to see greater support, too. In the past, they might not even have their own CRM account. Today, these are exactly the people you want equipped with the latest and greatest, and tech stacks will reflect this.
What training developments do you anticipate?
Zvi: Virtual reality (VR) tools aren't quite there yet, but I do think learners will understand more when they see the big picture, pardon the pun. There really is great potential in VR, so, I think we'll see some traction on this towards the end of 2020, maybe the year after.
I'm seeing more creative ways to train and that will continue. For instance, a customer recently sent thousands of phishing emails to try and get employees to share credentials or transfer money at the request of an executive. If they took the bait, they were immediately contacted and the mistake and its potential impact was explained. Using them as a personal example created a powerful learning moment.
Gamification, which has long been used in cybersecurity, is now being applied to different areas of training and that will grow. Learning retention is better with a hands-on, problem-solving challenge. And in a real-world scenario, completely segregated from a company's infrastructure, it's safe; if a user makes a mistake, they simply reset and try again – no damage is done.
Further, the flexibility to conduct complex training – whether it's across multi-clouds or using a mix of cloud and on-premise – is the only way companies can achieve the cost efficiencies and results they're looking for nowadays.
This said, platforms like CloudShare – which deliver the specialized environments, tools and flexibility required – are the new norm. And I look forward to the new, exciting training applications we'll help our customers deliver in the year ahead.
---
What you should do next…
1. Subscribe to our newsletter:
Subscribe to our newsletter below for the latest news, advice and thought-leadership for software professionals. Or visit our blog to browse our most recent articles.
2. Learn how virtual labs can grow your business:
To learn more about how CloudShare helps software organizations grow revenue, increase efficiency and improve quality, visit our resources page. You'll be able to browser dozens of valuable white papers, eBooks, webinars, case studies, and brochures.
3. Get a FREE, no obligation demo:
Discover just how easy it is to create your cloud environment—in minutes! One of our friendly virtual labs experts will be happy to:
Show you the platform in action
Calculate pricing for your business
Set you up with a 14-day free trial
Answer any questions you have
No pressure or obligation