How In-App Video Conferencing Increases Engagement for Trainees
To get articles like this free in your inbox, subscribe to our newsletter.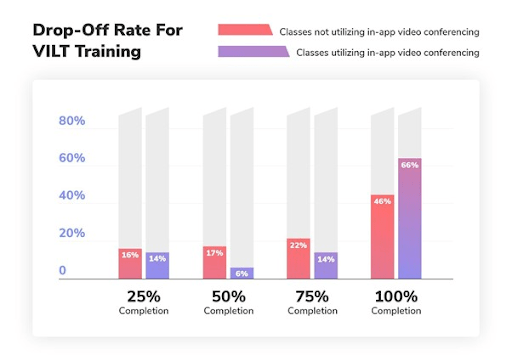 In April, we added video conferencing to our business acceleration and online training platform. Since then, we've been paying careful attention to how clients have used the feature, and how it's impacted engagement. Clients that leveraged in-app video conferencing in their instructor-led training saw a 66% completion rate, versus 46% amongst those that did not.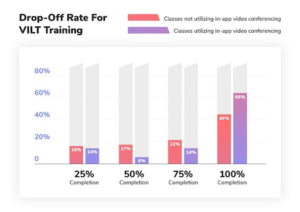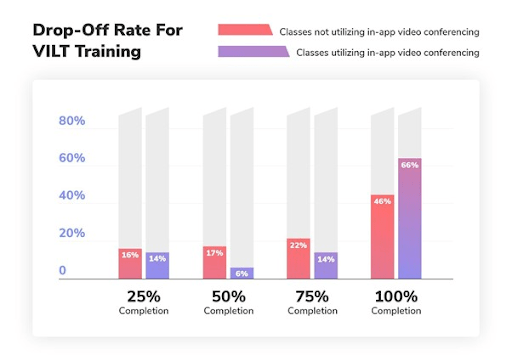 This confirms our longstanding hypothesis about trainee engagement. Namely, that the presence of in-app communication and collaboration has a significant impact on course completion. Let's drill down into why this is the case.
Why Most Virtual Training Only Gets it Half Right
A positive training experience is often the difference between success and failure. Yet consistent engagement remains one of the most significant challenges for training organizations. There are few places where this applies more than with customer education.
We've discussed where businesses go wrong with their training previously. Ultimately, it all boils down to motivation. Your trainees might objectively understand that the training is in some way important to them, and that there's information they need to learn.
But that knowledge alone may not be enough for them to care. For truly successful customer education training, you need to do more. This begins with understanding how people learn in a broader context.
As noted by The Harvard Business Review, there are two core components of learning. The first, which is where the majority of virtual training focuses, is cognitive. It centers on what one is learning, and how they absorb and retain new knowledge and skills.
The second is socio-emotional. This side focuses on how one feels about both the training and their own progress. It requires that one conveys to trainees why their training is important, while also pushing for open conversation and collaboration.
The Role of Video in Socio-Emotional Connections
Where instructor-led training is concerned, socio-emotional learning is a powerful motivation. If your training is done virtually, video plays a crucial role in establishing the necessary interpersonal connections. In a study published by Cyberpsychology: Journal of Psychosocial Research on Cyberspace, for instance, participants were required to interact with one another in four different ways.
Text-only
Audio-only
Video
In-person
Participants on video experienced a closer bond than those that connected solely through text or voice. More surprisingly, the gulf between video and in-person interaction proved relatively small. Video chat, in other words, allowed people to experience nearly as close of a connection as face-to-face interaction. But what relevance does that connection have to customer education training, exactly?
Firstly, it allows the instructor to see a live feed of their audience, and vice-versa. This allows the instructor to be a more active participant, setting the mood through their body language, tone, and expression. More importantly, it allows the instructor to see, in real-time, when a trainee is showing signs of disengagement, such as:
Slumped or withdrawn posture
Fidgeting
Restlessness
Regularly looking down or away from the screen
Negative facial expressions
Unresponsiveness
In the absence of video, this body language is invisible to the instructor. They have no way of knowing a trainee is growing disinterested or frustrated unless the trainee verbally indicates it to them. By providing this additional context, in-app videoconferencing allows the instructor to nip the problem in the bud immediately by drawing people back in before they fully disengage.
That alone makes videoconferencing a valuable tool for virtual training, which is likely why many businesses already leverage it through external software. Yet these platforms introduce their own problems to the training process, particularly when compared to in-app videoconferencing.
The Importance of Centralizing Your Virtual Training Tools
Software fragmentation was already a problem before the pandemic. In a 2019 survey, 83% of professionals indicated that there were two or more redundant applications within their organization. In another survey conducted in 2020, 56% of employees felt that the addition of new tools during COVID adds over four hours to their work week, and 41% said that their business uses too many communication apps.
Moreover, the process of jumping between apps or tasks, known as context switching, breaks one's focus. And refocusing after even a minor distraction can take up to 23 minutes. In other words, by requiring your trainees to jump between different tools rather than integrating everything on a single platform, you could be completely sabotaging your customer training.
Moreover, using multiple applications can create problems for mobile users, as the process of jumping between apps tends to take longer on a smartphone than on a desktop. The issue here is that by 2025, 72% of people will exclusively use their phones for Internet access. In other words, by complicating the training process in this way, you're potentially alienating the majority of your trainees.
Finally, requiring your trainees to use multiple tools or technologies means that there are more opportunities for something to go wrong. Each individual application represents another chance for a technical glitch or forgotten login details to derail the training. Consequently, centralizing all your learning tools onto a single platform means fewer points of failure and a higher chance that your training will proceed as planned.
Embrace Engagement in Your Virtual Training
Our video conferencing data is far from the only evidence that shows the importance of creating an engaging experience. The widespread success of gamification in both training and compliance further drives home the point:
By gamifying its travel expense system, Google improved compliance by 100%.
90% of employees participate in Spotify's gamified annual reviews.
With gamification, trainees spend up to 370% more time learning
The connection between in-app video conferencing and gamification might seem tenuous at first. But they share more in common than you think. Both measures make training more interesting and intuitive in their own way — and both focus on interaction and communication rather than simply hurling documentation at the trainee.
Ultimately, the path to better software training is one of consolidation, communication, and customer-focused design.
These are all things that CloudShare does very, very well. Our award-winning business acceleration platform enables you to quickly and easily provide hands-on, interactive software experiences. From hands-on training to virtual demos and POCs, We'll help you enhance your customer journey in ways you never thought possible.
---
What you should do next…
1. Subscribe to our newsletter:
Subscribe to our newsletter below for the latest news, advice and thought-leadership for software professionals. Or visit our blog to browse our most recent articles.
2. Learn how virtual labs can grow your business:
To learn more about how CloudShare helps software organizations grow revenue, increase efficiency and improve quality, visit our resources page. You'll be able to browser dozens of valuable white papers, eBooks, webinars, case studies, and brochures.
3. Get a FREE, no obligation demo:
Discover just how easy it is to create your cloud environment—in minutes! One of our friendly virtual labs experts will be happy to:
Show you the platform in action
Calculate pricing for your business
Set you up with a 14-day free trial
Answer any questions you have
No pressure or obligation