How to Build a Strong Virtual Sales Enablement Process 
To get articles like this free in your inbox, subscribe to our newsletter.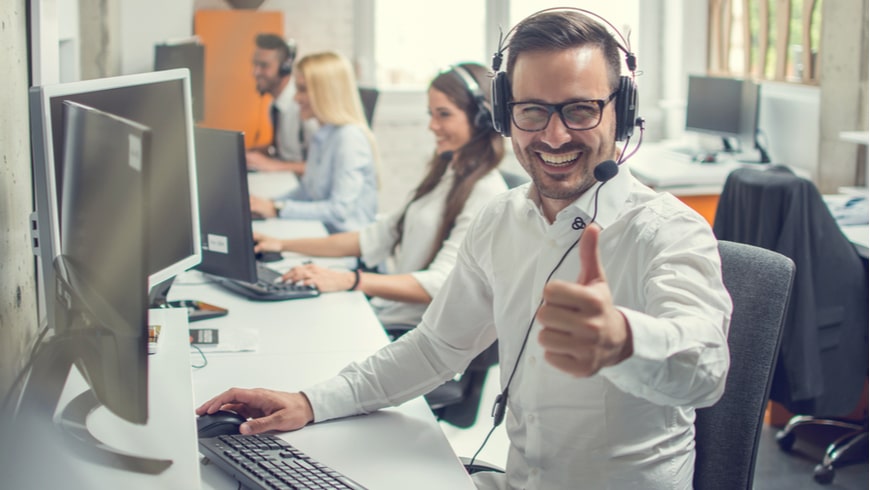 In a rapidly evolving digital landscape, data is king. The stereotype of the fast-talking, freewheeling salesperson is slowly being replaced with a more methodical and considered 21st-century sales professional, one who uses technology to maximize their chance of success. This has become even more of a necessity post-pandemic, as virtual demos became the norm and salespeople needed new ways to showcase their product.
In a world where customers have 54% higher standards for customer experience than they did just a year ago, businesses are equipping their sales teams with dedicated virtual sales enablement tools to help them live up to these high expectations. Gartner predicts that by 2025, 60% of B2B sales organizations will move from intuition-based selling to a data and analytics-led selling model.
What is Virtual Sales Enablement?
You may have heard a number of different definitions of sales enablement. We view sales enablement as the information and tools that salespeople need to do their job at an optimal level. This usually boils down to two kinds of sales enablement:
Customer-Facing Tools and Content Intended
This might include a virtual demo platform, a digital PDF guide, or a training video, provided at the correct time in their customer journey.
Tools and Content Intended for Internal Use
This typically includes staff training programs, product spec information, and access to customer analytics where relevant.
But it isn't just about having these tools and content at hand. Good virtual sales enablement is about providing the correct tools and content at the right time. This might mean serving the right pieces of sales content to a customer at different stages of the sales funnel or having customer personalization information surface for salespeople when they need it.
Here's how to channel all of this into a strong and efficient virtual sales enablement process:
4 Steps to Building a Strong Virtual Sales Enablement Process 
Step #1 Maintain a Human Touch
During the pandemic, the world took a collective step back from physical interactions. This was extremely disruptive for salespeople. Making a connection with a customer and forming trust is key to a long and happy customer relationship. In a bid to automate and streamline, some businesses are cutting the human element of the sales process. This can be a costly mistake.
Maintain a human touch by combining instructor-led demos and virtual labs demos. This improves the overall user experience tenfold, by giving prospects the chance to learn in a hands-on environment, as well as being able to ask questions face-to-face with a salesperson too.
<box out>
CloudShare offers an over-the-shoulder training feature with video capabilities, so your sales team can provide more intimate training, even at scale.
<box out>
Step #2 Follow the Data
Data is everywhere. As businesses, we monitor how users interact with our websites, our blogs, our social pages. So why do we neglect to use data during sales demos? Keeping an eye on the analytics—how much content has potential users consumed before speaking to a sales rep? How have they interacted with the product in virtual hands-on demos? —could give you fresh insights on how to provide a better virtual sales experience.
For example, a SaaS company might be holding a hands-on demo, where prospects are able to explore a demo version of their software at their own pace. Upon checking the analytics, a salesperson might notice that they haven't accessed a product feature that could really help them. They could either jump in and show the customer the feature or learn from the analytics and create more emphasis on this feature in future demos.
<box out>
CloudShare provides analytics data on how users are interacting with your virtual sales demos, so you can optimize your sales approach with more accuracy.
<box out>
Step #3 Keep Content Up to Date
Content is a huge part of virtual sales enablement and knowing what to present to prospects, and when, can be the difference between a deal and a flop. It's crucial that your sales content is regularly updated so potential customers feel informed enough to make a decision. This also goes for internal content – your employees are only as good as the information you provide them with. If it's out of date or inaccurate, they could miss out on closing a deal.
Creating a clear line of communication between marketing and sales helps to alleviate this. You should also introduce a review process, regularly assessing pieces of content after a set period to see whether it is still fit for purpose. Content delivery should also be part of a strong sales enablement process, so ensure that you have a technology that can deliver your content too.
<box out>
CloudShare features automated delivery of automated environments, so you can now streamline hands-on demos, as well as content delivery
<box out>
Step #4 Make it Personal!
Personalization is the magic word in modern customer service. In fact, 72% of consumers say that when they speak to a salesperson, they expect them to know who they are and have insights into their engagements with the company. Your sales enablement approach should bear this in mind.
A strong virtual sales enablement process should provide your salespeople with personalized information for every customer and prospect they speak to. It should also tailor content and training tools to their needs.
<box out>
Virtual demos within CloudShare can be customized to replicate a customer's IT environment. This creates a more immersive, realistic, and compelling sales experience, as they can see how your product performs in scenarios unique to them.
<box out>
Create a Better Virtual Sales Experience
It's important to remember that virtual sales enablement processes rely on some kind of centralized system. Whether it's a cloud drive or dedicated software, you need concrete processes in place that all your sales team can access, from anywhere. Forbes reported that companies around the world are using 23 sales enablement tools on average.
This shows us that businesses are using specialized software for certain areas of sales enablement:
Content delivery systems and smart searches for content delivery
Intuitive note-taking apps for more efficient collaboration
Customer relationship management software to track sales
Content management systems to track, edit, and share content
Virtual training software that provides users with immersive and customizable features
Cloudshare is a video training and virtual labs sales enablement platform. It allows you to create customizable virtual demo environments to showcase your software to prospects. The platform enables you to connect with customers virtually and provide a more engaging and valuable learning experience.
To find out more about CloudShare, contact our team or request a demo.
---
What you should do next…
1. Subscribe to our newsletter:
Subscribe to our newsletter below for the latest news, advice and thought-leadership for software professionals. Or visit our blog to browse our most recent articles.
2. Learn how virtual labs can grow your business:
To learn more about how CloudShare helps software organizations grow revenue, increase efficiency and improve quality, visit our resources page. You'll be able to browser dozens of valuable white papers, eBooks, webinars, case studies, and brochures.
3. Get a FREE, no obligation demo:
Discover just how easy it is to create your cloud environment—in minutes! One of our friendly virtual labs experts will be happy to:
Show you the platform in action
Calculate pricing for your business
Set you up with a 14-day free trial
Answer any questions you have
No pressure or obligation