7 Best Practices for Delivering Exceptional EMR Training
To get articles like this free in your inbox, subscribe to our newsletter.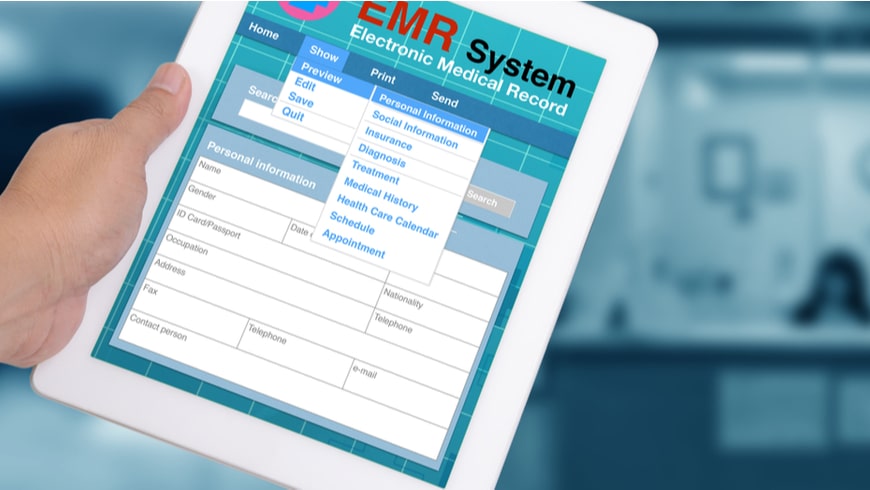 There are many challenges facing healthcare and MedTech organizations, including the pressures placed across the board by the ongoing pandemic. No doubt times have been rough, resources are stretched beyond limits, and healthcare workers are exhausted after working flat out for 2+ years.
MedTech organizations are in a unique position to make a difference—with the opportunity to provide innovative applications and systems that boost productivity, streamline processes, and reduce costs for healthcare organizations. And we're not just talking about the front line. The IT systems used by both back-office staff and those on the front line make a big impact on outcomes for healthcare organizations, professionals, and patients. There's no better example than electronic medical records (EMR) systems.
But to gain value from these essential EMR technologies, they need efficient and effective EMR training—whether it's for onboarding, adoption, or ongoing training. MedTech organizations can use new EMR software training to deliver the exceptional training experiences required.
7 Useful Tips to Improve EMR Training
Here are seven best practices for MedTech organizations to improve their EMR training programs.
1. Look Beyond LMS, But Not Too Far
Learning Management Systems (LMS) have been the backbone of software training for years. Content delivery has been key to EMR training success, but there are a lot of new ways to enhance training beyond what was possible with traditional LMS. You can now integrate with technologies that complement the knowledge base and expertise stored within your LMS programs.
The new generation of training platforms can take your EMR training programs to the next level, whether that's by offering new ways to consume content (like microlearning platforms) or via rich features for instructors (like "over-the-shoulder" functionality) to react in real-time to students' needs.
2. Choose Active Learning Experiences Over Passive Learning Experiences
Practice makes perfect. Video, webinars, and other passive learning experiences will always have a right time and place—as well as benefits and limitations. But when it comes to software training, virtual hands-on experiences cannot be beaten, because they provide a more immersive route to understanding.
What better way to learn than exploring within a safe sandbox training environment, where you can collaborate and experiment with real-world EMR systems experiences. Hands-on training allows people to "learn through doing" and active practice.
3. Embrace the Challenge of Remote Learning
Remote and hybrid working has become an essential characteristic of life. Although much of the work certain healthcare professionals do will always rely on face-to-face interactions with patients, much of the back-office work can readily move online. Not just for safety and COVID-19 precautions, but because this flexibility is how people want to work. And it's no surprise it's how they want to train—especially as busy schedules may mean it's almost impossible to get people in a room for training at the same time. Training platforms that allow remote training experiences are a must-have.
4. Provide Modern Users With Modern Training Experiences
Of course, training content needs to be informative, digestible, and follow a viable learning pathway. These things won't ever change. But what people expect from online experiences, including training, does change and has changed. Modern users expect the seamless experiences they enjoy in every other aspect of life.
Just think of your favorite app, game, or social media platform—whether that's Netflix, Spotify, or Facebook. These kinds of flexible, personalized, and reliable experiences must become the norm for software training. You must integrate these technologies into the standard LMS experience or you risk succumbing to poor adoption and engagement levels.
5. Leverage Data and Analytics to Gain Meaningful Insights
Training platforms have often come with some level of analytics so that you can monitor performance. But this has really stepped up a gear in recent years. Specialist advanced analytics tools allow organizations to transform training data into actionable insights.
Real-time data can help instructors be more reactive in the moment and tailor learning to individual participants. Training data can also be used to optimize training programs from a birds-eye view.
How are users engaging in your training content?
How many users? When do they lose interest in your sessions?
Are there particular areas that cause obstacles to learning?
All of this data (and much, much more) is at your fingertips to improve the impact of EMR training experiences.
6. Offer Training Choices for All Participants
To cater to different learner types, you must offer a choice of training options. This has never been easier with the technology now available. For instance, consider providing both virtual instructor-led training (VILT) and self-paced training.
This gives users the ability to pick and choose how and when they carry out EMR training. In fact, it has been reported that self-paced learning industry will grow by $6.71 billion between 2020 and 2024. People want more freedom and autonomy over learning choices—and that is something to consider when planning EMR training programs.
7. Integrate Training Tools to Enhance LMS etc.
There are many different training technologies available. Read our 2021-2022 report into the state of the training technology industry to learn more. Whether it's learning experience platforms (LXPs), gamification, microlearning, hands-on virtual labs, immersive tech (i.e. AR, VR, and mixed reality), you can enhance training by offering new ways for participants to learn.
Most major LMS providers have adapted their systems to allow for wider integration with these new tools. The world of training technology is very much your oyster.
A Better EMR Systems Experience
It's time to introduce CloudShare, our enterprise-grade training software platform. MedTech companies can use CloudShare to enhance and complement training programs for their customers. We understand that your customer training is essential to helping healthcare professionals gain more value from your EMR technology.
CloudShare is more than an important addition to your LMS system—it's essential in providing training experiences that lead to smooth onboarding experiences, improved user adoption, and superior training outcomes.
Learn how to deliver engaging EMR systems training experiences and make sure all your organization's EMR training goals are met, by getting in contact with our team today. Or you can request a free demo and try CloudShare for yourself.
---
What you should do next…
1. Subscribe to our newsletter:
Subscribe to our newsletter below for the latest news, advice and thought-leadership for software professionals. Or visit our blog to browse our most recent articles.
2. Learn how virtual labs can grow your business:
To learn more about how CloudShare helps software organizations grow revenue, increase efficiency and improve quality, visit our resources page. You'll be able to browser dozens of valuable white papers, eBooks, webinars, case studies, and brochures.
3. Get a FREE, no obligation demo:
Discover just how easy it is to create your cloud environment—in minutes! One of our friendly virtual labs experts will be happy to:
Show you the platform in action
Calculate pricing for your business
Set you up with a 14-day free trial
Answer any questions you have
No pressure or obligation