Explore the Benefits of 3 Essential Remote Training Software Use Cases
To get articles like this free in your inbox, subscribe to our newsletter.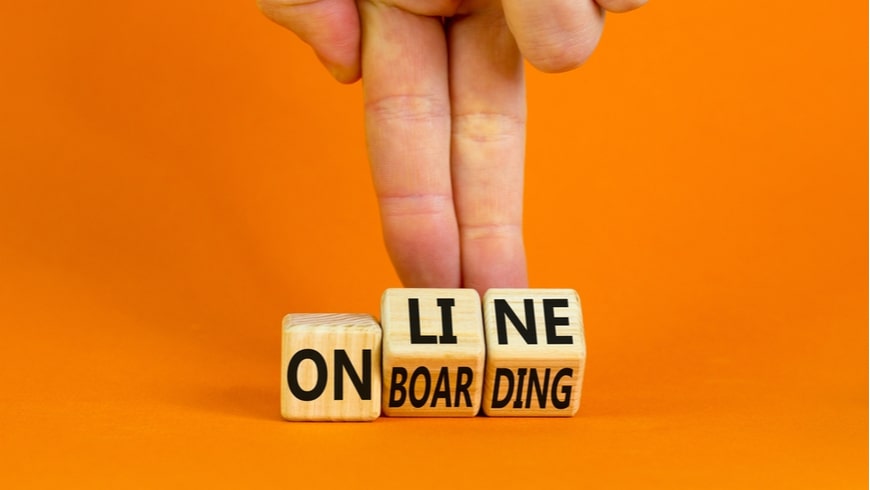 Three remote training software use cases
Let's start with the areas in which remote training methods can make the biggest difference. Here we have focused on three virtual training software use cases, but there are many more.
1. Customer onboarding and education
In the past, onboarding new customers, especially at large enterprises, would take place via large in-person training sessions—probably multiple sessions over many weeks. With COVID restrictions, these kinds of events may not be possible in the near future, at least not in the same way.
Not only does remote training software allow you to hold these sessions, but it enhances them. Having access to remote customer training tools allows trainees to take part anytime, anywhere, and on any device. This allows you to scale your sessions as there is almost unlimited capacity for attendance—you don't have to fit everyone into one room. So, you can provide more tailored onboarding and customer education experiences to a larger number of users.
What's more, trainees can go off and complete sessions in their own time. This removes scheduling issues and the costs associated with booking physical spaces for training. Next-generation platforms allow you to combine training methods—such as webinar-style presentations, instant chat boxes for direct and group discussions, and hands-on virtual labs for in-depth training. With instructor-led and self-paced learning, you can offer more choices. Both trainees and instructors have greater flexibility, as they can carry out sessions in the way that suits them and the situation best.
Key benefits
Increase adoption – Adoption is always a challenge. Even more so now that most workers are using multiple apps and products from various vendors. Remote app fatigue, anyone? So how do you grab their attention? With exceptional training experiences, you can highlight just how valuable your product is.
Boost retention – Onboarding is the beginning of the customer journey. If you get it right, you can boost retention, loyalty, and advocacy. It's simple: if customers know how to use your product, they will get more value from it. And once they're up and running, they won't be able to live without it.
Unleash super users – if you get training right, you can create super users who champion your product. These users can help to drive up adoption rates, and you can target them for upselling. When they move company, they will take their enthusiasm for your product with them.
2. Training your team
It's not just prospect and customer experiences that will benefit from training software. With your organization also adopting remote or hybrid working, you need to bring your internal training programs into the new virtual norm. Whether it's training users on new technology, onboarding new employees, or, for instance, running virtual cybersecurity wargames—there are a whole host of ways training can be improved by remote training technology.
It's not just about allowing remote colleagues to access the sessions. Let's take the cybersecurity example. Virtual cyber ranges provide your technicians with realistic hands-on training scenarios to test their skills and practice how to tackle cyber threats. With sandboxed IT environments you can throw everything at them without any consequences for your actual production systems.
Key benefits
Improve upselling and reskilling– The pandemic led to many changes for organizations and their employees. Better training technology means better upskilling and reskilling outcomes. And, of course, everyone can upskill or reskill remotely to their heart's content.
Deliver training at scale – Remote training has almost zero capacity limits. You might not want to train everyone at once, but you could.
Improve productivity – When everyone can engage in training, you improve how your team functions. Productivity will increase as employees learn new skills and get to grips with new technology – a win for them and for you, and for the bottom line.
3. Sales enablement and demos
For software companies, the increase in tech spend is a huge opportunity to expand your customer-base. Now is the time to reach out and help customers discover how valuable your software is. But with in-person meetings now a rarity, how can sales teams reach out to prospects and deliver the same sales experiences as before? With remote training software, it's easy. In fact, the right training platform will improve sales enablement and sales demos, by offering more engaging experiences than traditional in-person sales.
Remote training methods such as virtual hands-on demos can provide a far more immersive and personalized demo experience. Sandboxed environments allow for realistic replications of your customers' IT environments, so that they can explore first-hand how your software helps them solve their business problems and reach their goals. These can be spun up in minutes for prospects wherever they are based. Sales staff have all the tools they need to lead engaging sessions remotely and showcase the value of your product in the scenarios that matter to prospects most.
Key benefits
Speed up the sales cycle – Sales cycles could traditionally be a slog. Even just scheduling and getting in front of customers takes time. But with remote software, you can reach more people easier. And with the engaging experiences delivered by next-gen remote training software, you can wow customers faster too.
Improve sales outcomes – Hit your targets and boost the bottom line with more effective and efficient sales enablement. Make sure your employees have everything they need to get that sale across the line. Also, geography is no longer a limit, so you can reach a wider target audience.
More engaged customers – After sales demos with hands-on experiences, you are obtaining customers who have already seen the benefits of your software first-hand. They are fully on board with what you have to offer and ready to go.
Remote virtual training with CloudShare
With CloudShare's next-generation remote training software, you can breathe life into remote training sessions and deliver exceptional experiences at a wide range of customer and employee touchpoints.
Spin up accurate environments and realistic scenarios for hands-on training in minutes. Provide immersive and engaging experiences that allow customers to see for themselves the value your product provides within realistic business scenarios. What's not to love?
To learn more about remote training software and how CloudShare's remote training platform can help your business, get in contact with our team today.
---
What you should do next…
1. Subscribe to our newsletter:
Subscribe to our newsletter below for the latest news, advice and thought-leadership for software professionals. Or visit our blog to browse our most recent articles.
2. Learn how virtual labs can grow your business:
To learn more about how CloudShare helps software organizations grow revenue, increase efficiency and improve quality, visit our resources page. You'll be able to browser dozens of valuable white papers, eBooks, webinars, case studies, and brochures.
3. Get a FREE, no obligation demo:
Discover just how easy it is to create your cloud environment—in minutes! One of our friendly virtual labs experts will be happy to:
Show you the platform in action
Calculate pricing for your business
Set you up with a 14-day free trial
Answer any questions you have
No pressure or obligation