8 Training Budget Planning Insights from Training Leaders in CloudShare's Community
To get articles like this free in your inbox, subscribe to our newsletter.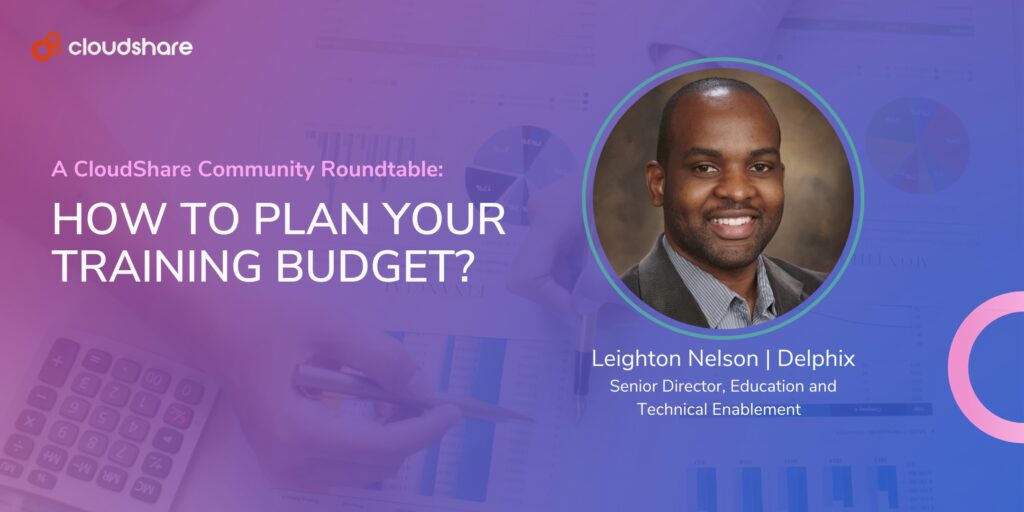 When planning your training budget, it's now more important than ever to manage and control your resources to ensure every dollar is accounted for. You also need to optimize every facet of your training in order to maximize your returns, and a roadmap that establishes the where, how, and why of your spending. Most importantly, you need to convey clear, consistent value to leadership.  
Achieving all of these goals simultaneously may be challenging, but it's not impossible. Earlier this week, we held a virtual community meetup hosted by Leighton Nelson, Senior Director, Education and technical Enablement at Delphix, to find out how some of our top clients are planning their budgets for 2023. We've gathered the top training budget planning insights from that conversation below.
Want to join in on the fun? Click here to join the CloudShare community of professionals in software training and sales!
#1: Align Training Goals With Business Goals
Budget and strategy are two sides of the same coin, and you can't create an effective training strategy if you lack an understanding of your organization's broader objectives. You also need to understand the core objective of each department that relies on your training. Both sets of goals must be aligned with your own.
Defining your strategy must therefore be the first step in defining your budget. What are the goals of your training, your team, and your organization? What initiatives will you pursue to fulfill those goals? 
#2:
Maintain Communication With Key Stakeholders
Communication is ultimately the core of any successful business initiative, training or otherwise. 
To ensure your budget is spent effectively, you need an open dialogue not just with organizational leadership, but with all key stakeholders in your training program. Because people from other teams have operational insights your own team might lack.
To put it another way, they have a deeper understanding of their training needs and requirements — they can help you determine where spending should be directed and where it should be rescinded. 
Ongoing discussions also ensure KPI alignment. By conferring at least monthly with finance, you lay the groundwork for planning your training budget for the following year. You'll be able to determine actual versus anticipated spending better and can then use that knowledge to create a more accurate month-to-month budget forecast. 
Analytics has its part to play here, as well. By ensuring you track both usage and engagement, you can not only optimize training on the go but gain insight into the how and why of your budget. And if you're using a training platform that allows you to schedule custom reports, all the better — that's valuable data for your monthly meetings. 
This collaboration serves one additional purpose. It gets people on the same page as your training team. The more organization-wide support you generate, the easier it becomes to get buy-in to execute your training strategies. 
#3:
Create a Flexible Strategic Roadmap
Ideally, you want room in your training budget to support growth. You can't give yourself that room if you have no idea what's coming. A strategic roadmap is therefore essential — it helps ensure you don't over or under-commit.
Ask yourself the following questions:
What do you want to accomplish in 2023? 

What initiatives will achieve those goals? 

How much will those initiatives cost?

What's a reasonable timeframe for their completion? 

What will you do if things don't go according to plan? 
That last one is the most important. 
If your organization has a rapid software development cycle, it can be difficult to keep any roadmap updated. That's why flexibility is key.
Here's what that involves: 
Include processes for keeping existing content current.

Include a plan for addressing new product releases in your training. 

Don't just create a single, monolithic roadmap. Create roadmaps for each training program and initiative. 

Divide each roadmap by quarter (or half year, depending on the size of the initiative). This allows you to set more realistic, flexible timeframes while also prioritizing certain projects. 

Maintain awareness of your organization's overall strategic roadmap as part of your planning. 

Understand that there will inevitably be certain costs and initiatives that trump your roadmap. Plan accordingly. 
Lastly, alongside your strategic roadmap, you should also build a capability roadmap that defines what your team can deliver versus what it still needs, allowing you to identify and bridge gaps in your current capabilities. 
Understand the Many Definitions of "Certified" 
If there's one thing the B2B sector is overly obsessed with, it's certifications. There's a good chance your customer success team has already approached you to say they want a certification program for your customers. Tread lightly. 
Certification means different things to different people — you should first establish what it means to your organization. 
Does the certification need to be legally defensible?

Is the certification awarded for completing a course or is it tied to an exam or assessment? 

Will your certification program award participants a digital badge? 

What steps will you take to verify the integrity of your program's results? 

In what way will this program benefit your organization? How can you justify its place in your budget?



#4: 
Always Have the Numbers to Justify Your Budget
Leadership wants two things from your budget. They want to know how much they're expected to spend, and its ROI. The second one is where the real challenge lies.
The ROI of a training program isn't always immediately clear. Sure, occasionally you get lucky and have an onboarding program that results in a noticeable revenue spike. But more often than not, you'll need to do some legwork. 
For that, you'll need a deep analytics system like CloudShare's, allowing you to track everything from resource utilization to user engagement. Let's say, for instance, that you want to demonstrate the impact of an improved onboarding process. You might use CloudShare to monitor training abandonment rates, then combine that data with overall attrition rates. 
Alternatively, you can simply track how many at-risk sales prospects are recaptured, thanks to CloudShare's POC analytics—revenue that would have otherwise been lost. 
#5: 
Intelligent Scalability is Everything
When it comes to reigning in unnecessary spending and controlling training costs, standardization is key. The ability to easily create and maintain a standardized system at any scale represents immense cost and time saved, while also guaranteeing a consistent experience across every platform and channel. This standardization also makes it easier to assess metrics and generate reports that demonstrate actual, quantitative ROI. 
Optimization, however, is only one part of cost control. Particularly as your system increases in scale, you also need a way to reign in unnecessary spending. And as with every other aspect of budget planning and cost management, you need to be able to demonstrate that it works. 
This is another area where CloudShare excels. Our platform allows you to set policies that automatically suspend environments when they're not being used, while quota control allows you to set limits on resources used across all channels and projects. You can then either track your overall resource consumption versus the allocated quota or measure specific areas of resource consumption with our analytics. 
From there, it's simple to calculate how much you've saved, thereby justifying your investment. 
#6: 
How to Deal With A Looming Recession
Unsurprisingly, the recession was an important topic at the roundtable. Companies are scaling back their budgets and have implemented hiring freezes. As a result, training programs must increasingly achieve more with less. 
There are a few things you'll need to do in order to contend with this: 
Prioritize your spending wherever it will have the most impact and offer the clearest positive ROI. 

Consider focusing your time and attention on quick wins that don't require additional spending or resources. 

Understand that certain initiatives must be put on the back burner and where to reign in resource consumption. 

Think about the resources you already have, and how they might be used in new ways — such as launching a subscription-based training program for one of your products. 

Use policies and quota controls to keep a tight lid on resource consumption and ensure you don't go over budget. 

Consider breaking down your progress to long-term goals and major initiatives into smaller, more manageable steps. 
#7: 
Embrace Data-Driven Decision-Making
Analytics data is valuable for a great deal more than demonstrating ROI to the C-Suite. It's also an invaluable feedback mechanism for developing and optimizing your training programs and coursework. By tracking metrics relevant to your training and measuring them against both historical data and industry benchmarks, you can learn a great deal — and address a great many problems, including: 
Bottlenecks in training materials.

Whether or not a new training initiative was a success. 

Whether or not your onboarding teaches people what they need to know.
You get the idea. Data is your friend. Use it wherever and whenever possible. 
#8: 
The Importance of Remaining Consistent
Standardization isn't just valuable when you want to scale. It also greatly simplifies budgeting and planning. If your training use cases remain relatively similar over time, it makes historical data far more relevant and valuable. 
And that, in turn, makes your budget far easier to manage in both the short-term and the long term. 
Following the Leaders
Planning your training budget doesn't need to be difficult or overwhelming. All you need is the right mindset, strategy, and platform. By following the advice we've offered here along with the advice offered in our 2023 training budget kit, you'll be able to build a training program that's both future-proof and recession-proof. 
More importantly, you'll be able to demonstrate clear, concrete ROI to leadership, securing your budget not just for 2023, but the year after as well. 
---
What you should do next…
1. Subscribe to our newsletter:
Subscribe to our newsletter below for the latest news, advice and thought-leadership for software professionals. Or visit our blog to browse our most recent articles.
2. Learn how virtual labs can grow your business:
To learn more about how CloudShare helps software organizations grow revenue, increase efficiency and improve quality, visit our resources page. You'll be able to browser dozens of valuable white papers, eBooks, webinars, case studies, and brochures.
3. Get a FREE, no obligation demo:
Discover just how easy it is to create your cloud environment—in minutes! One of our friendly virtual labs experts will be happy to:
Show you the platform in action
Calculate pricing for your business
Set you up with a 14-day free trial
Answer any questions you have
No pressure or obligation